In a house made of completely plain walls and an open plan, furniture and interior design play a huge role in livening up the space. Rooms like these can be elevated with something as simple as furniture. For a modern, clean, and minimal look, the newest collection of contemporary furniture by Walter Knoll is an ideal option.
The brand of modernity emanates consciousness based on tradition through the ages. In line with their values, the furniture is designed keeping in mind modernity, be it in their past, present or on-site. With a history that began in 1865, they produce furniture made of high-quality leather, wood and fabric. Here is a look at some of the pieces from their latest collection to add to your space:
The Lounge Chair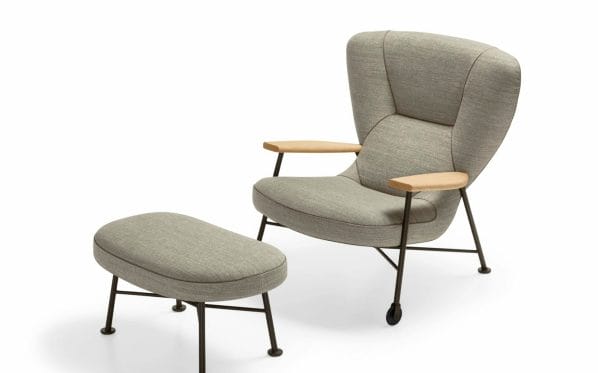 The Shinzo Lounge Chair is a signature piece from the collection and is a testament to quality, craftsmanship and timelessness. The chair can be paired with the matching footstool in a similar design. With discrete castors and a handle at the back, the chair is easy to move.
Place it facing a large window or a balcony for a view of the outdoors or use it as a cosy addition to a reading nook, the lounge chair is truly meant for lounging.
The Living Room Sofa
The Tama Living Sofa with an informal shape is not only a focal point but also comfortable and a place of relaxation. Continuous down-filled cushions make it soft and spacious. The addition of semicircles and curves lends a new shape and adds a sense of space to an otherwise plain room. Pair the multi-seater with side tables for a snug feel and with coffee tables in the TV room, living room or drawing room to entertain a small gathering of people.
The Chaise Longue
A modern take on the chaise lounge, The Ishino Récamiere is open on one side giving a clear view of the room and a high back on the other side. It is a compact alternative or a complement to the sofa. Its cocoon-like feel makes for a perfect centrepiece in the living room or in the corner along with a primary sofa set. Place it along one side of the bedroom for extra seating space. With enough room to lie down, it can also be used as a relaxing reading space.
The Low Seating Stool
A seating option that can be paired with other furniture or shine as a soloist, The Ishino Stool is attached with a fine saddle leather retractable handle for easy movement. The low stool can be used as a footrest complementing other furniture and also as an ottoman for sitting. Multiple stools around a low table make it a casual dining space or for gathering around during board games.
The Organic Table
The Ishino Wood table is an ode to nature with its organic shape. Its oval shape cuts through the clean strain lines of a modern home and adds interest to it. This versatile piece can be used as a centre table or coffee table. The fine wood and soft rounded edges make it easy to be combined with other tables from the collection of other colours for an added element of detail. It reconnects one with nature with its polished pebble-like shape.