House of Courts is a residential project by DADA & Partners induced with the concept of combined working and dwelling space on a 500sqm urban land. The first two floors are dedicated to the studio space of the famous graphic design firm Lopez design and the upper two levels are the living space for the family.
The initial design development got started in 2019 with the conceptualization of a new office space for Lopez Studio. The concept was interwoven with their office ethics and intended to develop inter-relationships that foster creative thinking. The idea was to bring some sky to the office space and lend some earth to the residential area.
The design language of the House of courts aligns with an early modernist design using brick and concrete. To exude a contemporary and lighter vibe from the space, concrete and brick are embellished with metal. It aims to revive the craftsmanship and detailing through the design elements of the project like the concrete panel walls, staircase, brick patterns, metal railing, and Kota patterns with brass inlay. The incorporation of finished material enhances the sensory experience of the user. 
The residence is defined by three voids dividing the built mass into varying depths and articulating extremely private open spaces. The design with east and west-facing courts ensures optimum influx of sun and wind in every space with a dramatic play of light and shadow. The residential floors are connected to the street level entrance through a steel and glass stair hall that resembles a lantern.
A sculptural volume cladded with concrete and brick leads to the upper foyer to the prayer area facing the North. The holy praying space is graced with a cast-in-situ hanging cross made of concrete. The screened east and west court envelops the family lounge and dining areas on either side. The west court is conceptualized as an earth-filled concrete vessel with a mature Gulmohar tree. The court is raised to a certain level and connects the upper floor of the House of Courts with the terra-firma.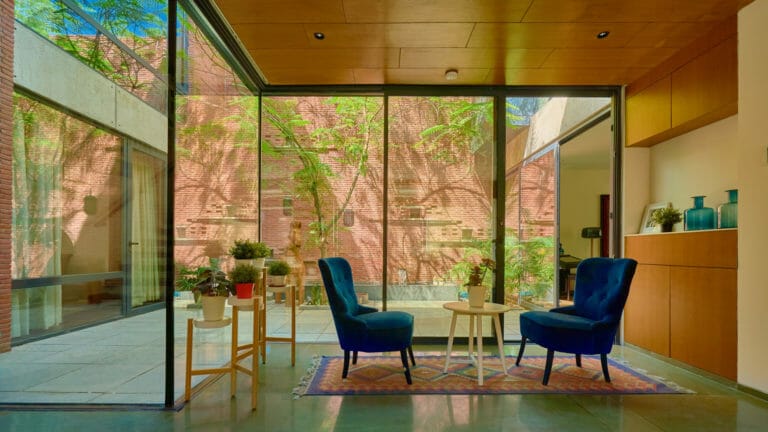 The second floor of the dwelling area houses three bedrooms – a master bedroom and two children's bedrooms, and an upper family lounge to relax and enjoy. This floor is a hub of ample light and air barging inside through large windows opening out to the east and west courts. All the bedrooms are planned along either of the courts to instill every space of the House of Courts with a soothing atmosphere.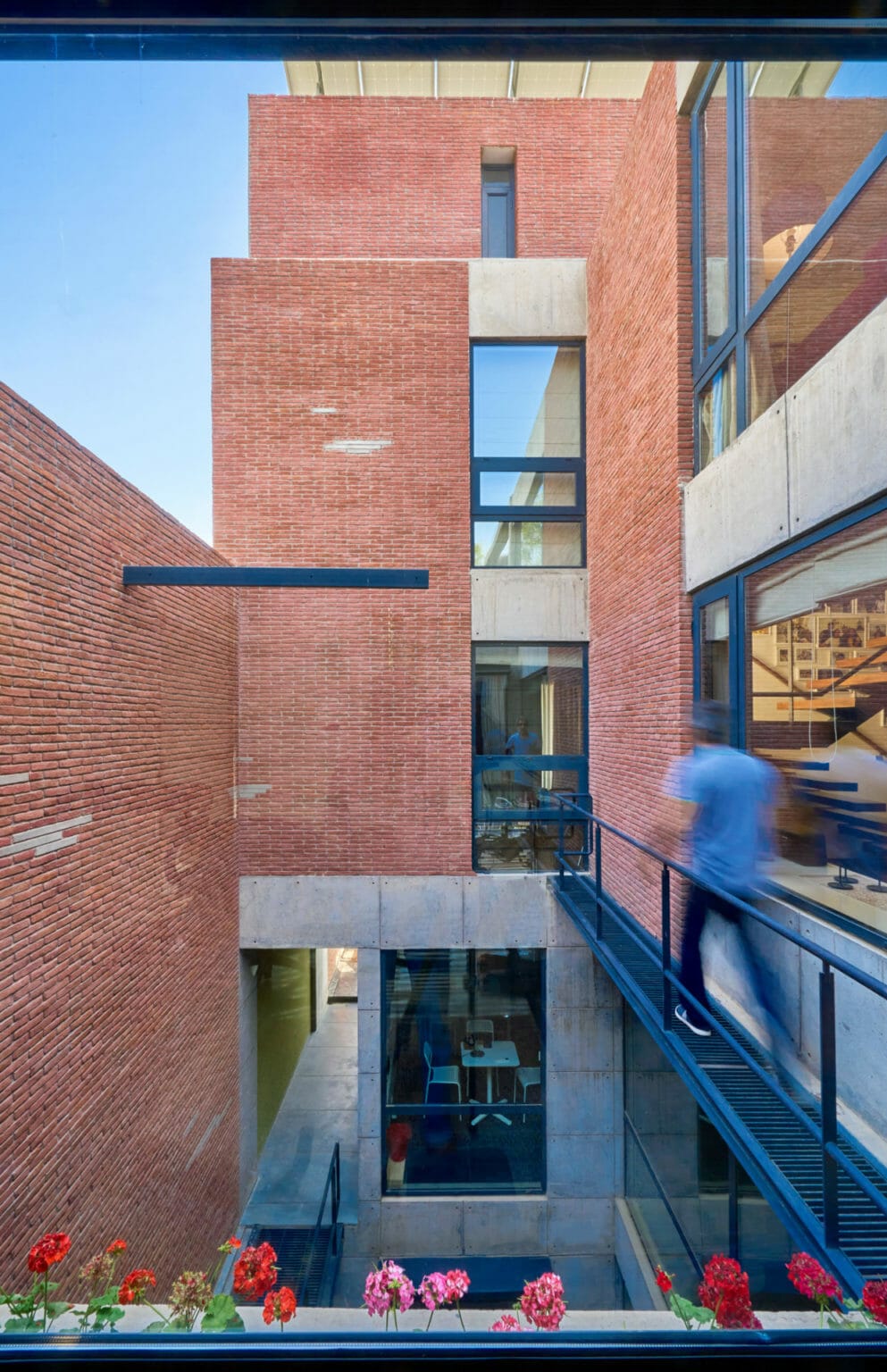 House of Courts uses unpretentious materials and the ample sunlight pouring inside articulates different sceneries throughout the day due to sun movement and unfolds a momentary drama in ordinary space.
Fact Sheet
Project Name: House of Courts
Location: Sushant Lok, Gurugram, India
Firm Name: DADA & Partners
Area: 6000 sq ft
Design Team: Mukul Arora, Nivedita Saigal, Saurabh Syal, Debdeep Dam
Image Credits: Ranjan Sharma / Lightzone India