Fuel your creativity and expand your design perspective on Amazon Prime. Get ideas, knowledge, motivation, entertainment and inspiration by watch these home improvement shows streaming on Amazon Prime. Below are the must-watch shows to catch up.
BEST LAID PLANS
Architectural Designer Charlie Luxton and Property Developer Sophie Morgan join forces to help home owners in UK undertake large-scale ambitious projects for renovation and extensions. These are once a lifetime project for boldest home improvement taken by most of the home owners. In each episode Charlie and Sophie offer the much needed advice and guidance, as homeowners face crucial design dilemmas. The two pros ensure the homeowners reach a decision of how to proceed with their projects and even take them to see incredible inspirational properties for inspiration and guidance. The result are stunning new homes their owners are dreaming of.
BRAND NEW HOUSE ON A BUDGET
Huge home makeovers are possible on the smallest budget, here in this show on Amazon Prime the queen of interior design Linda Barker, demonstrates tricks, bargains and more. Design perfection is possible on a budget of just £5k as proven by Linda with amazing results with huge home makeovers using clever styling tricks, up-cycling and bargain hunting transforming drab houses into awesome beautiful family homes. Watch this show for inspiration to fix DIY disasters and tips to reinvigorate tired home décors. The show delivers fantastic makeovers to busy families and couples who simply never ventured to declutter or redecorate due to busy schedules. The designer breathes new life into rundown rooms by scouring reclamation yards, visiting local thrift stores and installing much-needed storage.
DREAM HOME
Dream Home is a dose of true reality, set in China; the show resolves real-life issues like small spaces, multigenerational homes, and longtime homeowners who are ordinary families with modest means afraid of change. Designers are asked to renovate their houses using limited space and funds, perform aesthetic transformations and also raise the clients' living standard. Dream Home despite its name, actually is a show about modest means focusing on solving the housing quandaries of ordinary Chinese families. Impressive aesthetic transformations are undertaken using a 150-square-foot space where a family of four stay and a dilapidated traditional courtyard house owned by a 90-year-old woman raising their living standard.
GRAND DESIGNS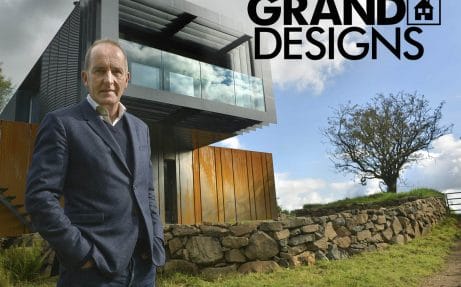 This iconic British home design show is presented by Kevin McCloud, sharing the story of ambitious middle-class people who set out to build their own dream homes. In each episode, the host takes you through the design and construction of ambitious custom home project from the point of concept to creation. The projects undertaken are have not just functional, but also works of art such as an underground home, a glass house built on top of a cliff in Wales, converted water tower, and the shipping container house. Viewers can track the progress of each project, unforeseen complications, and stretch in the budget while exploring the design detail, and chart the changes and compromises which one took to turn out projects which skew toward the extravagant, grand or unusual. Grand Designs has featured more than 150 properties.
THE GREAT INTERIOR DESIGN CHALLENGE
The Great Interior Design Challenge is a competitive UK reality show which pits amateur interior decorators against each other for transforming difficult homes. This is a design challenge where four amateur designers are each given a budget of £1000, to transform rooms from top to bottom in different architectural housing styles across UK and a time frame of 3 days to finish with the hope of impressing a team of professional judges. Their design is presented and the rooms are judged, the contestants who have done the poorest job are sent home. This happens until the last remaining designer wins and moves on to the quarter finals. The show has 15 episodes over the first season.
Also Read :Architecture Movies and Shows on Netflix
DESIGN MATTERS
Design Matters is a Canadian interior show produced by RTV Media, featuring unusual design projects, with a team of professional designers offering renovations within the budget. The show answers strategic question to stay within the budget, how to add a personalized touch to interiors and not emptying your pocket. Top builders and architects are on the show with creative upcycling projects which demonstrate renovations by novice homeowners.
RESTORATION MAN
Restoration Man is presented by architect George Clark, who traveled around Britain to offer amazing stories about people who have gone extraordinary lengths to build their dream home. The show presents new locations, restorations of historic building like churches, water towers and even mills which architect George Clark helped people into their dream homes. This is a show to say that if they can do that, you definitely can.
HOME|MADE
Home|Made is about turning neighborhoods into communities and making a space into a home. This show is about the daily lives of people who are artists, dreamers and entrepreneurs with vibes, personalities and endowed with possibilities to create unique spaces and culture in America. A show that takes you on a journey into the daily lives of upcoming residential communities.
MY DREAM DERELICT HOME
Simon O'Brien a property renovator and host on the show shares adventures of daring ambitious homeowners and renovators who breathe new life into dilapidated dwellings. Each episode follows the success story, the change of state of a distressed property and transformation from the very first step of design into a dream home coming into a successful conclusion.
SIMPLE HONEST DESIGN
Catherine Arensberg, an exterior designer undertakes landscaping design, balancing the symmetry building with trees, plantings and irrigation which are low maintenance in a nut shell design dilemmas with resolved practical, budget solutions. The designer reviews potential plant sun requirements –– to ultimately insure that gardens thrive successfully each year.
Others shows to watch for inspiration are Room to Improve with architect Dermot Bannon a brand new series featuring contemporary innovative design projects where each has been untaken by humans stressed over budgets, unexpected disasters, dilemmas, changes of heart and mind, unpredictable weather and the architect trying that he knows best.
See This Small Spaces with Interior designers Susan Crenshaw and Peter Fallico to step inside cramped small spaces from kitchens, attics, bedroom and bathroom. They offer practical storage, layout and décor suggestions to turn crowded spaces into cozy areas.
Travel the world with Tiny Houses World another series on Amazon Prime to help prospective homeowners search, construct and adjust in the perfect tiny house. Homeowners discover that less is more!
Weekend Refresh offers solutions that can be executed in 48 hours or less to totally transform a room. Designers offer practical demonstration offering fresh ideas for furniture, accessories and material treatments.