Proposed and completed amidst the covid situation and the city in lockdown, RK dining and bar is your next dining spot on that trip to Lonavala. The objective behind dining spaces is to create a welcoming tone to the design to attract more customers for the growth of the business. Executed in mere 85 days by involving local labor and using locally available materials, the project is promoting local craftsmanship.
The focus of the client was on the climatic conditions and location of the project as Lonavala experiences large amounts of footfall due to its beautiful weather. The designers have kept in mind the weather of the place and designed the place with the note of simplicity which sets it different from other dinings as well. And, to ensure beauty with simplicity, the local masons proved to be the right choice, as reflected in the English bond and herringbone patterns on the brick walls of RK dining.
Natural wooden furniture, concrete finish arches adorning the ceiling, and brick walls together create a rustic ambiance for any space. Brass light fixtures, specifically selected fans and chandeliers, and wooden furniture, planters, and window frames act as a cherry on the top of this rustic decor.
Dark granite polished stone is used for flooring that reflects the ceiling arches and chandeliers embracing the decor and the inclusion of indoor plants planned sequentially to create a natural interior environment. The element that binds the whole place together is the blue textured fabric furniture for dining. The chairs are of wood and metal combined and the waste left from the fabric used in seating is put up on metal screens which are later used as a wall feature.
To house a large group of people the peripheral walls are planned with maximum dining capacity. The feature that cannot be missed is the laser-cut metal sheets in between two wooden windows used as wall decor to create a focal point in the design. RK Dining and Bar is waiting for you to dine in and experience a tinge of vernacular architecture.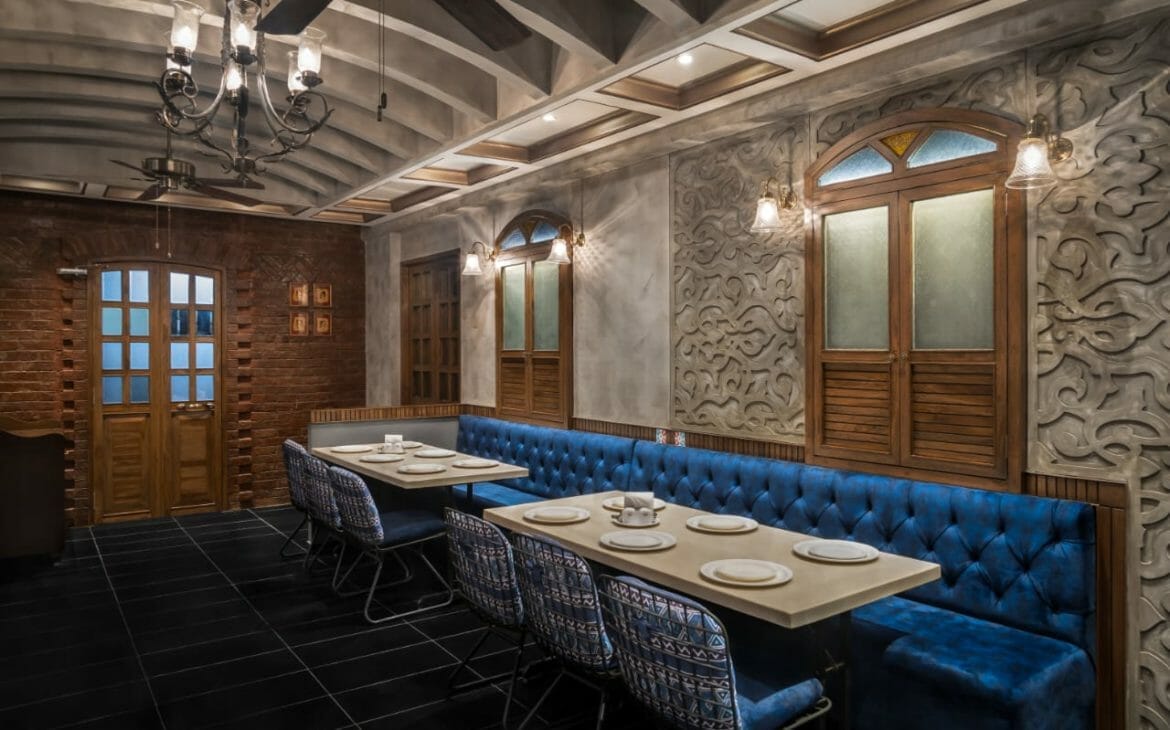 Fact Sheet
Project Name – R.K Dining and Bar
Project Location – Lonavala, Maharashtra
Project Area – 2000 sq ft
Project Team – Nishant Desai and Santosh M
Photography – Studio Cimb (Ruhma Ukaye)