The Godrej South Estate Experience Centre has been designed by Ar. Rachna Agarwal, Founder and Design Ideator at Studio IAAD. With the brief of conceptualizing a space that has an instant and lasting impact on the visitors to impress and captivate the essence of communication, the design team designed the structure.   
Inspired by natural beauty, the design process has combined sustainable thinking and knowledge of the renewable and natural material palette to build enriching spaces. The journey of the visitor is seamless as it transitions from one space to another; namely the deck lounge, model experience, audiovisual experience, show apartment, customization gallery, and discussion lounge to make them understand and engage at every step.
A semipermeable curtain has been designed with an array of sleek MDF plates which are held together delicately & seemingly floating in the air gives the feel of a 'larger than life' experience. The openness of the curtain structure balances the enclosed nature of spaces within; the full use of the vertical volume of the space adds a unique dimension, thereby enhancing scale.
The curved plates that perform as the constituent building-blocks of the curtain are staggered at two levels, imparting a sense of fluidity to the form. The modules have been painted in two contrasting colors to provide the structure with a sense of depth, which is further accentuated through smart lighting design.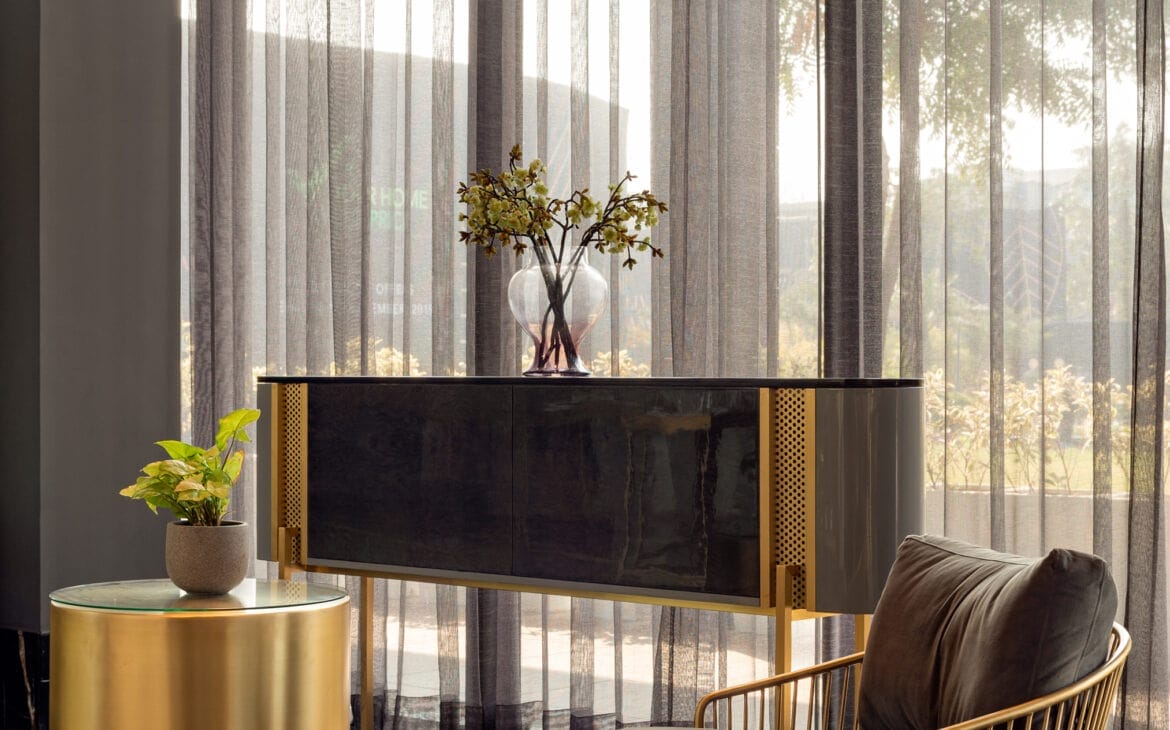 The lighting intent was to create an 'architectural chandelier'of sorts that commands attention with its imposing yet graceful presence, which was visually added with the high gloss flooring. The warm color palette of grey and white is welcoming & the accents in gold lend richness and opulence to the room.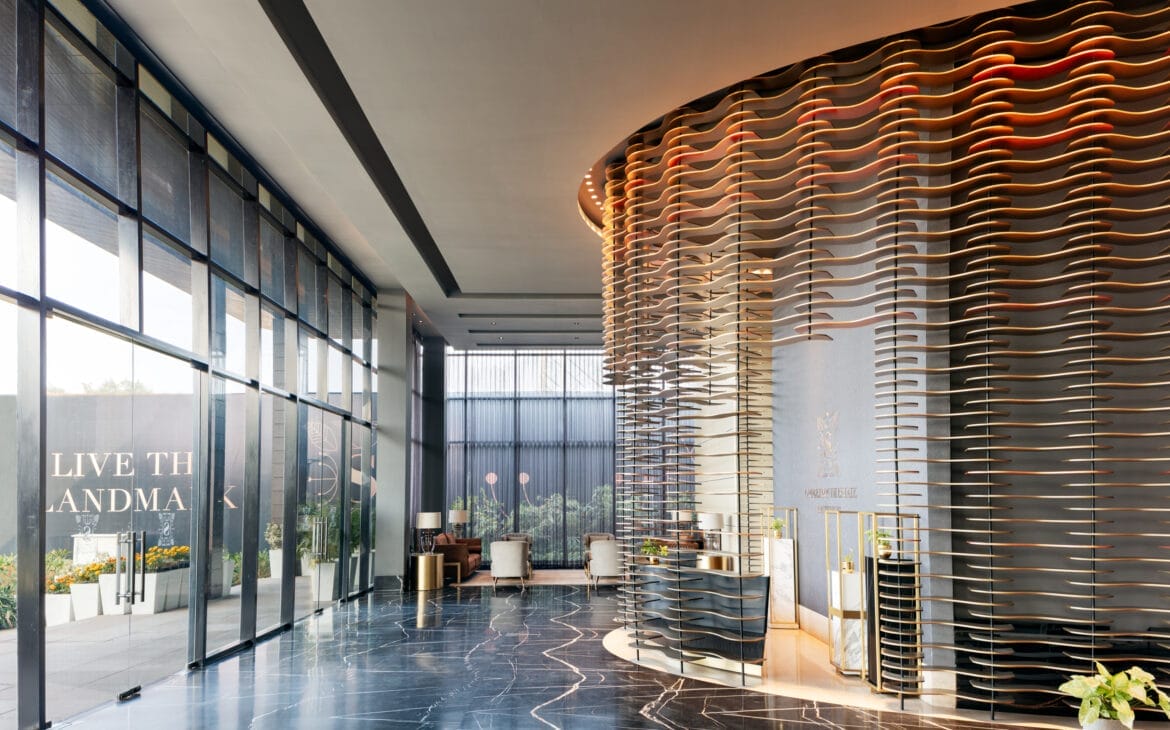 Understanding the transient nature of the space, the designer team focuses on creating an experience for the visitors. The entire structure has been designed and developed as a modular and reusable artistic installation, ensuring the conscious utilization of materials and resources.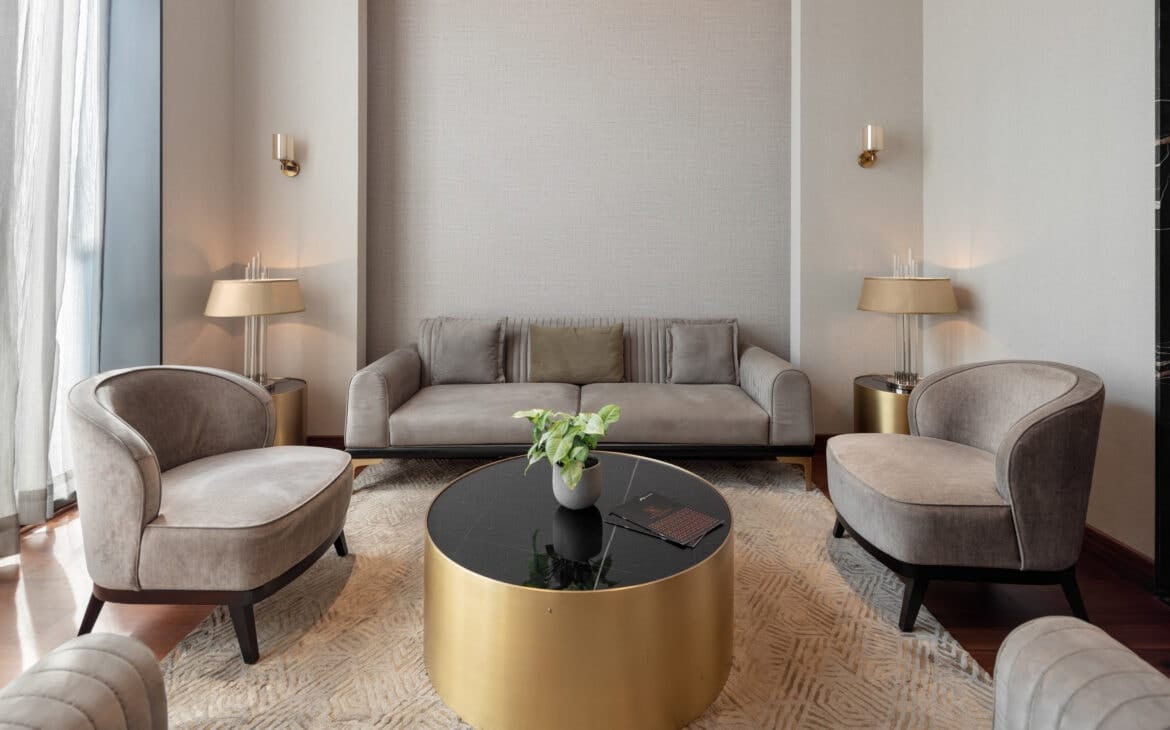 The biophilic design approach helps the design team to establish a connection with nature & creating a series of spaces that stir emotion and redefine the design brief. The stated structure is easily the nucleus of the venue and has a magnetic charisma, allowing visitors to intrinsically understand the tonality of the brand and their services, where the visitor is completely indulged in space's environment.
Fact Sheet
Architect Name: Ar. Rachna Agarwal,
Firm Name: Studio IAAD
Location: New Delhi
Photography Credit : @studio_nac & @fanthome