A New Delhi home by architect Suraj Mittal and partner Nishant Nagpal of the architectural firm Future Concepts is a glimpse of a mid century design that portrays their vision for interiors. Artworks flow to each and every space of the house sharing a visual of the designer and client for the love of art. Soft curves woven by gentle lines creates a visual landscape, while suede upholstery soothes the textural palette. All these elements combine and create a vintage style that radiates contemporary minimalism with a new adventure on every corner.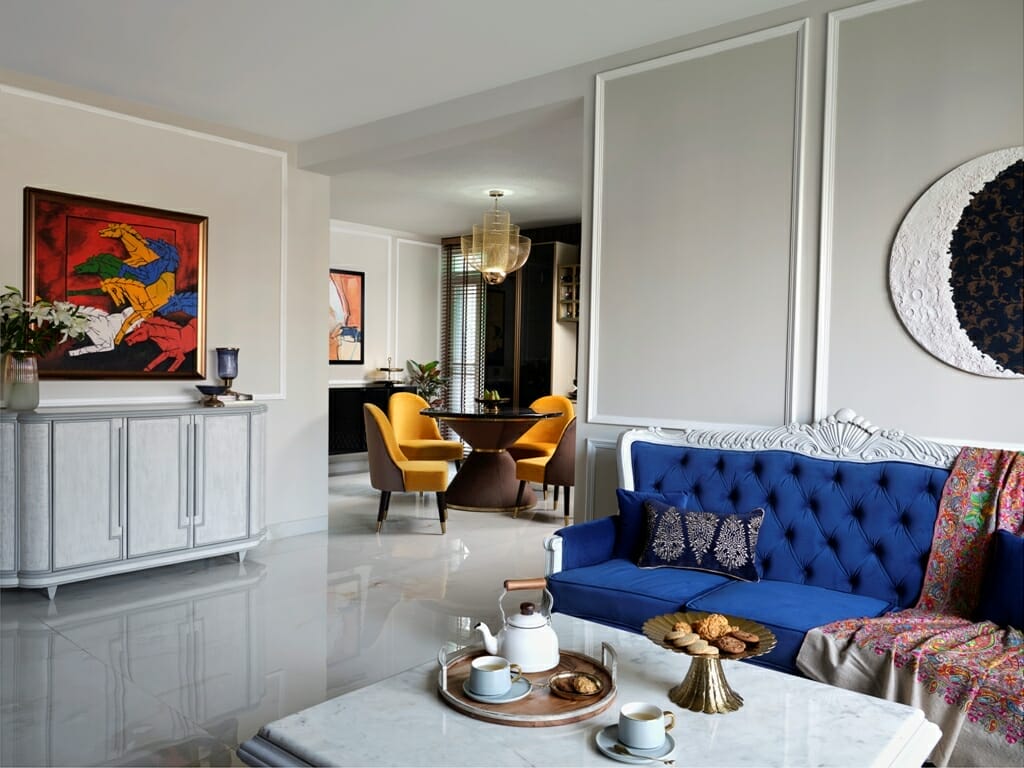 The living room palette is anchored by personalised artwork in shades of orange and blue. The sofas and armchair, in textural suedes, set the mid-century nostalgia. A custom-designed centre-table, accented with brass, perfectly balances the sleek lines and the distressed silver finish of an elegant console at the far end of the room, while botanical printed wallpaper in tones of blue and copper offer a rich backdrop to the assemblage.
The structural intervention in the living room gives a seamless flow to the space, weaving it with the dining area where curvilinear forms interplay with varying tones of ochre. The dining table in wood and stone in fine curves and circular shape has accents of brass that merges with the elegance of a rounded brass-mesh chandelier. The curves of the dining chairs have a vibrant upholstered shade of ochre. Suede-like leatherette on the dining chair backs allows for easy maintenance while ensuring the fabric cladding remains seamless and soothing to the touch. The soft palate has an earthy tone that encapsulates the master bedroom, where fabric-finish wallpaper softens the textural landscape, and a scalloped coral bed back brings a glimmer of opulent comfort. The daughter's bedroom is a whimsical colour palette with all her favourite colours draped with soft furnishings and pieces of decor. The parent's room has a landscape artwork that creates a visual narrative interlacing with muted tones.