"First impression is the last impression". Let's go with the proverb as that would be applicable to your home as well! The front door of your home is the most visited space and creates your first impression. In order to create an image of your personality it is necessary that your front door speaks a language that not only reflects your aura but also stands out in the crowd. Along with some important functional features, like safety, security and good structural design it should also have curb appeal with elegance to your front design in house.
Whether you're trying to copy your favourite front of house design ideas or need inspiration because you're replacing your door as part of a renovation, Here are some inspirations for your front door design. Design for the house front mainly looks appealing because of this elemental feature.
Be Minimalistic
Image Courtesy : Pinterest
If you are the one that prefers the less is more option then this one's for you! Give more contemporary and minimal interior design style inside out. Clean lines, zero clutter and huge windows, reflecting that in your choice of front door design is a great way to go and will give visitors a taste of your home from the onset.
Add a tinge of inviting colour
Image Courtesy : Pinterest
A pastel colour combined with wooden fluted panel or metal can be a great combination to add the hues in a sensible way. You can recreate the classic louvred french door combined with glass or any other element. This will help you to create a young charismatic look to your entrance. You can paint your door matte, glossy or semi- glossy as per your choice.
Add texture to colour
Image Courtesy : Paint Online
Combining your colour with a background texture that attracts the eyes of people. Adding a stone wall or a simple and effective tiling might help to create that aesthetic that you are being attracted to design for the house front ! While choosing colours make sure that you don't go with extra pops as that might be too much for residential space. Pick a colour that is subtle to eyes and mind as this is front design in house and you might be looking firstly after a heavy day at work.
Inlay work or carving
Choose a door that has some inlay work or exclusive carving. This trend never goes out of style and makes sure that your space looks elegant in time of changing trends. You can further polish it with different finishes and decide the theme as per you look and add a personal effect to your front design in house.
French Doors
Image Courtesy : interiors doors
Go with the name and its style. French elements are considered to be chic and elegant for any part of your house. French patio doors have adapted style from France. They are called French doors and are widely used in balconies because they are usually the width of two standard doors that makes the design for house front look interesting. This makes them well suited for smaller spaces, giving a sense of grandeur.
Contemporary Look
Choose a contemporary look that suits well with the 21st century design. One can take minimal or maximal design in this for their front design in house. The elements combined with the modern materials like corian, mdf can add extravaganza to the design and can be well versed with your modern taste. Since design for the house front adds a bigger impact to the overall look, it is essential to maintain a classic contemporary look.
Add dimension
Make your front design in house a sheer and classy one by adding a dimension to it visually. Add layers of steel and transform it into a sterling paradise. The 3D look optimised by adding steel to your main door will not only give a creme look but also adds bonus points to the overall security reasons as it is heavier and almost impossible to alter but makes a difference to design for house front in a whimsical way.
Big space for light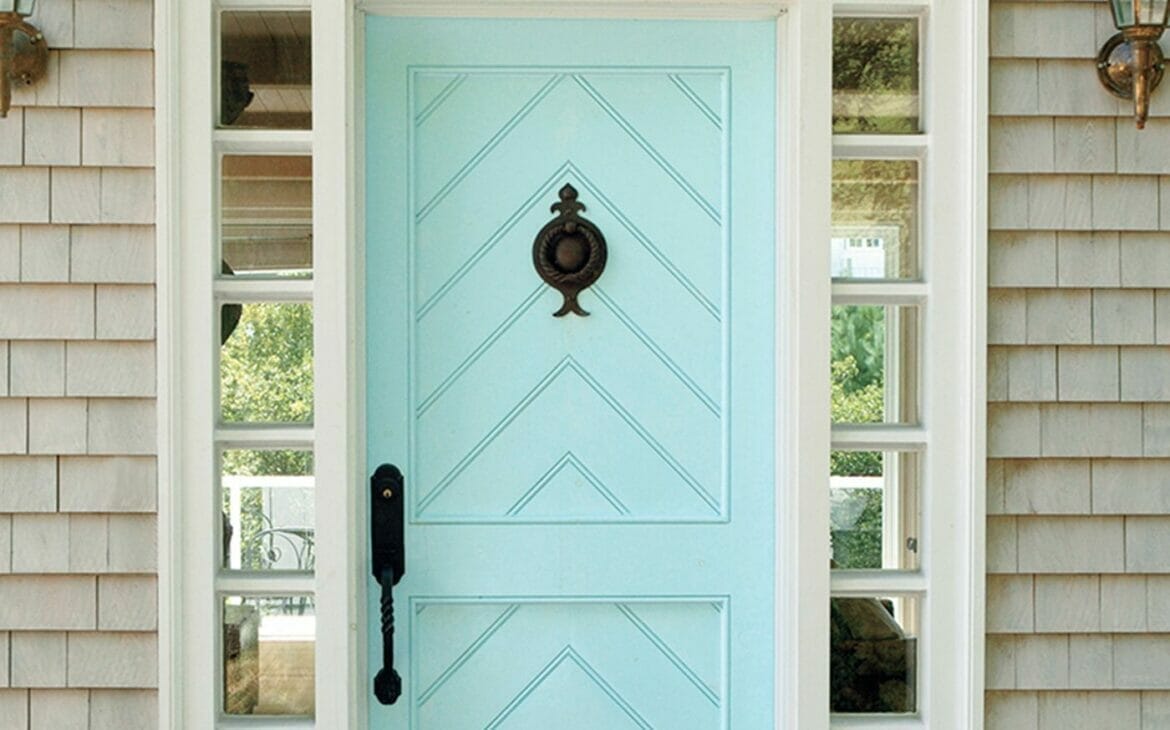 Image Courtesy : Pinterest
Add glass to adjacent sides of the door to invite ample light. On the privacy concern you can add translucent glass and manage to get the rays within your comfort space. This also helps the entrance to look bigger in size. The floor to wall glass enlarges the volume visually giving it a charming look.