The somber canvas of grey walls and white floor & an unusual hue of crimson into space stands out as one of the main highlights of the Azalea home designed by Ar. Farah Ahmed & Ar. Dhaval Shellugar of FADD Studio.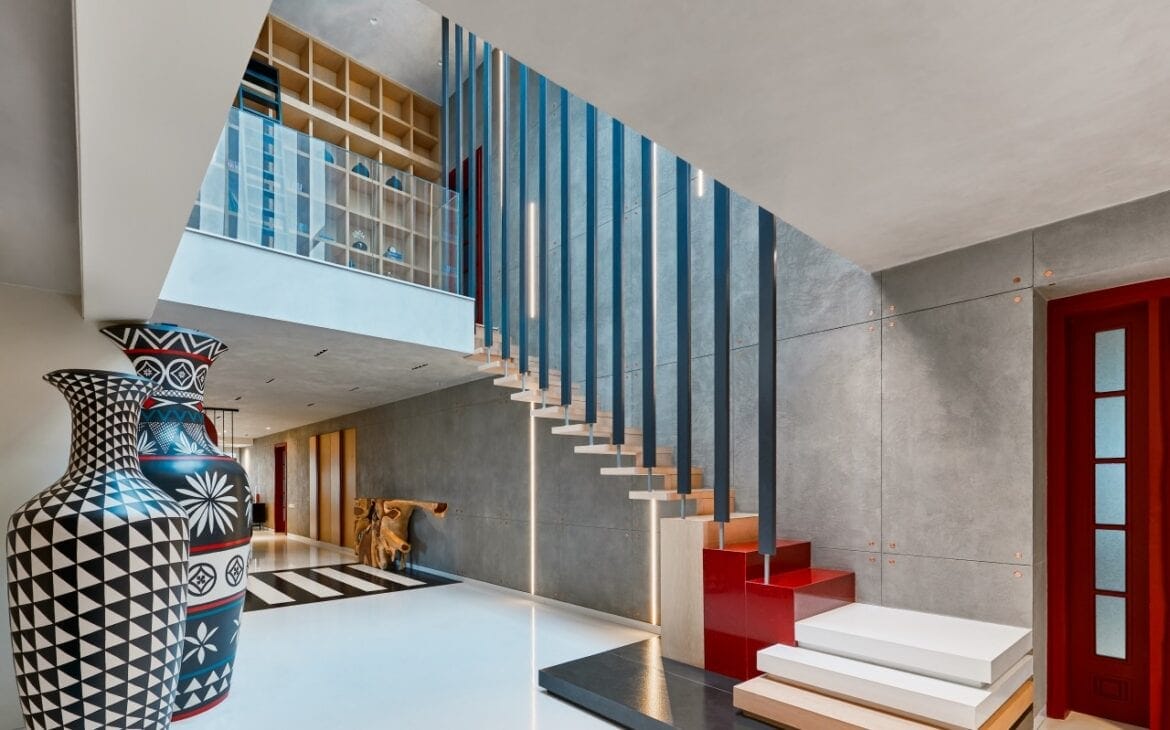 The home has two main highlighting areas. The first area is the door, inspired by the deep red English Phonebooth design. Whereas, the second area is the entrance area, which is beautifully covered with Sculpture and Lifesize tribal pottery to cover the massive column. Black, white, grey, and red are the colors used, and oak wood is the choice of wood for both the creative work.
The main door is arched and baroque with black and white stripes leading to a driftwood sculpture console. In the living and dining areas, the floor and walls are white. The main long wall is cement finished emulating an RCC wall with copper studs and the ceiling is finished with cement. The staircase gives the space texture by showcasing the architectural slits of skylight and cutout of the adjacent wall as well as the custom made vertical red lights opposite the living cluster.
Within the rooms, the concept is maintained to meet the requirement of the individual and teenagers. Neutral wallpapers lie behind the upholstered beds and the color of the bathroom reflects it as of the room. The master room has a beautiful printed motley tile in neutral colors. The bed is white and the bathroom has a hand-painted vanity. The terrace is more monochromatic with black white and navy and The straight lines on the floor create a shadow-like effect for the vertical skylight slits.
The space is contemporary, explosive, eclectic, energetic, and electrifying.
Fact File:
Principal Designers: Farah Ahmed Mathias, Dhaval Shellugar
Project Designer: Zulan
Firm: Fadd Studio
Photography: Gokul Rao Kadam
Styling Assistance: Shohini Munshi
Art: Aarti Karyun