Esvee Atelier is a furniture design studio established in 2018 by designer Srikanth Varma. It is based in Hyderabad and driven towards crafting bespoke contemporary furniture that is functional and consciously designed. Followed by thorough research, Esvee provides furniture solutions primarily for residential and commercial spaces seeking for an artistic living.
The studio is led by the philosophy of Conscious Minimalism creating original products that are made-to-order according to the client preferences and sustainable material choices. Esvee allows the user to choose from ample finishes and upholstery options available for a personalized experience that is reflective of their personality. They closely work with individual users, architects and interior designers worldwide to provide the clientele with tailored spaces and experiences. The product specifics include attention to detail and dedication to material and processing, on top of the list. The founder and his team function with the vision of innovation, quality, and artistry at the foremost.
Here is a conversation of TDJ correspondent with the founder Srikanth Varma who entails the journey and working process of his furniture design studio Esvee Atelier.
Q How did an architect end up practicing as a furniture designer?
During my bachelor's in architecture, the love for design and scale found order, where I learned how to envision something and systematically bring it to life. The formal education helped me in understanding design at different scales. I like to create through a disciplined and detail-oriented approach, and hence was naturally drawn to furniture design because the object-human interactions are up-close and more personal.
While pursuing furniture design at NID, it gave me a perspective and different scale aspects of design. Ex: A small change in the design of furniture makes a big difference and this was very interesting to me. My formative years working as a furniture designer exposed me to global design and the nuances of manufacturing practices. I moved to India in 2018 and started our practice to create meaningful design authentically.
Q How was your firm Esvee atelier conceived? And, what is the scope of work at your firm?
The core purpose of starting Esvee Atelier is to create conscious living environments driven by innovation, quality, and craftsmanship. We set out to create a new direction for Indian contemporary design through furniture on the global platform and working towards it. We design and develop functional art furniture and objects consciously created for living environments, irrespective of the scale.
Q Walk us through your process of designing any particular product.
We create our products through a disciplined design process involving stages of exploration, research, evaluation, and development. Every design starts from a sketch and evolves through the development stages of 3D modeling, scale modeling, clay modeling, prototyping, and testing. Technique, trend, and material research form an integral part of our product design and development, which is driven by our values.
Q According to you, What is important – aestheticism or functionality? And, why?
For me, it all starts with a primary focus on function. I see aesthetics as an output where it is an orchestration of how the functions come together. I design for function first, and my aesthetic is led by my "Conscious minimalism" design philosophy. When I design, aesthetics come more naturally to me, while the function is more intentional.
Q What differentiates Esvee atelier from other furniture designing companies?
At Esvee we are in perpetual self-discovery, we are trying to create and carve out our niche through continuous innovation and an honest design approach. While staying fully aware of what's happening around us, we compete with ourselves every day and work on getting better each day. I believe that our conscious and authentic approach reflects in our creations and is what our clients resonate with, and sets us apart.
Q What are the main influences whenever you are designing a piece of furniture?
I am inspired by mindful and conscious living practices. We create intentionally to positively contribute to living spaces. Our conscious design decisions aim to generate unconscious harmony between the object and the user, ritualizing the usage of products that endure, inspire, and aspire to be inherited.
Q How do you finalize materials for your products?
II believe that quality starts at the very beginning of the manufacturing process, with picking the right raw materials. At our atelier, every raw material is selected for low toxicity and high durability, through a thorough understanding of its composition and properties. Our products are created primarily using solid teak wood and solid brass. We constantly explore new and sustainable materials and their potential to transform into meaningful products.
Q From where do you seek inspiration as a designer?
Our creative process is led by our values of honesty, sustainability, and quality. I'm inspired by mindful and conscious living practices. Nature is my biggest source of inspiration, all the collections from Esvee have elements incorporated through subtle details which evoke a strong connection with nature.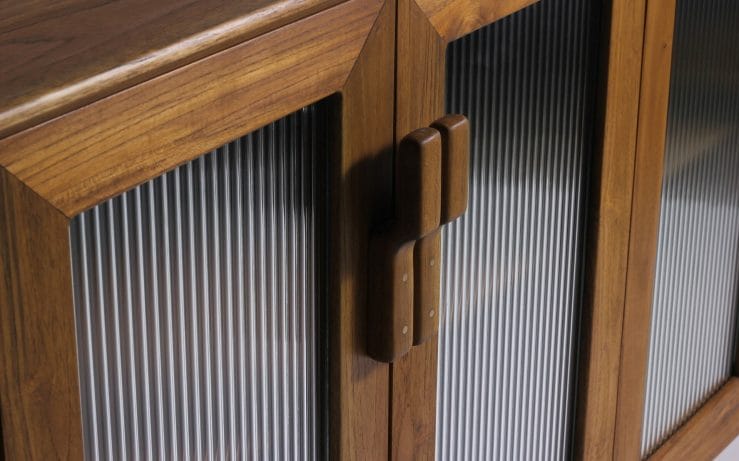 Q Sustainability is something that is a considerable factor in every industry in today's scenario. How do you incorporate it into your designs?
At Esvee, we re-defined sustainability for ourselves to remain agile and future-conscious. Endurance, longevity, resilience, and safety in materials and finishes are what make our furniture and one's lifestyle choices sustainable. Objects that last long and could be passed on as heirlooms, carrying the magical moments and memories of generations is what we strive towards.
Q What part of the designing process excites you the most and why?
The making process in the atelier excites me the most. Designing phase comes with a set of assumptions which are resolved during the making and development phase, finally bringing the design to life. Our studio and workshop co-exist, and the design and development process happens simultaneously, truly immersing us in the joy of creation.
Q What are the preferred materials that you would advise for furniture irrespective of the kind of space?
I strongly believe in choosing and ensuring that the materials used to create furniture should contribute to safety and sustainability in living environments. Furniture in living spaces ought to bring warmth and joyful interactions. Solid wood is one of the preferred primary materials, due to its natural timeless beauty and longevity, aging gracefully with time.
Q How is technology involved while crafting furniture at Esvee Atelier?
At Esvee, technology aids us in the design process, to understand and resolve the complexities of a design using various tools and software. Through innovative construction techniques and manufacturing processes, our products are brought to life by our makers with the aid of tools and machines where necessary, for precision and fine crafted quality.
Q What do you think you are doing differently as a furniture designer?
I believe in doing things the right way, and not the easiest way. Rooted in the belief that " Conscious creation leads to conscious consumption", I create products that are detail-oriented, through an honest approach to inspiring and promoting a conscious lifestyle while creating cherishable experiences for the users.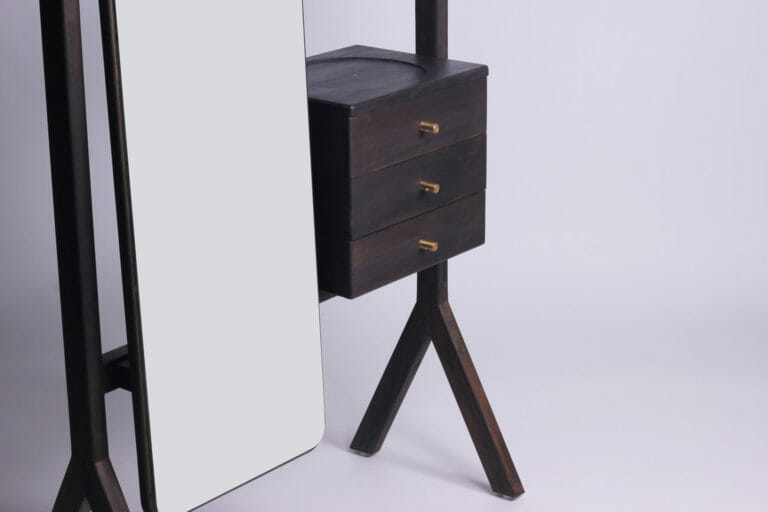 Q What project/s of yours are you most proud of and why?
Every creation of ours has its challenges and complexities irrespective of the scale, and we dedicate the time and energy required to bring our products to life authentically, driven by our values. Hence every product that I work on brings me the same joy. It makes us proud to be able to deliver cherishable experiences to users across the globe, through our products.
Image Credits: Esvee Atlelier