If you are looking for ways to create uplifting interiors, Moroccan tiles are the easiest way to add alluring patterns which add a touch of energy .
There's something about Moroccan tiles, with their bold and often colorful, arabesque designs and patterns that delight the eyes and spice up any room no matter your decorating style. They bring with them a multitude of bright hues and definitely end up stealing the spotlight no matter where they are use.
Moroccan style tiles look lovely in contemporary homes where they can create an instant focal point with their neutral colors and a sophisticated aura. Tiles in blue or even lighter shades of yellow are perfect indeed indoors, you may use Moroccan tiles anywhere from floors, walls in any room be it the bedroom or kitchen or in any room you like. Below you'll find some brilliant examples to use Moroccan tiles in the décor, get inspired!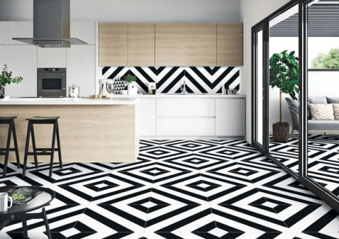 Unleashing the Mediterranean Magic
They are a trendy option indeed if you are thinking of adding a bit of Mediterranean charm to your modern home. Instead of opting for more expensive and extensive options like textured walls or a complete paint job, add a small section of Moroccan tile to usher in Mediterranean panache and create a whole new ambiance. Moroccan tile flooring is guaranteed to be a stunner as it makes the space look more bright and open. We love how it complements the traditional wooden chair in the above picture.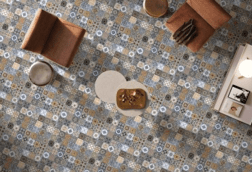 Backsplash with Moroccan Tiles
It is time to play with the tiles! This all-white and black setting, a smart section covered with Moroccan tiles can make a big impact indeed. Get creative and use these gorgeous tiles to delineate space in the open plan living area because these tile you to create a gorgeous focal point or a smart accent wall. This tiled section need not be limited to a specific area like the backsplash of your kitchen or a small wall in the bedroom. Thanks to its zesty appearance, it can become the focal point of any space.
Anchor a bedroom with floor tile
Moroccan styled tiles turn up the brilliance of a room with ease, taking the newly renovated space to a new chic. Here, the tiles in a dramatic dark pattern, anchors the space by unifying all of the black accents. The finished result makes a big graphic statement linking the bedroom to bathroom, easily standing up to the moisture. Thus, go right ahead and create exotic bedroom and bathrooms out of a magazine.
Soothing Geometric Patterns
Personalize living spaces with cabinets paired with a vibrant Moroccan tile backsplash which blends to create a unified look with the floor. Moroccan tiles on the wall and floor creates a happier vibe in the island kitchen. The soothing repetitiveness with geometric mosaic patterns and interlacing squares in black and white amps up your space and puts it on a whole new level. They don't overwhelm the space and they add a playful touch to your kitchen as well. However, even this geometric pattern can be amped up with more style with the inclusion of different shadings of hexagonal tiles or even different color grout. The wood accents on countertops warm up the modern kitchen cooking space, placed along with straight black metal chairs.
Benefits of using Moroccan tiles Create contrast – It can completely change the feel of the space making it look more gorgeous.

Attention gainer – These tiles gains the attention as it has the capability to easily transform a dull boring space into an interior masterpiece space.

Available in different sizes – One more feature of this tile is that it come sin variety of sizes from 12 x 12 inches to 48 x 48 inches, so you can easily choose one according to your preference.
Images Source: Antica Ceramica