Decorating small compact bedroom doesn't have to be boring or to give up comfort and elegance. What is needed is touch of ingenuity with proper planning with a combination of style, space consciousness combined with loads of creativity. Turn your space into a lavish, luxurious room of your dreams with layers of texture and brilliant furniture choices. In today's urban living, we all need to maximize space utilization while bringing to life to small areas.
Multi-functional furniture
The first step, therefore, is maximization of small space by understanding its usage. This implies making the most of a sleeping area by also using it as a study or home office. This entails being creative while buying furniture which can be utilized in a number of ways, nightstands with drawers to be used for storing clothes, a small chair in the corner or a bench at the end of the bed as a catchall for pillows or garments or other unnecessary stuff. Using the table next to bed as a nightstand as well as a workstation, bed with built in storage or drawers to accommodate the various functions. Utilize wall space for hanging a bookshelf and trying level best to maximize clutter control by room organizers.
Size down Bedroom Furniture
Not only size down the bedroom furniture but also acquire furniture with rounded edges as it will take up less floor space, rounded ottomans with storage compartments as these help widen walkways. As mentioned above, acquire a queen-size bed to free up more floor space, and having a bed frame with clean lines for a more open look. Instead of a bulky bookcase, opt to mount narrow shelves on the wall for storage.
Clear floor plans
Clear open floor area in the middle of the room makes it feel spacious. Choose a bed frame which is slim, a bed with no footboard, or a platform or storage bed or an iron bed with a see-through headboard and footboard are the best options for a small room. Place the bed with the pillows against the wall so it becomes a makeshift area for working on your laptop or daybed for lounging or place a small-scale coffee table for a perfect setup.
Furnishing Gamut
Furnish the small bedroom with sleek and lighter visual weight textiles or go bold. Choose interesting fabrics and expressive patterns which are light, crisp and bright to dress up the windows and bedcovers. Color the walls in cooler pastels – blues and grays or sunshine yellows for a special happy look. The other option is choosing saturated colors like charcoal gray, hunters green, or navy blue for a warm feel. Black-and-white always can be a good foundation—in a patterned area rug.
Maximize Light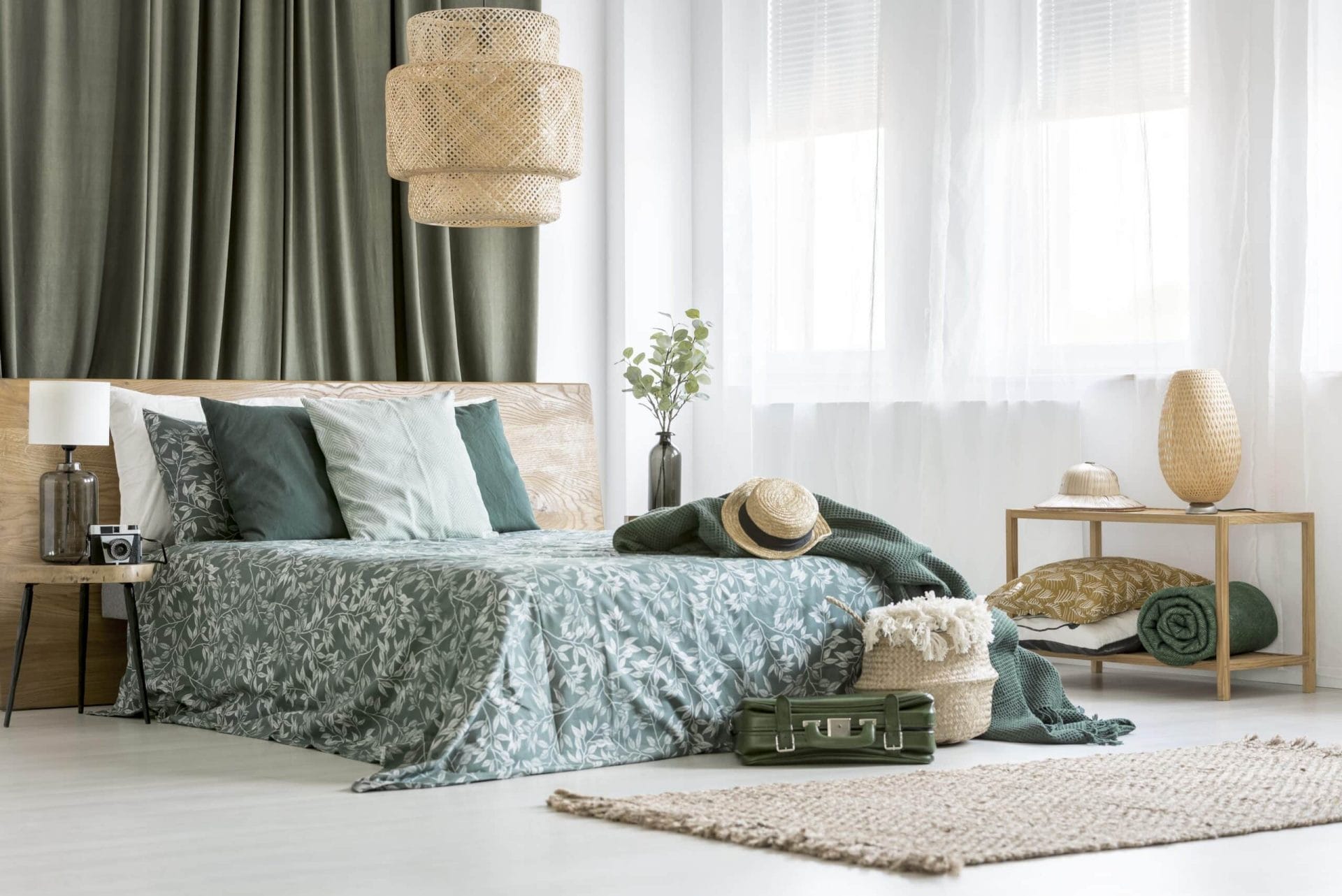 Make your bedroom light and airy by introducing see-through pale drapes on windows for natural light. This will prevent the room from feeling dark and claustrophobic. Choose mounted lights on the wall instead of table and floor lamps as light fixtures take up floor space. Instead, ideally over the bed hang a reading sconce or a pendent or chandelier light. You can also opt for a light with a swinging arm which can be adjusted to direct light for the rest of the room or downward (for reading).
Create the Illusion of Space
Create the illusion of space by hanging drapery as close to the ceiling as possible, a good trick is match the curtain fabric to the wall color as this gives the feel of spaciousness.
The above mentioned tips make small bedrooms cozier, relaxed and personal with more intimate vibe — creative with layout, furnishings, storage solutions, and design choices for a comfortable, organized retreat.