Let's light up this Diwali with some unique decor ideas. Decorating a home is one of the activities which changes the environment to a mood for celebration with lights, colours, gifts, sweets. Home decoration for Diwali is an exciting task and needs some preparations beforehand involving thinking and planning, about the theme and the materials which needs to be used for the purpose.
Diwali is associated with the victory of the good over the bad, bringing in positive vibes. Lights are symbolic of goodness and positive energy; lamps signify the joyous emotions in us while we share the sweetness of life through the mithais. As per Hindu mythology, this is the time when homes are blessed by the presence of Goddess Lakshmi.
Here, we bring unique Diwali decoration ideas for your home.
Light up this Diwali with
So now let's look at some cool new ways to make interiors come alive this festive season with the following eye-catching Diwali decorations. These all work as great options to dazzle up your interiors by lighting up your space.
Paper Lamps
Paper lamps are a unique way of decorating your house as they are simplistic, colourful, and beautiful. These give a cultural and authentic look to the interiors. These paper lamps are made mostly from handmade papers and hence are eco-friendly. You can light a small oil lamp in them to give luminous look at a side table or even as centre-piece on the dining table. These lamps are tall and stand by themselves. If kept in an empty corner table they give the perfect mood lightening to the whole room and set the ambiance with bright colours and textures.
These are available in different shapes, colours, and sizes in the market or you can make it yourself.
Choose a different variety of paper lamps to hang from the ceiling depending upon the theme of your décor, a novel oriental way of decorating.
Get yourself some and start decorating your place today to give your interiors a beautiful, bright, and unique look in no time!
Bangle Lampshades
Create gorgeous lampshades by gluing multiple coloured bangles one over the other to build lampshades for Diwali lights. These lampshades can resist heat and are easy to make and can be reused as many times as you want in the future.
Glass Jar Lanterns
Give a creative spin to glass jars or bottles this Diwali by painting them in a variety of colours or glue leaves on jars to create unique style lanterns for the perfect decoration.
All you have to do is put string lights inside the glass bottle for an amazing glowing effect. Place them on the table or along the stairs to give the room classy lighting.
String lights chandeliers
Create a beautiful chandelier by winding string the string lights randomly around the hula hoop to hang in the living room for creating a festive mood. These string lights work very well both indoors and outdoors for getting a glamorous look.
This festive season, try these home decoration ideas for Diwali.
Tea lights
Tea lights can be placed on floor within holders or made to float in bowls or in wineglasses.
Wineglasses can be used to decorate tables putting crystals or white pebbles at the base, next fill these three-fourths with water, put in some beautiful flowers so that they float and tea lights can be placed on top. Arrange these glass lights on a large scale to create patterns.
String lights
Outdoors, courtyards can be made awesome by string lights alone. In a garden, arrange string lights on the trees and bushes. An extension cord can help extend the lighting to transform the whole area into a party-perfect setting.
Fruit candles
Fruit candles or scented candles are a great addition in the living room. This might sound unusual but a great décor option by cutting the fruit peels in beautiful shapes and placing tiny fragrant candles inside them for a perfect decoration to spruce up the corners.
The Evergreen Diyas
Let's not forget the diyas a traditional Diwali decoration item can be decorated with colours, acrylic paints, glitter, beads or flowers and pearls.
Flower power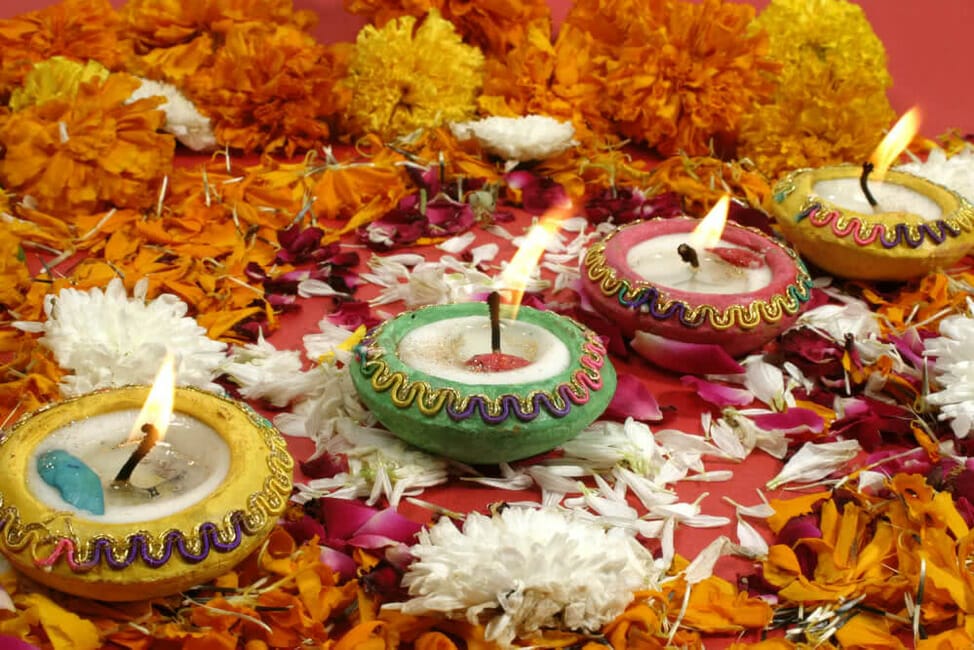 Brainstorm and find innovative ways to arrange flowers like Jasmine, Marigold, Hibiscus, Lotus among others this Diwali. These flowers are perfect for festive occasions due to their fragrance which accentuates a feel of divinity. This Diwali you can create low centrepieces with brass utensils, arrange flowers and floating candles for a bright and beautiful arrangement or make beautiful rangoli of shredded flowers arranged in shapes of Ganapati.
You can also string flowers together to hang on the walls or entrances as torans. Consider adding like bamboo shoots and bonsai plants to breathe-in an air of life on centre tables or in the shelves. Pay attention to the entrance or pathway using whole flowers instead of just petals.
Furniture and accessories
Diwali is also the time of the year when shops are offering seasonal discounts, so you can consider changing your furniture, fabric or upholstery. Traditional, vibrant and bold colours effortlessly add in the festive effect. This Diwali also de-clutter your interiors by getting rid of the unnecessary stuff, and move the sofa closer to the walls and place your coffee table at the centre. Set your space for an inviting vibe.
Pay attention to your Dining table
Last but not the least pay attention to you dining table, as festivals translate into lavish banquets. Think to enrich your feast with votive candleholders, exquisite table runners, coasters, and well embellished serving platters. Use paints or artificial mirrors and create intricate designs to add to your coasters or quilling papers to decorate you thalis with circular or elliptical shapes.
Hope all these tips lift up your Diwali! Stay safe and enjoy the festivities and also share your reviews on this Diwali decoration blog and tell us which Diwali decoration ideas you are going to try out this festive season.