Missing your own private outdoor space in urban home? Not anymore, now creatively revamp your balcony into a private nook with comfort and warmth. Think out-of-the-box décor ideas for a stunning setup by putting out a cozy lawn chair, outdoor furniture, colorful cushions, creeping\climbing vines or tall plants or shrubs and soft outdoor lights. These can be a beautiful extension and reflect your indoor style, created for outside use. Now, read on to get inspired and transform your balcony by personal touches.
Sleek Furniture
This mini escape transports you mentally to a space which brings you peace and solace. Customize an outdoor space by furniture that fits into the space while not compromising on comfort. If you have a small balcony or are short on space install furniture which can be folded or tucked when not in use. Hand a single seating rattan swing or hammock which can disappear when not in use freeing the floor space. Two low chairs couple or wicker furniture with a coffee table are all you need to create a space to recline and relax while watching the world passes by below. Or opt for pouf topped with a tray an extra seating.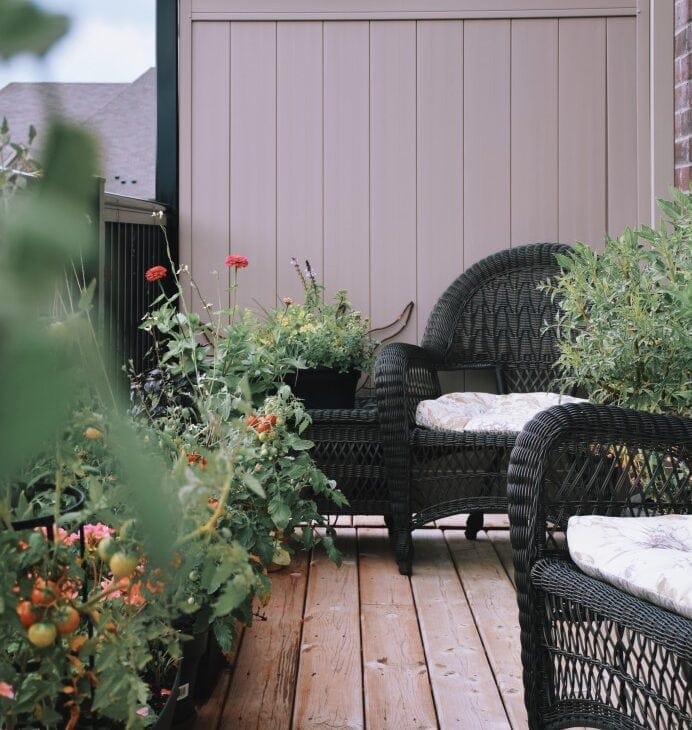 In case you do not have a balcony, carve out a sitting place next to a large window to get sunlight and fresh air. You will feel like you are sitting on the balcony by placing a rug with a set of chairs, a small café or folding table, and plants to make a cozy, comfortable spot. Sip your morning tea\coffee in relaxed harmony as you soak the sun or curl up with a book.
Cozy Charm
Aim to create an outdoor space which feels like an extension of home interiors which is possible by beautiful weather resistant pieces like faux-wicker or rattan sofa and coffee table made from resilient polypropylene. Purchase some new throw pillows to add a touch of texture and vibrant colored printed cushions and accessories. Cover your concrete floor with an outdoor rug or runner with vibrant scroll pattern which can stands up to the elements. Next add the delicate sound of water from the fountains.
Aim for Privacy & Protection
If this urban outdoor space is right next your neighbor's, bring in privacy by creating a natural wall with tall plants like bamboo, or hang bamboo shades to be raised and lowered as needed. Or hang weatherproof fabric as privacy screens to close your space from neighbors. Enjoy the outdoors in any weather by protecting yourself from excessive sun, rain or other elements by installing a retractable awning in classic stripe, or in bold color. Your balcony can be made even more perfect for winters by getting it enclosed with glass without restricting the view.
​Bring in the Gorgeous Greens
If you have no shortage of space create the feel and look of the backyard by packing your balcony with planters filled with lush plants. Flowers like geraniums and begonias, sturdy plants like bamboo, and fresh herbs all thrive on a balcony garden and remember to add some herbs to make your balcony smell as good as it looks. You can also install planters along the balcony railing to beautify your view. But before buying any plants keep in mind how much light your balcony gets.
In case you havea small balconycreate a vertical garden by simply stacking plants using nesting tables, stands or hanging planters rather than spreading them on floor — leaving the floor free for movement.
Light it Up
Last but not the least add rows upon rows of twinkling string lights or outdoor lanterns to enjoy the outdoor at night for a pleasant and romantic experience.