Colina G, a hidden jewel in the tropical bylanes of Assagao, in the heart of North Goa is a Portuguese-style Colina Vaddo. A gated community with 9 independent, distinctively designed homes, Colina is an artful combination of contemporary interiors furnished with eclectic furniture pieces.
Dip into your private pool or diverging into the space full of colonial precincts? The choice is hard to make as it would brim you up with ecstatic designs. A spacious and bright living room that aimed to create a large living room. The core idea was to design a version of a French farmhouse which has some chilling vibes with ease of comfort. The colour pops that are being used in the walls and upholstery makes a contrast with the vintage flooring. The duck egg blue in the light shades is continued from the living room to dining to have a sense of continuity throughout the space. The shades of cool blue add depth to the space with an oceanic charm.
Every space of the home builts a personal connection that has been curated consciously to bring the European charm with a relaxed vibe of Goa. Mirror, artworks and artefacts come together to accentuate the space.
The master bedroom amongst the three bedrooms is a persona of relaxation and comfort. The four poster bed gives a vintage feel with cosy comfort in white linens transpiring the beauty of simplicity. The armchair and accents add a tinge of colour to glow up the space. To make the beachy vibe a stronger than ever imagined, the linens have been customised by the designer.
The designer created the other room which is supposed to be occupied by younger occupants or guests as the most striking space of the house that would adhere to every kind of design detail. The flooring of nero and bianco adds glory to the pop of colours and creates a matured ambience that has some playful gestures around. Wall carved with niches to portray the artefacts and add some curiosity to the space.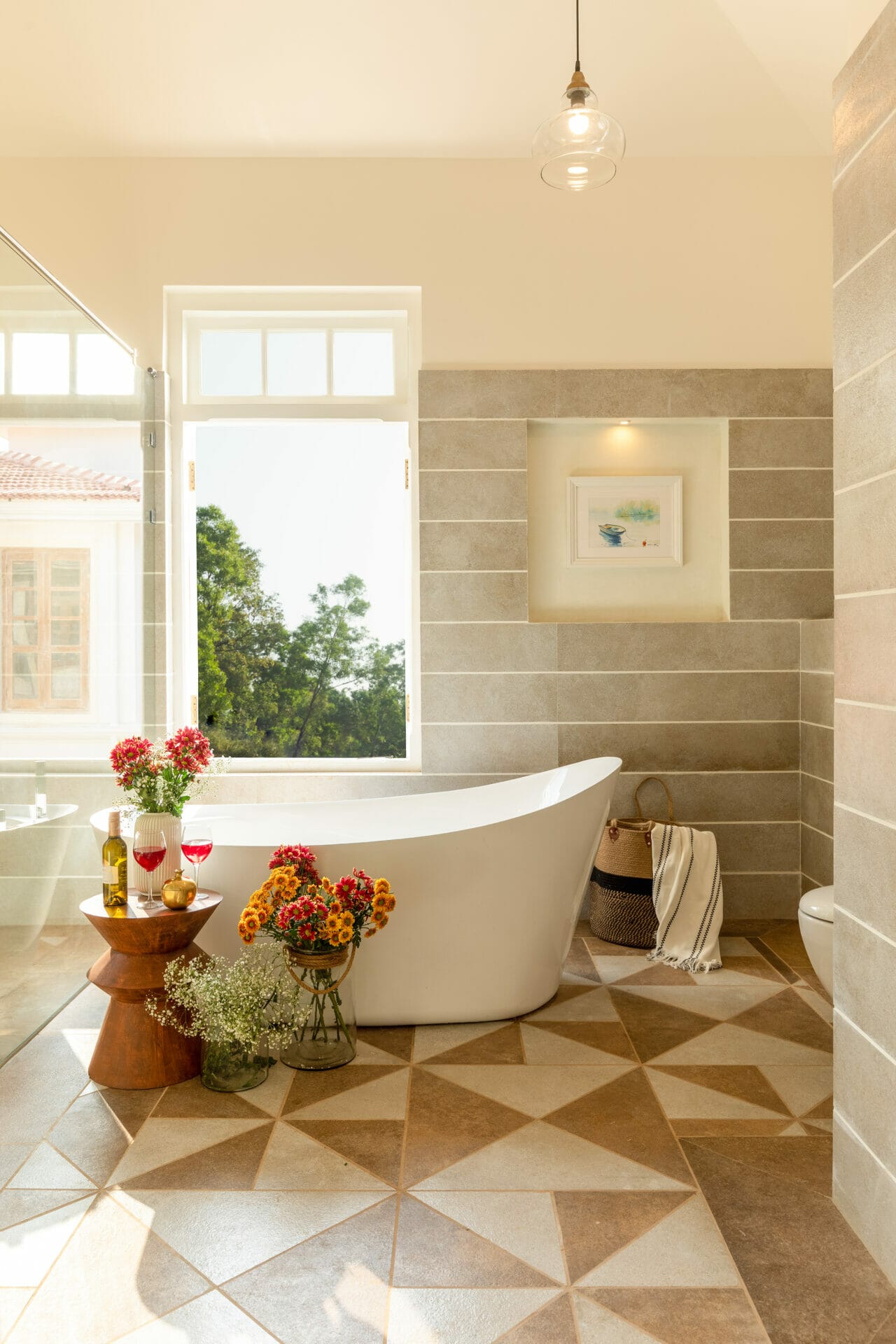 Striped stone tile within the airy space and vintage charms created by the pastel hues has everything drenched in sophistication. Contrasting with each other the bed colour, linens and the curtains have fairplay of materiality.
Overlooking the paddy fields, the freestanding bathtubs offer an ecstatic view. One would ideate as well as relax with a good book and a glass of fine wine. To keep it captivating, the space was made in neutral hues with accent mirrors and artefacts.
Another best feature at the end of the house tour is the bohemian styled balcony which is surrounded by the lush landscape and gives the best sunset view. This home is cautious curations of multiple things that come together and make it a paradise.
Fact Sheet
Name of the project : Colina G
Firm Name : Laila Malpani Designs
Area : 4200 Sq. ft.
Location : Goa, India
Photography Credits: Shabri