The location of India provides it with various climatic and geographical conditions each of which has its design challenges. Historically, the availability of materials and resources governed the design process and the techniques still play a major role in the designing process as they lay down the foundational measures to deal with the climate of India. 
The same material or design element is being used in two different ways concerning the climate conditions. A small element like windows plays a major role in deciding the environment of a building. The architecture currently is the one where architects are re-interpreting the traditional building methods for a sustainable and climate-responsive design.
India is divided into 5 different climatic zones which are-
1) Hot and Dry Climate of India
2) Warm and Humid Climate of India
3) Cold Climate of India
4) Composite Climate of India
5) Moderate Climate of India
1) Warm and Humid Climate of India
Regions covered – Tamil Nadu, Goa, Kerala, Andhra Pradesh, West Bengal, Odisha, North-eastern India, and parts of Karnataka
Identification Features – Warm temperature, high humidity, and rainfall, low-speed winds, dense vegetation, prone to cyclones and hurricanes, the intensity of solar radiation is high in summers and moderate in winters, and diffused solar glare.
Architectural characteristics
– courtyards are an integral part of the design in such regions to ensure maximum cross-ventilation in the building
– elongated planning with rooms placed in a linear pattern for two side ventilation and are accessible via corridors running along with the central courtyard
– Direct exposure of front facades to sunlight is avoided
– A temperature difference is created between inside and outside premises through the landscape or other elements for heat dissipation and to facilitate evaporation
– The major design characteristics are the open flowy planning and extended shading devices to compliment larger openings and reduce solar glare
– the big openings facilitate the flow of air and the louvered or latticed shutters on those openings eliminates the influx of harsh sun rays
– Kitchen and bathrooms are separated from living areas as they produce more heat and are secluded using a buffer zone
– Oxide flooring or lattice stone is a cost-effective option to reduce the indoor temperature
– Roofing is done with pitched Mangalore tiles of thatch roof that allows rainwater to run off or get directed in the pits or wells if designed in the building
Suitable Material – Bamboo, Mangalore tiles, coconut leaves, granite, timber, laterite stone or mud blocks, and Thatch
2) Hot and Dry Climate of India
Regions covered – Majorly Rajasthan and some parts of Gujarat and Maharashtra
Identification Features – Minimal Rainfall and extremely hot and dry climate in summers and winters, very low humidity, high temperature during daytime, hot and dusty winds, minimal water resources.
Architectural characteristics
– Planning around a central courtyard to keep the interiors cool and breezy
– living spaces are planned on the western sides and the southern side is used for corridors and storage spaces to create a buffer from heat
–
– Windows are shaded with Chajjas or Jharokas to prevent sunlight from entering indoors
– Minimal street frontage is used to eliminate surface heat gain
– Openings on the exterior facades are smaller in size and larger ones are designed to face the courtyard
– To provide passage to hotter air at upper levels ventilators are designed
– Balconies and passages are screened with jalis for only air to move and prevent the sun from entering indoors
– A well-suited method for passive cooling is lush landscaping around the built form
– The buildings have flat roofs which are adorned with broken white tiles that reflect heat and keep the indoor cool.
– The exteriors are painted in light colors to reflect as much heat as possible
– The urban planning is done in a stacked manner to ensure adjacent structures shade each other and create a cooler neighborhood
– incorporating a water body is a suitable idea for cooler air passing through it and increasing the moisture content in the air and reducing temperatures in scorching summers.
Suitable Material – Timber, stone, and mud
3) Cold Climate of India
Regions covered – Himachal Pradesh, Uttarakhand, Ladakh, Kashmir, Sikkim, parts of Arunachal Pradesh,
Regions covered – Himachal Pradesh, Uttarakhand, Ladakh, Kashmir, Sikkim, parts of Arunachal Pradesh, and a few hill stations in West & South India
Identification Features – High altitude,direct and brittle sunlight, seasonal rain, low temperature, dense vegetation, occasional strong winds, or snowfall depending on the altitude. 
Architectural characteristics
– The advisable material for flooring is wood because of its warmth imparting feature
– Buildings are generally 2 to 3 storeys high
– The habitable rooms are placed on the southern and western sides for maximum heat gain
– The openings are designed on the southern facade with other faces protecting from cold
– A buffer is created with suitable trees around the building to act as windbreakers
– the walls of the building are very thick and plastered in many layers to ensure protection from cold
– Roofing in such cold regions is generally flat to avoid the collection of snow or rainwater on the roof. Only
Ladakh is an area where flat roofs are used as rainfall is not likely to happen
– balconies are made of timber and act as solariums
Suitable Material – Brick, thatch or slate, metal, mud, stone, and wood
4) Composite Climate of India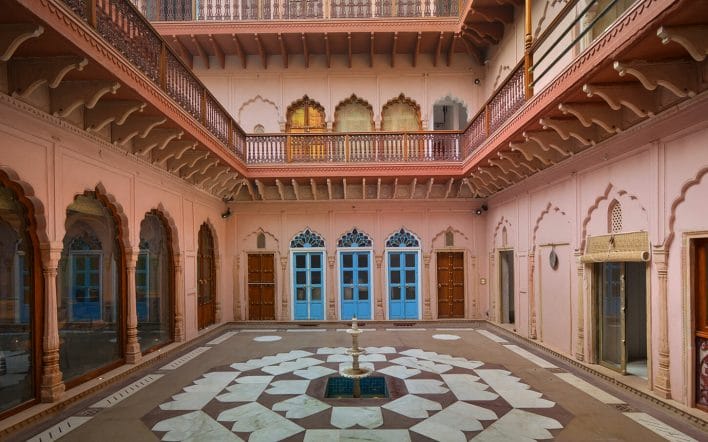 Regions covered – Central Indian states
Identification Features – Seasonal vegetation, variable landscape, solar radiation is very high in summers, relative humidity is about 55 – 95 % in wet periods and 20 – 25 % in dry periods, higher humidity levels during monsoons.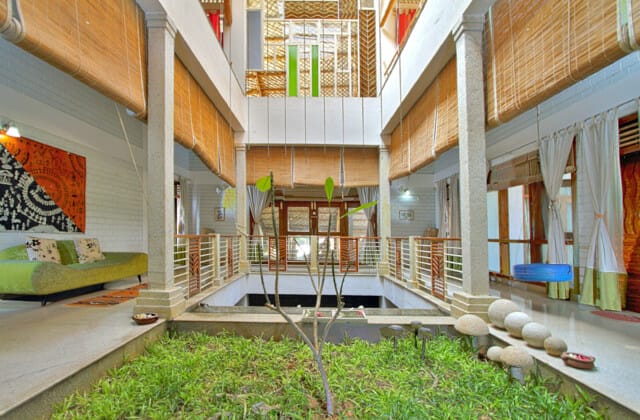 Architectural characteristics
– The elements are a mix of both warm and cold regions.
– The orientation of a building should be such to ensure maximum sunlight in winter and minimum in summers
– The design incorporates courtyards, overhangs, lush landscaping, and waterbodies
– The windows are oriented towards the north direction
– Use of high-performance glazing to reduce heat gain and allow natural light indoors is an advisable measure
– Projections are designed to provide shaded outdoor areas and protection from sky glare and rainfall
– High plinths to avoid rainwater from entering indoors
Suitable Material – Brick and stone masonry, concrete
5) Moderate Climate of India
Regions covered – Pune and Bangalore
Identification Features – located on hilly or high plateau regions, radiation from the sun is more or less the same throughout the year, abundant vegetation, lower temperatures than hot and dry regions
Architectural characteristics
– The bedrooms and other areas are planned in the northern sides
– The east and west surfaces are provided shading from neighboring structures
– The roof, east, and west wall surfaces should be insulated well to increase thermal resistance
– Light colors are used to increase surface reflectivity
– The air exchange rate is enhanced with the adequate positioning of openings
Suitable Material – Lime concrete, Mangalore tiles, stone masonry, lime mortar, and screed