Street art breathes new life into public spaces transforming it into an open-air museum a platform to connect community and change perception. The Chennai Corporation invited St+art India Foundation to drive this project in Kannagi Nagar in order to transform it, as Chennai's walk-in art gallery or an art district in collaboration with Greater Chennai Corporation, Asian Paints, and Chennai Smart City Limited. This is the first public art project in the city and the fifth in the country.
Kannagi Nagar is the largest resettlement in India with 23,000 families totaling a diverse population of over 80,000 people. This Street Art project to paint Kannagi Nagar in unique colors and concepts was a medium to engage with the local people; address social issues such as crime, alcoholism and drug abuse — bringing about social change in the environment via community bonding. The central theme for the murals in Kannagi Art District is 'People and Environment'
St+art India Foundation began in 2014 as a platform to promote street art to the people and their Lodhi Art District murals are the best examples of how art elevates not just the aesthetics of a space but also are a symbol of honoring the residents.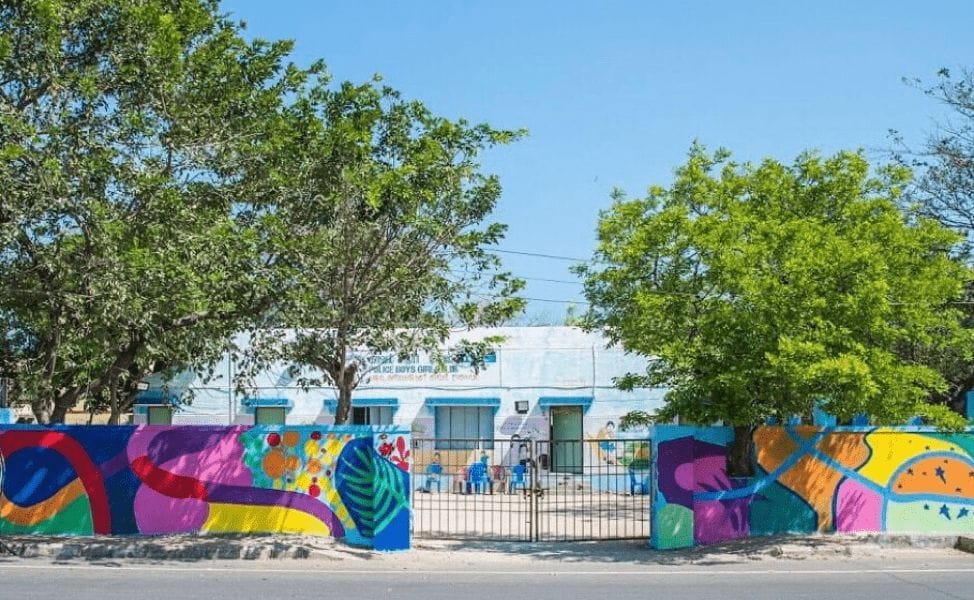 The project aims to cover 16 walls in the locality with large-scale murals by 10 national artists from different parts of India and 5 international artists handpicked from Switzerland, Spain, Canada, Austria and Australia along with an inclusion of the community of Kannagi Nagar to create artworks to reflect the characteristic identity of the area; making them an ongoing series of street artwork that people can relate to and communicate with. Chennai Corporation's long term plan is to develop art districts around Chennai and in due course conduct curated art tours.
Art for social change
Kannagi Nagar is one of the biggest resettlement sites in India, with people rehabilitated from three major river beds – Cuoom, Adyar, and the Buckingham Canal, plus those who were previously living in slums from Arumbakkam to Saidapet, to Teynampet to Royapettah.
Street Art for social change is an open-to-all painting workshop initiated by St+art India, supported by Asian Paints by rolling out 'Neelam' – a blue art-cart for a walk-in-workshop for the residents of locality to paint the standing columns of an incomplete construction site.
.
The New Door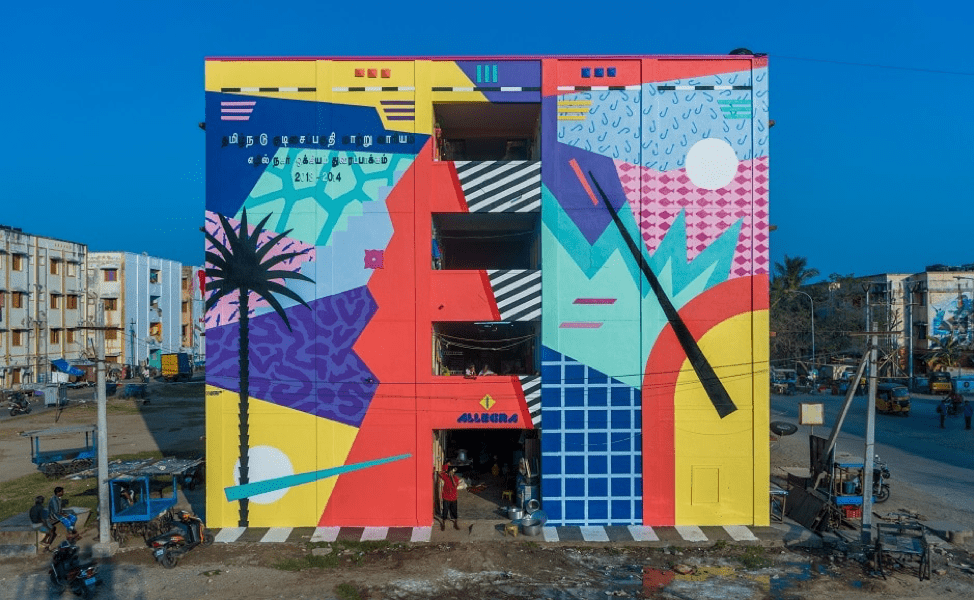 As shown above, Spanish artist Antonyo Marest created 'The New Door' — characterized by bright colors and vibrant geometric patterns — alludes to the artist's wish for the community to live a better future with possibilities. The façade is marked with the words 'Allegra', which means 'joy' (and is also the name of Marest's daughter) thus an attempt by the artist to spread positive vibes in Kannagi Nagar. The New Door has an arch and a large palm tree which represent marine symbols like fishes and hooks; and this mural is reflective of Chennai's color palette.
A smiley resemblance
This 'A-Kill Thought' monochrome mural depicts a hyper-real portrait featuring two smiling girls staring right at you with the brightest of smiles on a huge façade visible from miles away in the neighborhood. This portrait is dedicated to the core spirit of Kannagi Nagar — children as the neighborhood is full of kids and 'kids are our future'. The two kids staring straight at you is about the power of people and the future generation. The mural by a Chennai-based artist is suggestive of future; integrating the environment and the people.
Protectors and Providers
Drawing inspiration from the livelihoods of women in the fisher-folk communities of Chennai, the Delhi-artist Osheen Siva's Protectors & Providers is her signature style – the burst of sheer power of womanhood. The mural has a strong woman wearing a traditional sari, holding a crystal ball which encapsulates an entire universe within. The typography in Tamil at the top with word காப்பாளர் which translates into 'Protectors' and வழங்குநர் at the bottom means 'Providers' frame her piece; suggesting that the future is still in our hands as the idea is hyper-connected to nature as something which is the provider and we can always hold on to.
Koyembadu flower market
Australian artist Bronte Naylor mural is adapted from inspiration captured at the Koyembadu Flower Market. The flower market was striking for her as she paints the sheer number of commercial transactions which sustain an ecosystem in an economy. These transactions are soft and very human as she depicts a man sitting on a crate to another man selling flowers.
Harboring Hope
Bengaluru-based artist Kashmira Sarode's mural tiled 'Harboring Hope' represents a mother-daughter duo emerging from the waves wearing very bright clothes, look up at Iris flowers that surround them as a sign of hope in possibly traumatic situations. There are imposing motifs like dragonflies, leaves, flowers which are symbolic of nature denoting that it can take over if we don't take care of it. While the bottom half of her mural shows oceanic waves and fluttering fish. It's a celebration of womanhood and mother-nature and is dedicated to these residents who had to move from the coast to Kannagi Nagar after the devastating 2004 Tsunami.