Chand Baori in Abhaneri village (a corruption of Abha Nagari meaning "City of Brightness") is the world's largest and deepest step well, constructed over a thousand years ago in the 9th Century by Raja Chand to resolve water shortages via water harvesting in the arid Rajasthani area. Step wells, also called bawdi or baori, is unique and remarkable both in their engineering and architecture a a unique water management system. It is a feat of mathematical perfection from an ancient time as Chand Baori extends approximately 100 feet into the ground, down 3,500 steps and 13 levels presenting the most amazing symmetry as they taper down to meet the water pool. Said to be an upside-down pyramid.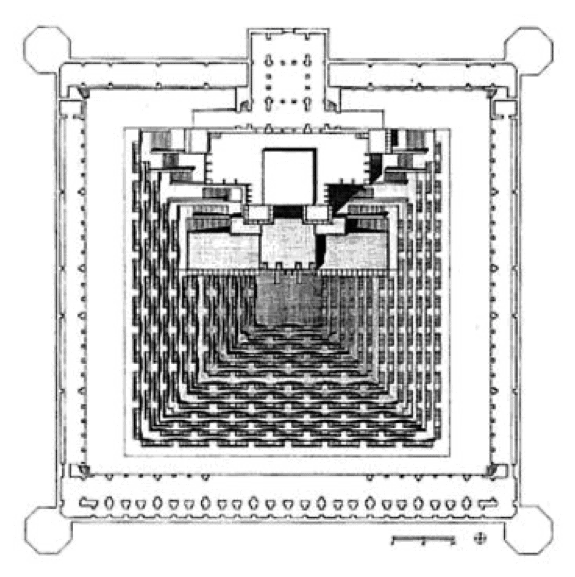 This square-shaped architectural marvel built with porous volcanic stones lets water seep in from the bottom and the sides of the well. The baori has a precise geometrical pattern, with 3,500 narrow steps arranged in perfect symmetry, which descend 20m to the bottom of the well. The baori narrows as one gets closer to the bottom.
Despite its open architecture that exposes it to the intense heat, as this well has steps built into the sides that can be descended to reach the water at the bottom which is about 64 feet deep with 13 floors. The well has its own climate at the bottom where it is about 5-6 degrees cooler than up above.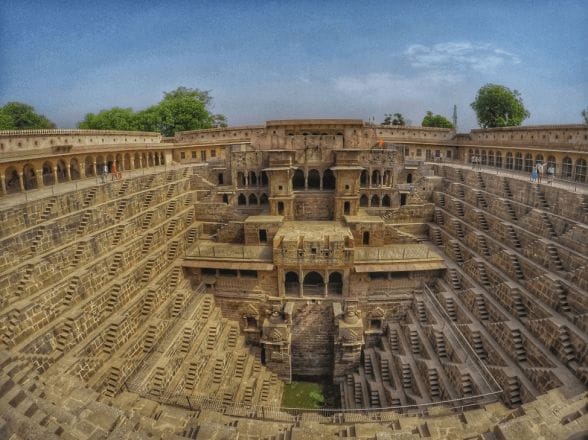 The steps make a mesmerising play of triangles on three of the descending walls while the fourth side boasts of a pavilion. The side that has the pavilions has niches with beautiful sculptures including religious carvings, beautiful carved jharokhas and galleries supported on pillars. There is even a royal residence with rooms for the King and the Queen and a stage for the performing arts.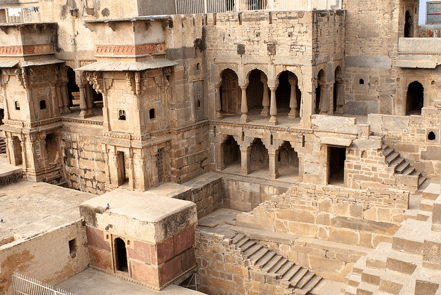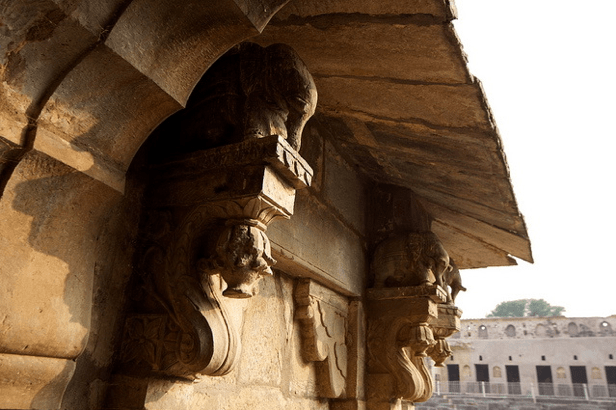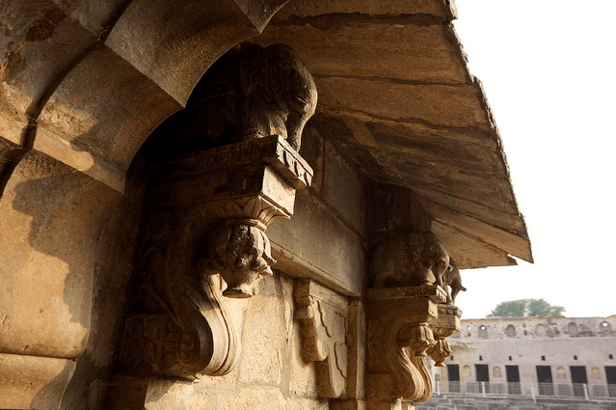 The reason behind building such an elaborate step well is not fully clear. Some believe it was used as a water harvesting site. While, others state that this was most likely used as a gathering place for the entire community. That probably explains why the fourth wall has pavilions with sculptures and carvings. There is also an enclosed rectangular courtyard kind of structure — a stage that may have featured dances, drama and other forms of performing art.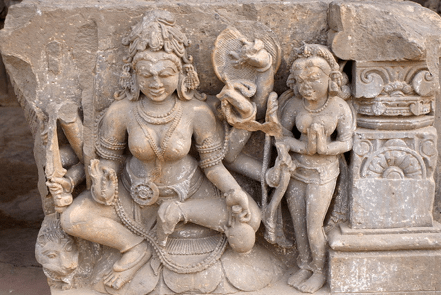 There's also a partially-destroyed temple, dedicated to Harshat Mata (the goddess of happiness), adjoining the step well. Today, although the bawdi is no longer in use, it is managed by the Archaeological Survey of India. See it to believe the treasure that it is!
Image Source : Wikipedia
Where is Chand Baori Located?
Chand Baori is located in Abhaneri village in Rajasthan, India.
Who built Chand Baori?
Chand Baori was constructed by Raja Chand to resolve water shortages via water harvesting in the arid Rajasthani area
What is Chand Baori
It is the world's largest and deepest step well, constructed over a thousand years ago in the 9th Century by Raja Chand