The Principal Designer Navath Rahin with his team of Ahanas Design 4 Space designed Café 17 at Kochi. The café divided into 2 floors has been conceptualized and envisioned to make this place a fun public space' rather than just a space for leisure and entertainment.
The ground floor is reserved for private meetings and gatherings defined by its compact seating whereas the above floor has an open layout that can be used for a range of occasions like family dinners or corporate group dining.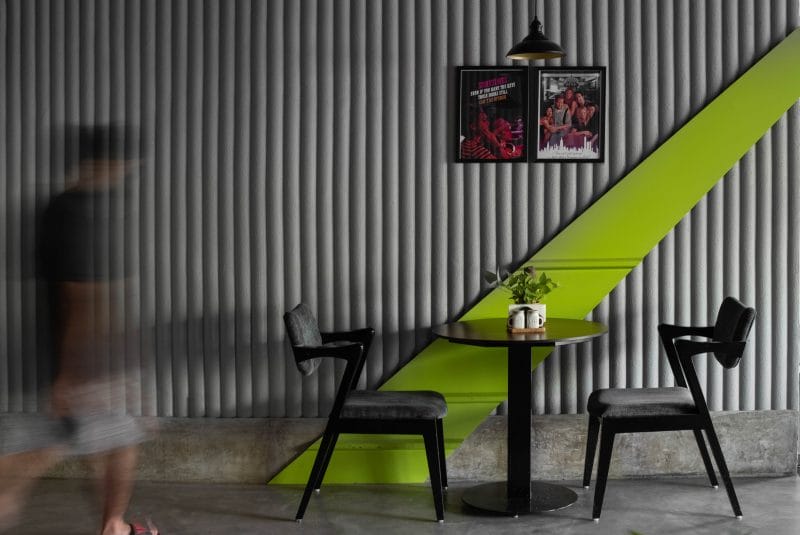 The walls are treated with one single element, which is handmade cement masonry work that tends to tessellate with lights. Balanced by channeling multiple sources of light from both light fixtures and natural sources that pass in through the wide facade glass and the French windows make the place more lively
The facade design is minimal with the use of glass & cement boards painted in black that not only highlights the big trees and the greenery surrounding the cafe but also creates a welcoming entrance.
Fact Sheet:
Principal Designer Name: Navath Rahin
Firm Name: Ahanas Design 4 Space
Design Team
Associate Designers – Ar.Aneena Paulson, Mr.Baiju
Project Execution – Neenu Antony & Praveen Antony
Project Name: Café 17
Size: 2700 sq.ft
Location: Kochi
Photographer – Nathan Photography