Designed by Davide Vercelli, the Melograno showerhead is a union between FIMA Carlo Frattini and Melogranoblu, interior lighting company. FIMA Carlo Frattini is an Italian company that specialize in bathroom furniture and interior design, based on three design values of #Green #Quality #Design.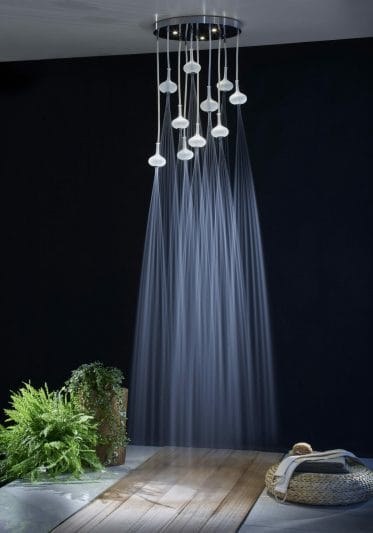 Melograno is a shower system that displays 10 floating glass spheres that evoke the shape of a drop of water. These spheres are suspended in your shower space through silicone tubes covered with an elegant steel mesh.
Connected above the transparent ceiling disk there is a decorative object that not only performs a water and light supply element, but it also features spotlights White LED spotlights illuminate these decorative lights adding a festive ambiance to the spheres adding a party-like atmosphere to delight.
This Melograno Showerhead with 10 whirlpool water jets is sure to give you a unique showering experience. The showerhead itself is made with frosted blown glass suspended in the air so that the water flows over it with its unique shape, light reflecting through it acting as a catalyst for your suggestive pleasure! This is certainly not an ordinary showerhead!