Abiding by the ideology of Home is where the heart is, and the heart wants what the heart wants, interior designer Yesha Gada has incorporated a fusion of modern and vintage styles in her project Blue door home. It is a residential space located in Kanjurmarg, Mumbai covering an area of 680 sq ft. The design of the house aims to reflect the Yin and Yang personality of the clients creating a captivating adobe.
The basic concept of designing the space was to reflect the emotions of the client and create a homely place where every room and each corner is a different realm. Blue door home is a 2bhk residence that melds the memories from the past with the flavors of the present crafting a majestic dwelling that exudes this attribute.
The designer of Blue door home created a space that holds the idea of fresh beginnings and at the same time, reflects a sense of bygone days. The decor of the house is an amalgamation of European architecture and Rajasthani artwork – individually liked by the couple who owns the place. The element that garners attention as soon as one steps inside is the gemstone-infused shades in every space. Gemstones like bloodstone, rose quartz, and sapphire, are used in the shades that symbolize a royal treasure collection.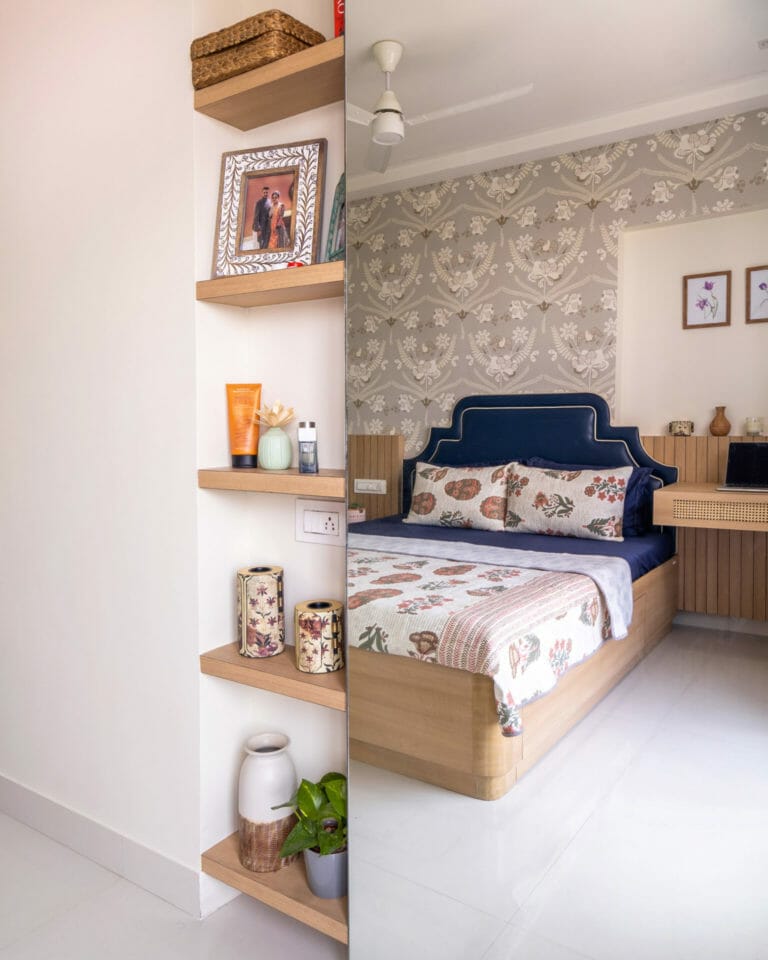 The kitchen is finished in pastels and chic hues, making it not only a cooking spot but a place that makes memories to cherish forever. The master bedroom is decorated by combining the traits of the couple and inducing them into the space through design elements. The walls are painted with subtle and soothing tones and adorned with paintings and artwork. Another bedroom is planned for guests, for them to feel at home in its welcoming ambiance. Blue door Home is not just an apartment but an experience at every glance.
Fact Sheet
Project Name: Blue Door Home
Location: Kanjurmarg, Mumbai
Total Area: 680 sq ft
Firm Name: YG Design Studio
Designer Name: Yesha Gada
Image Credits: @dishankshah