Romilla Tewari, designer and founder of Thinkcutieful designed a stylish room in Faridabad for a newborn baby boy.
The interests and passion of the parents, i.e. love for reading and traveling dictated the aesthetics and sensibilities behind this modern and minimalist nursery décor.
Space is designed in a way that meets the needs and comfort of a newborn and also has a double bed, a large elevated play area, multiple storage spaces, and other paraphernalia suitable for a toddler.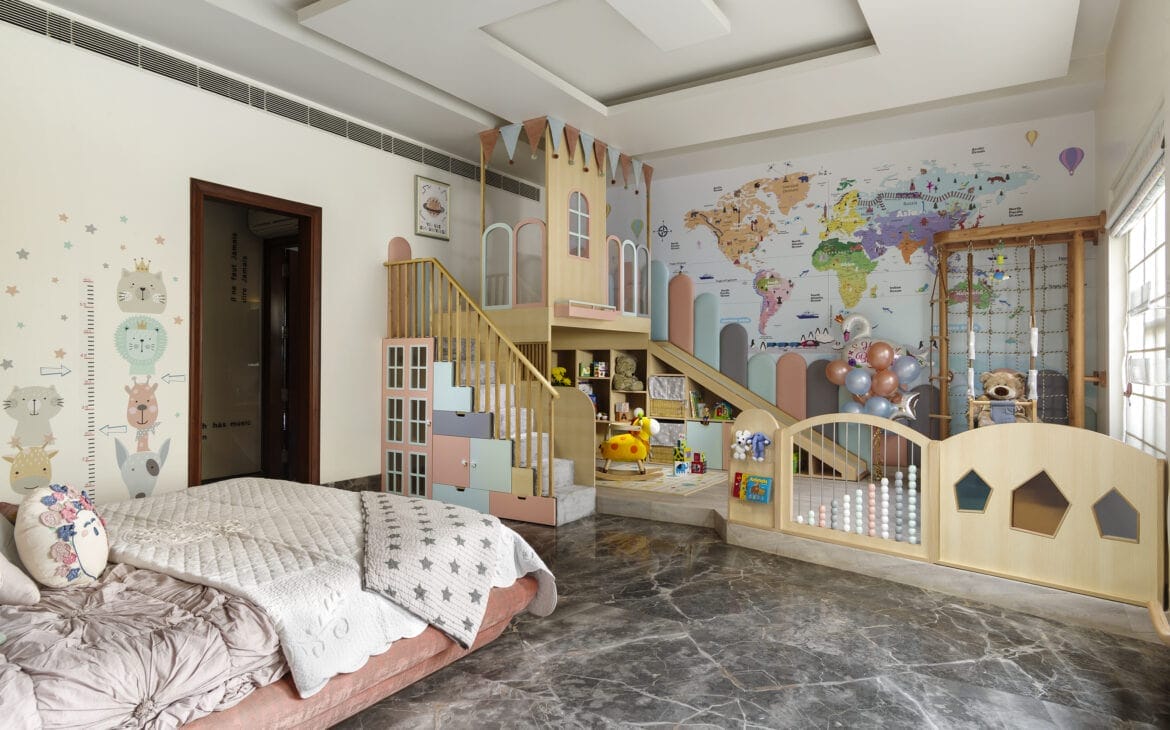 Many stimulating features are placed aesthetically around the room. Touch and feel sensorial sections on walls as well as décor components are placed for the skill development of the child. Keeping them on the wall allows having ample space for a toddler to crawl, walk and fall without getting hurt. Among the various wall play facets in the room is a holding rail on a lower wall for the baby to use while cruising.
A child-friendly world map highlighted with the graphic wallpaper attracts the attention in the room. A play area with a slide, a swing, and a climbing zone adds elements to release the toddler's pent-up energy. Beautifully the space under the stairs has been used for pull-out storage space for books and toys.
The warm pastel and neutral color scheme on the walls give the room a trendy and modern feel, which can be easily accessorized with bold prints, exotic aqua, or delicate peaches to keep the child mesmerized or as per the mood of the day.