The bungalow facing Coco Beach in Goa is an 8000 sq ft beach house that draws inspiration from the beach for its pared-down tone aligning with the geographical context. The design creates tranquil spaces that remind of the whites and blues of the Mediterranean design style accentuated by minute details and artworks.  Initially a four storey typical home was converted to a Goan Portuguese dwelling. The completion took nine months and had a lot of constraints due to continuous rain and heavy moisture in the air.
The beach house stands on stilts, half of which houses a dining room, bar lounge, and courtyard. It is surrounded by greenery on all sides and the Bar provides a relaxing space for the inhabitants. The space is furnished with classic contemporary furniture and a bar with a leather cabinet from Trunks company. The furniture, accessories, and lights are customized at Beyond Designs and the carpets are sourced from The Carpet Stellar. The decor is a combination of European style, unique prints on fabrics, and specially customized furniture. The design uses natural materials such as wood, marble, and local stones that impart an authentic and intimate vibe to the spaces.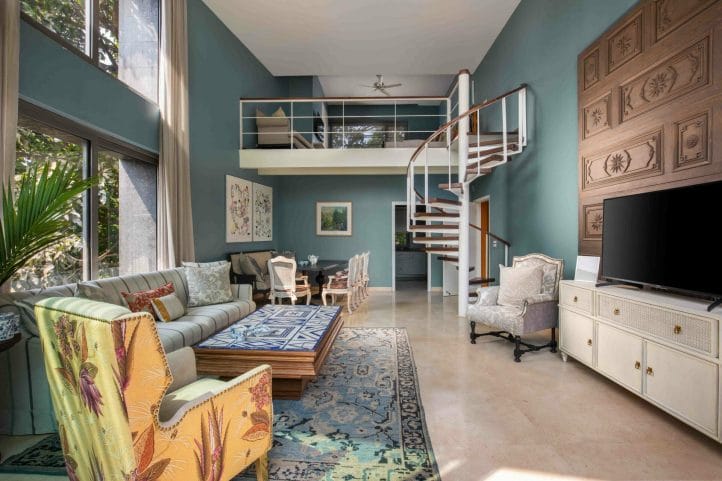 The planning and layout take advantage of the sea-facing site. The lowest level has two sea-facing bedrooms with balconies finished in white and blue. The ensuite facilities also have a separate balcony fitted with an outdoor bathtub and ensure privacy with a wrapping of a canopy of tree branches and a green patch around them. The above floor houses a double-height and voluminous formal living room. This space of the beach house exudes boldness and elegance with a carved wooden panel forming the backdrop of the space. The furniture of the living area is finished in lighter tones and the coffee table is carved out of blue and white mosaic stone imparting freshness to the space.
The other end of this space is used as an all-timber mezzanine forming a play area for the kids and housing the spiral staircase. The suite of the owners is furnished with a four-poster bed with sober blue shaded walls. The nightstands are white with wooden framed mirrors designed by the firm. The flooring of the bathroom of this suite is also a highlighting feature of the design. It is finished in a striped pattern with local pink and white stones.
A bedroom with an attached balcony, a cozy lounge area, and a bathroom are located on an upper level with the uppermost floor accommodating a wooden deck with an infinity pool. The pool seems to merge with the blue ocean in the front of the beach house and the deck provides space to enjoy the scenic views. All four floors are connected with an orange staircase. The decor of the house includes ample photographs of the family and artworks beautifying different spots of the house.
Fact Sheet
Project Name: Beach House
Location: Goa
Total area: 8000 sq ft
Design Firm: Beyond designs
Image Credits: Beyond designs