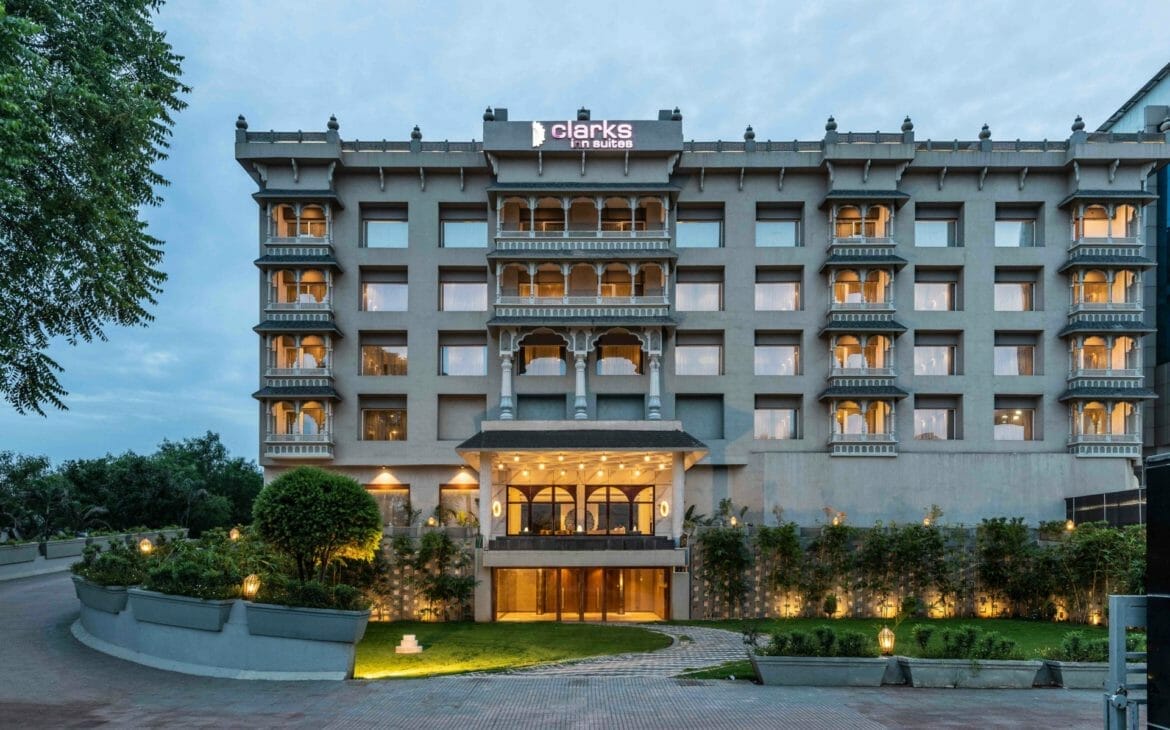 Rashi Bothra and Ruchi Gehani, the Principal Designers of Azure Interiors designed the interiors of new Clarks Inn Suites situated in Raipur. Over 50,000 square feet, the Clark inn features 52 key suites that represent luxury and style. The double-height lobby features striking black and white Italian marble flooring, columns latticed with brass strips and a gorgeous gold-toned front desk. Bold and beautiful, this desk has been given a fluid wave-like form made from wood and flexi plywood – it is enveloped in gold leafing giving the table an opulent look.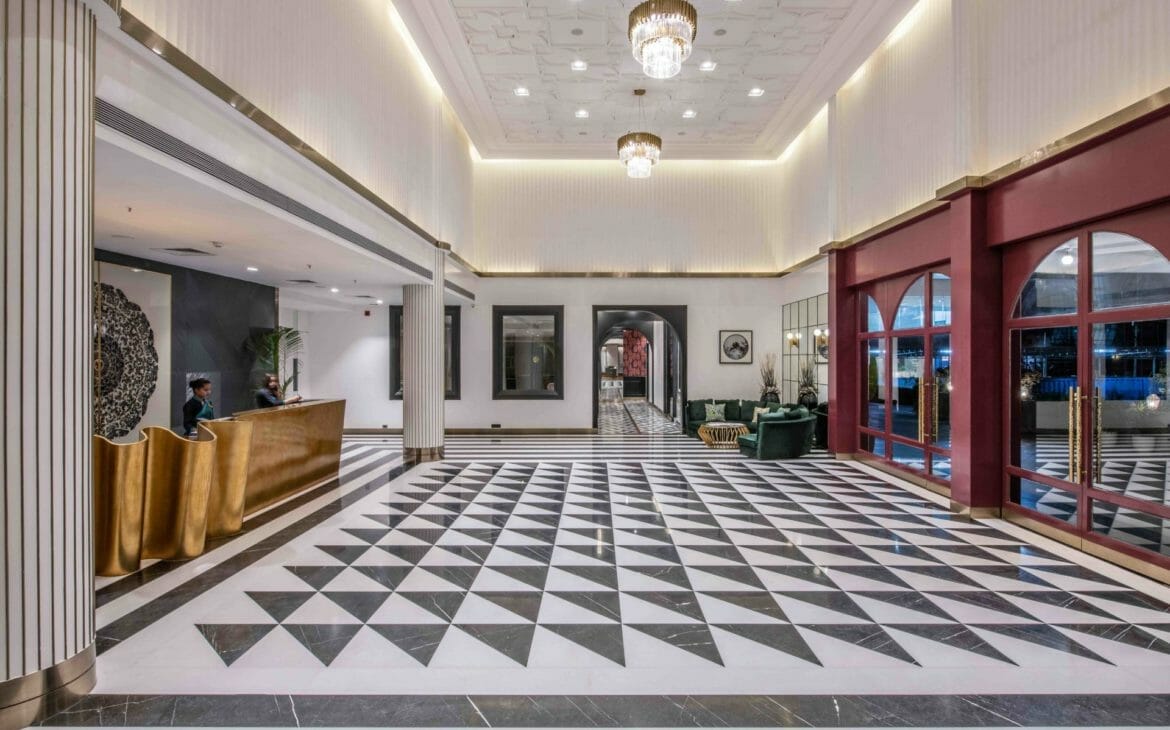 The hotel also encompasses two restaurants. The fine-dining establishment is encased by black and white checkerboard flooring and contrasted with pink leather upholstered chairs that support metal legs. A circular dining area made from metal bars stands in the center of the restaurant.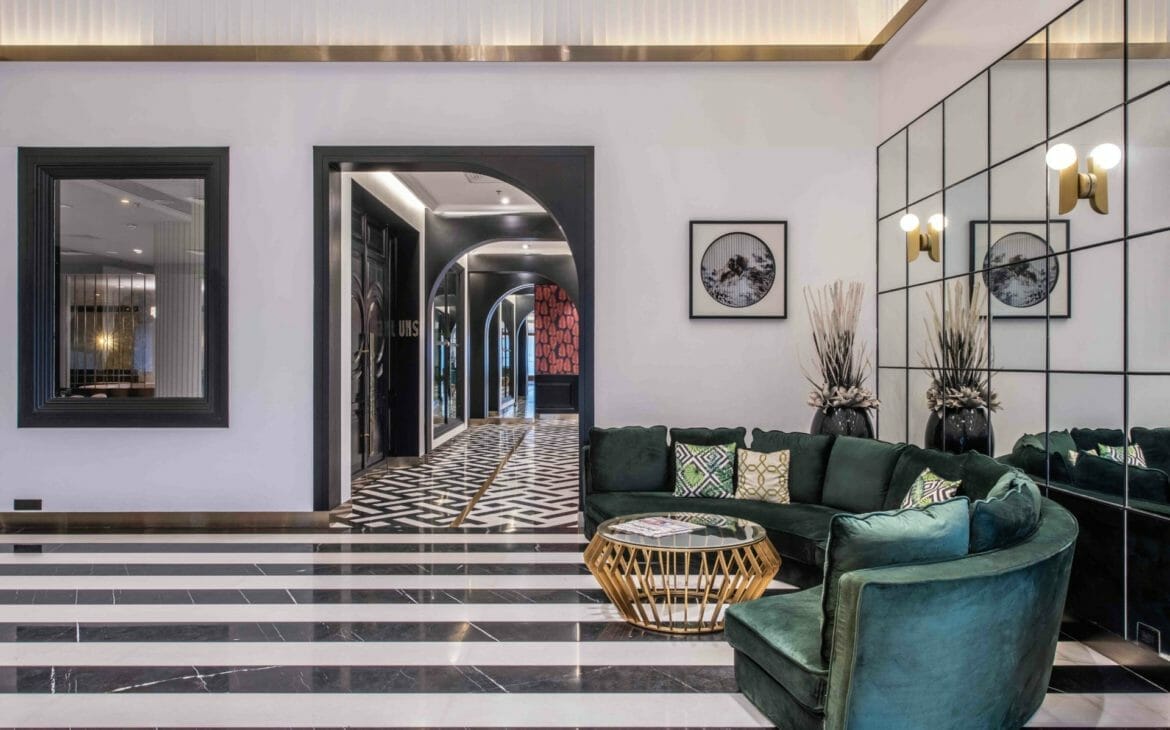 The hanging creepers, made of metal, act as a natural decoration piece from the ceiling to the pillars. The glass lights on the roof are like suns with dark spots on them, giving off a warm feeling and spreading their warmth all over this room gracefully. A day-time diner is connected to this lobby to support all cravings of people coming here. It has wood flooring and beams supporting it along the top like wooden ceilings do in real houses. The green & blue furniture add color and pop to this room as well as brass jaali-work on the plaster walls gives this place the design quotient of the space.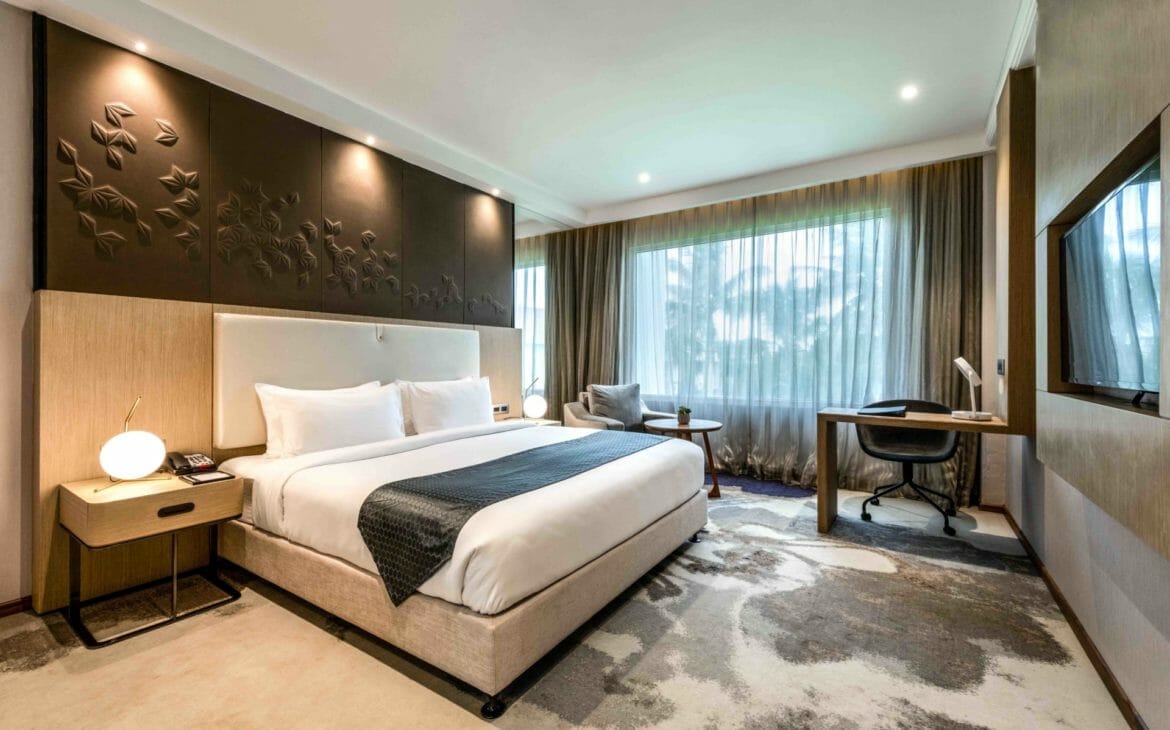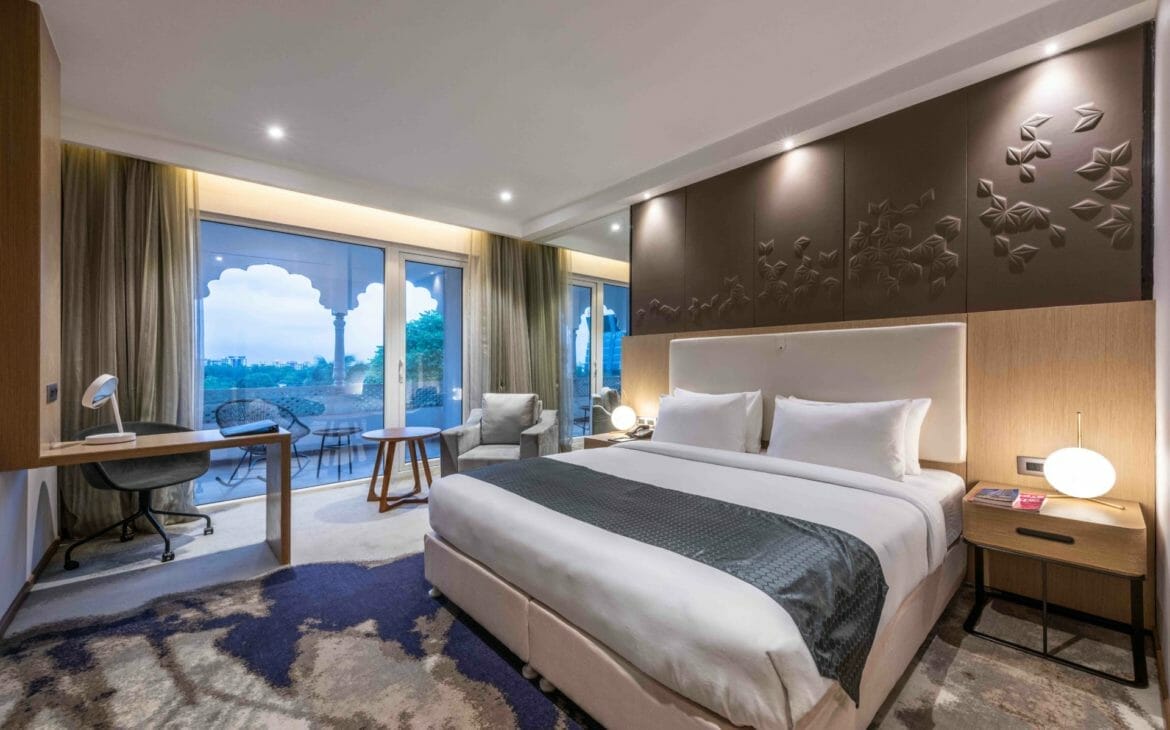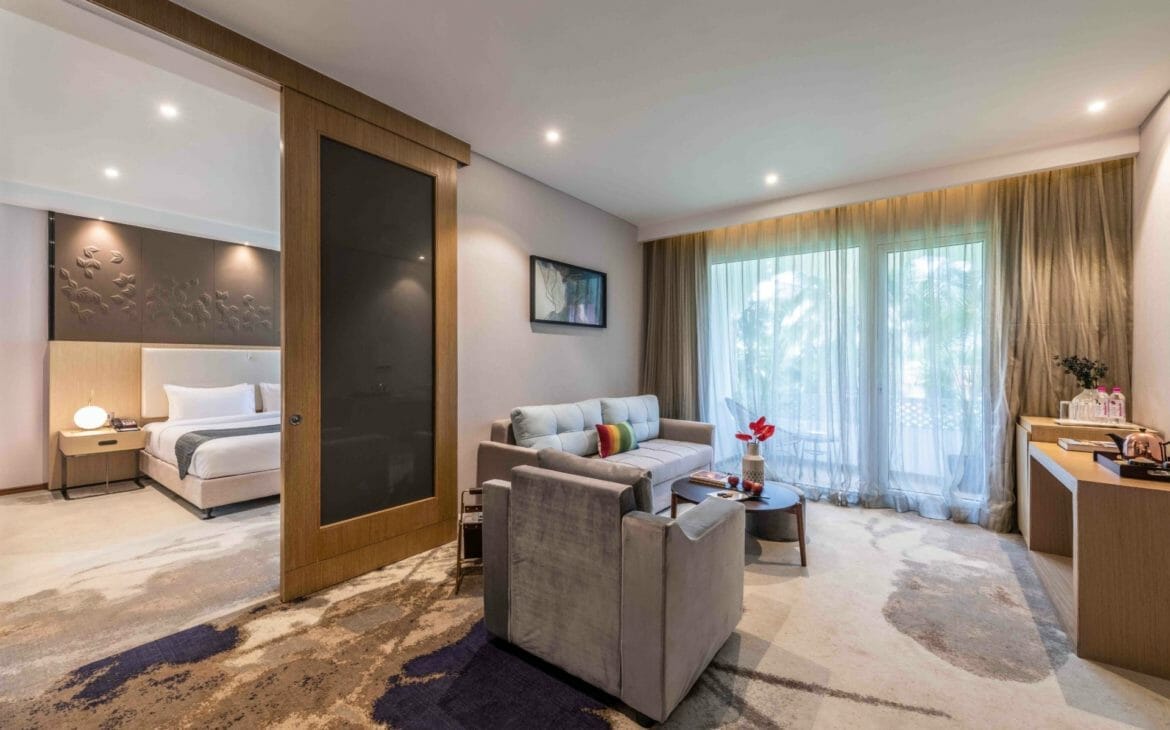 This yin-yang theme is continued into the restrooms. The walls have zig-zag stripes which extend to the floor and then there are back painted glass windows. There are also green planters and a red leaf painting that bring some relief to this monochromatic space. On the lower floor, there is an indoor herb garden called "SabzBagh" for guests to enjoy a fresh-outdoorsy atmosphere in an indoor setting that otherwise has very little variation in its color scheme.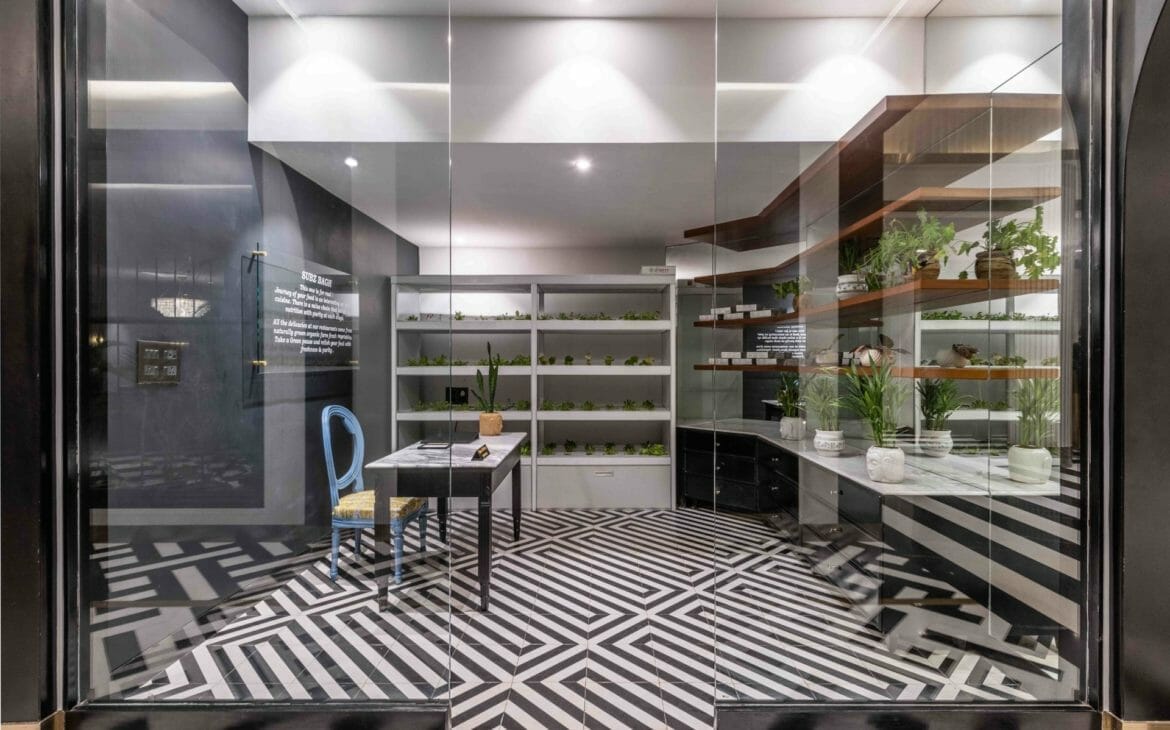 In direct contrast to the very expressive and contemporary lobby and adjoining areas on the ground floor, a more pared-back design approach is taken in the bedrooms at Clarks Inn Suites that exude a warm and comforting vibe. A harmonious colour palette through shades of grey along with elegant furniture and no over-the-top trimmings make these rooms a perfect example of understated luxury. The bathrooms too have been done up in white with a similar ethos.
The designers focused on form for the major element of expression in the interiors, choosing elegant materials to build up layers of patterns ultimately producing a unified design throughout. The bespoke reception table, bathroom vanities, light fixtures, and varied finishes was used on the walls like paint, metal foil and glass creates each space' particular appeal while also being part of the larger overall inspired design scheme.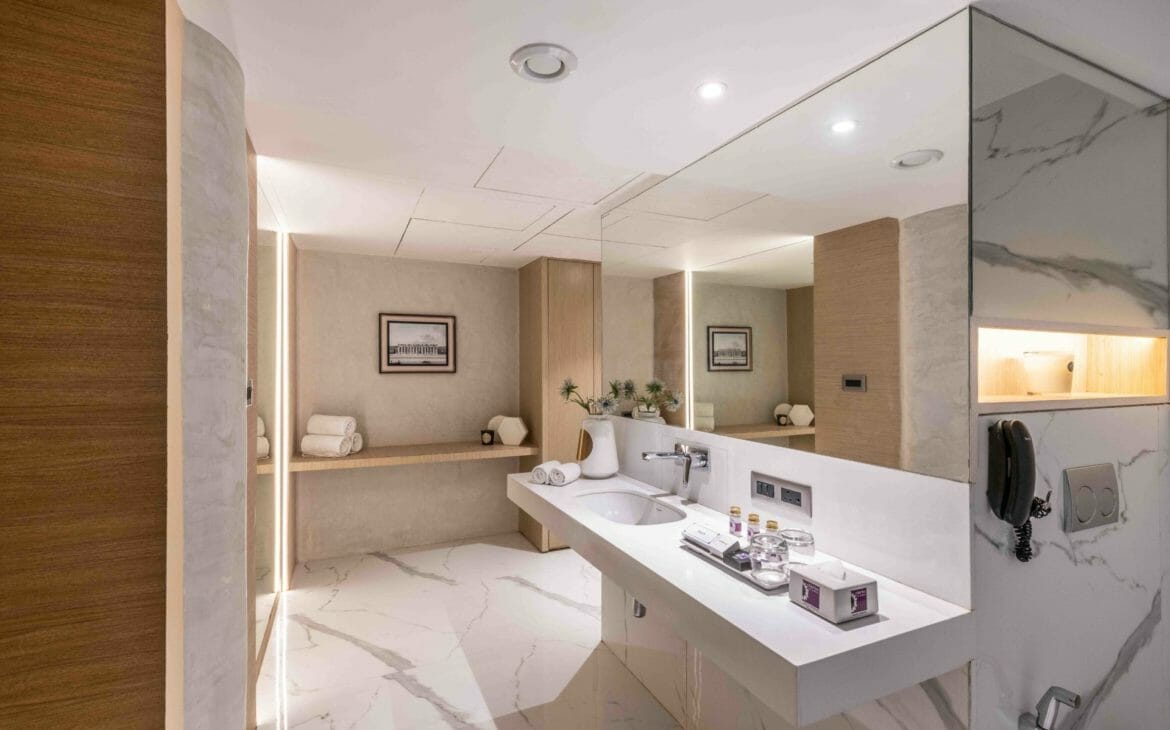 Fact File
Project: Clarks Inn Suites
Principal Designer: Rashi Bothra and Ruchi Gehani
Design firm: Azure Interiors
Location: Raipur, Chhattisgarh
Area: 50,000 sq ft
Picture credits: Photographix India