Avadh Utopia is a three-storey bungalow in Vapi, Gujarat designed considering the climate of the area by Designer's Circle studio. It is a bold red volume of spaces curated in an open-floor plan format with different spaces designated for different floors.
The design team has restricted the use of color to tones of beige and gray mixed to achieve uniformity with the red exteriors. Due to the use of lighter tones in maximum spaces of the house, it exudes a serene and subtle vibe that is comforting and soothing to the dwellers. 
Every area is symbolic of the personalities of the family members from the parents, and grandparents to the kids of the house. Entering the premises will lead you to an open-floor drawing-room connected with the open kitchen on the side and the dining area that opens to a double-height ceiling. Apart from the informal areas, the ground floor also has a bedroom for the grandparents.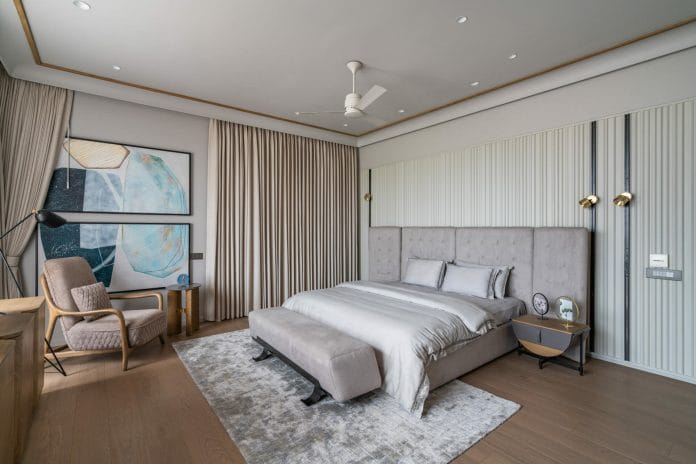 Moving to the upper floors will lead to the master bedroom and a daughter's bedroom on the first floor and the son's bedroom on the second floor. The upper two floors are more private areas with the second floor housing an extended lounge area leading to a balcony with beautiful views of the landscape and a bar counter. The theme of the lounge and bar area is distinguished from the rest of the design with black kadappa stone. Black color is used to create a sense of variety and also visually merge it with the rest of the design of Avadh Utopia. 
The experience is accentuated with a different design format and instills the users with a feeling of comfort and joy. One can relax in the lounge area and enjoy the beautiful views from the ceiling to floor windows. The house is crafted with art and aesthetics with metal knight sculpture on the staircase to eye-pleasing rugs used in different spaces. The sculpture forms a captivating entry to the upper floors and the paintings on display in every area bring in freshness and tinges of color on a neutral backdrop.
Avadh Utopia is articulated with natural light and ventilation in abundance with materials that enhance the cooling in the interiors and forms a livable environment. The concept incorporated is traditional but the implementation is carried out in a contemporary manner, building a home that idolizes current architectural concepts and also functions traditionally.
Fact Sheet
Project Name: Avadh Utopia
Location: Vapi, Gujarat
Firm Name: Designer's Circle
Principal Architect: Rajesh Sheth
Total Area: 7172 sq ft
Image Credits: Maulik patel, Inclined studio