Inspired by his passion for flying, Akshay Sharma owns aviation decor brand WoodFeather, which specializes in artistic propellers handcrafted out of wood. Founded in the year 2015, the company offers unique character, superlative design, and high finish propellers that are loved by aviation enthusiasts and luxury homeowners. In conversation with The Décor Journal India, Akshay shares insights about his collaboration with Paramount Pictures "Top Gun".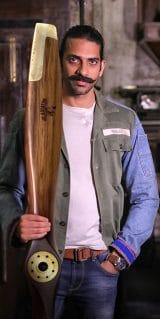 Q. Tell us something about WoodFeather?
WoodFeather makes the world's finest handcrafted wooden airplane propellers for the décor community. Our products are not just loved by aviation enthusiasts but also by several celebrities, industrialists, and luxury homeowners who have chosen to embellish their walls with our exquisite pieces of aviation art. With a unique character, superlative design, and high finish, WoodFeather propellers make for stylish and luxurious statement pieces that are sure to turn heads and start conversations.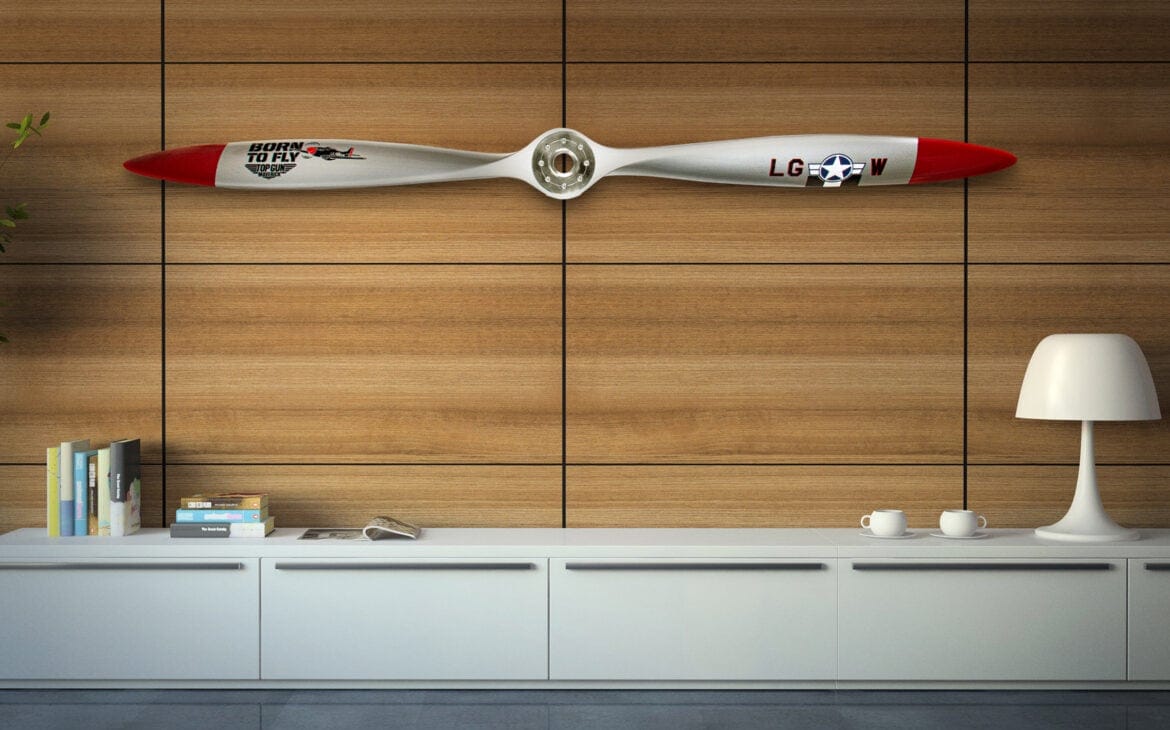 Q. What inspired you to set up WoodFeather?
My love for the skies and fascination for airplanes is as old as I am. But making propellers was never anything that I had planned or imagined. WoodFeather's creation was more by accident than design. It started when I wanted a propeller for a new home and couldn't get one this side of the world. After several failed attempts to source one, I decided to just make one for myself.
With no formal experience in woodwork or product design, I still took up the challenge. I had many admirers for my experimental piece in my living room so I decided to do a better job of it. I had made a dozen of experimental designs which started getting the buyers. That's when I realized that if made right, even something as quirky and uncommon as a propeller would make for a great statement piece. And that's when WoodFeather was born.
In the last 4 years, the brand and our products have taken quantum leaps winning hearts and accolades worldwide to be recognized as the makers of the finest airplane propellers for décor.
Q. What does WoodFeather offer to the décor community?
Décor choices have evolved as rapidly as the taste of the home buyers. Aviation décor is a whole new and fresh category of wall art. Our Propellers are not just eye-catching and exquisitely finished but they are also a bold style statement, which is exactly what new-age luxury home buyers are looking for.
WoodFeather presents a product line that can be an ideal head-turner and a stand-alone statement piece for any wall big or small. Better still, our bespoke pieces can be custom-made to a choice of shape, size, color, finish and thereby making them truly unique and personalized to every single client's taste and their space aesthetics.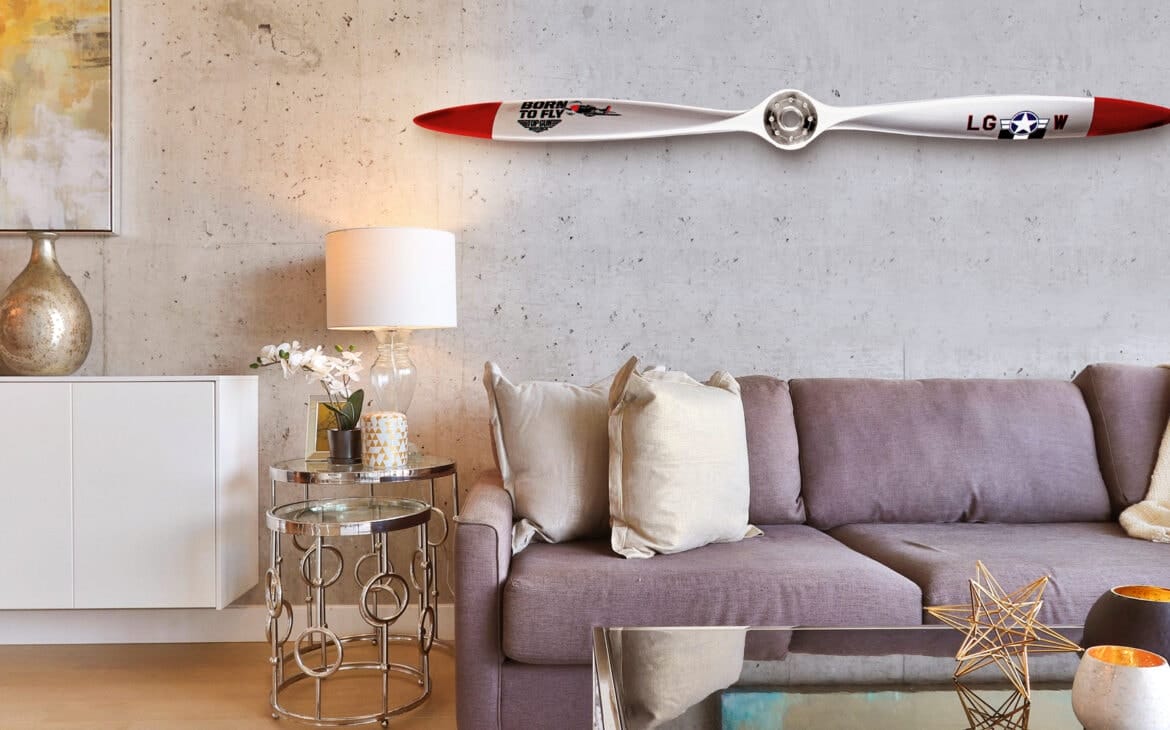 Q. Tell us about your association with Paramount Pictures?
Like every kid from the 70s, I grew up as a fanboy of Top Gun. With an inherent passion for aviation, Top Gun influenced much of my love for aviation in my formative years and Maverick played by Tom Cruise was a role model in many walks of life.
When the trailer to the sequel was released in 2019, I said to myself that a movie as legendary as Top Gun and a character as iconic as Maverick deserves an equally iconic and timeless collectible. And Top Gun is the most iconic brand in the aviation world was a dream collaboration for WoodFeather which makes the most exquisitely finished airplane propellers for décor. This coming together of Paramount Pictures and WoodFeather has given birth to a product line that has never been done before. This exclusive line of propeller designs brings the spirit of Top Gun, displayed on a stunningly finished solid wood propeller to embellish a wall in your home. WoodFeather is the exclusive global partner for this range and we are making a limited number of Top Gun Special Edition propellers that are available for fans and collectors worldwide.
Q.Tell us something about your limited edition propellers?
The Top Gun Collection has 4 exclusive designs, MAVERICK, WINGMAN, F/A-18, and P-51D. As the names suggest, these designs are inspired by the movie's legendary characters and airplanes. From the exact colours shades to the decals and the exquisite finishing, the detailing on these propellers captures the most iconic mnemonics from the 1986 classic Top Gun to the upcoming sequel Top Gun. Since each of these luxury decor pieces are handcrafted from solid Burma Teakwood and take several weeks to make, which is why we will be producing limited stock.
Q. What do you say about propeller art to décor lovers?
It's time to look beyond conventional décor pieces and consider options that are unique and hold meaning. And saying so, propellers are not just of meaning to aviation enthusiasts or pilots. Anything connected to the skies is aspirational and symbolic of dreams and achievements, which also gives propellers an elating and positive vibe. Better still, our propellers can be personalized by engraving names, dates, logos, quotes, or anything of meaning so what you own is uniquely yours and has a story to tell. That also turns this gorgeous artifact into a priceless heirloom, with the solid wood aging beautifully on a wall for generations to come.
Q. What is the price range of the product?
We have an entire range of propellers starting from Rs 48,000 onwards for the 6 feet size going over a lakh for the 3-blade designs. Most of our top-selling designs are priced between Rs 55,000-60,000. The Top Gun Special Edition is priced between Rs 70,000-76,000.
Q. What are your future plans?
2021 has started with a bang for us. The Top Gun collaboration has set the ball rolling at an exciting pace and opened doors to a whole new set of buyers across the globe. We've invested over a year in putting together our new digital customer touch-points given the way our environment has changed at the same time. We've had to adapt our business in unimaginable ways and 2021 is the year for us to test our scalability across international waters. That is as far into the horizon as we look at this point without losing sight of our immediate goals.