Another close collaboration between Apple and Foster + Partners is now open on the Brampton Road in London. The Knightsbridge store is situated in between the high end departmental stores of the city runs completely on renewable sources of energy making to the list of sustainable design solutions.
Flooded with natural light the store has arched windows that feature aesthetics in both indoor and outdoor parts of the store. Stefan Behling, Senior Executive Partner, Foster + Partners, said: "Apple Brompton Road is a calm oasis in a bustling and vibrant part of London. Customers interact with Apple's incredible range of products and experience their personalised customer service in a unique setting which incorporates historic and natural elements."
The store consists of a single floor with a square layout. A frame of eight Ficus trees is introduced in the four metre arched windows that features a seven metre tall volume with a timber ceiling above. The tree depicts the popular Hyde Park in London which is a minute distance from the store location. The alignment of the trees at the base creates a visually appealing feature as well as an interactive gathering space and resting area for the visitors. This design element blurs the design boundaries of the environment inside out. The natural light shines strikingly through the leaves and makes the inner element a muse by the light and shadow effect.
The curved timber ceiling reflects the existing geometry of the monumental building facade. The fixtures in the ceiling seamlessly merge with the timber panels customized to match the finish and colour. A warm palette has been crafted to create a calming and coherent surrounding within the space for the visitors and staff around. The lower part of the building facade compliments the red facade with its subtle stone textures and colour.
The entrance in the middle of the stone arcade defines the original dimensions of the Brampton Arcade which was precisely built in and around this location back in 1903. The four Ficus trees in the middle define the central spine along with the Castagna stone. A separate learning and event space is created by the end of the tree lined arcade due to the focal point of the design.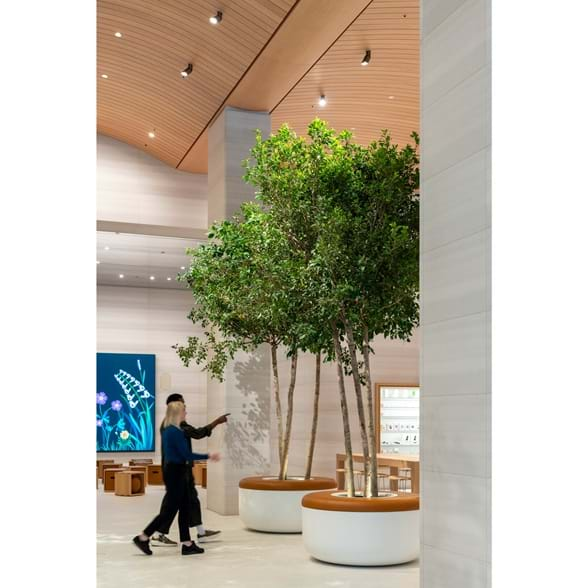 The terrazzo flooring in the Apple's Brampton road comprises the plant based bio polymers which stands as a completely new idea in the Apple world. The volumes are amplified in the space with a mirrored ceiling fabricated from a stretched fabric, generating an uninterrupted reflective plane. A special area for the pickup of the online orders has been created on the adjacent side of the avenue area on the left.
Fact Sheet
Firm Name : Foster + Partners
Location : London, United Kingdom
Picture credits : Foster + Partners