Rachana Goyam, the principal designer and co-founder of Midas Luxury Interiors has recently designed an apartment house in Chennai. The apartment house has a master bedroom with a separate son and daughter room. Dedicated space has been curated for the mandir that reflects the rich culture of the family.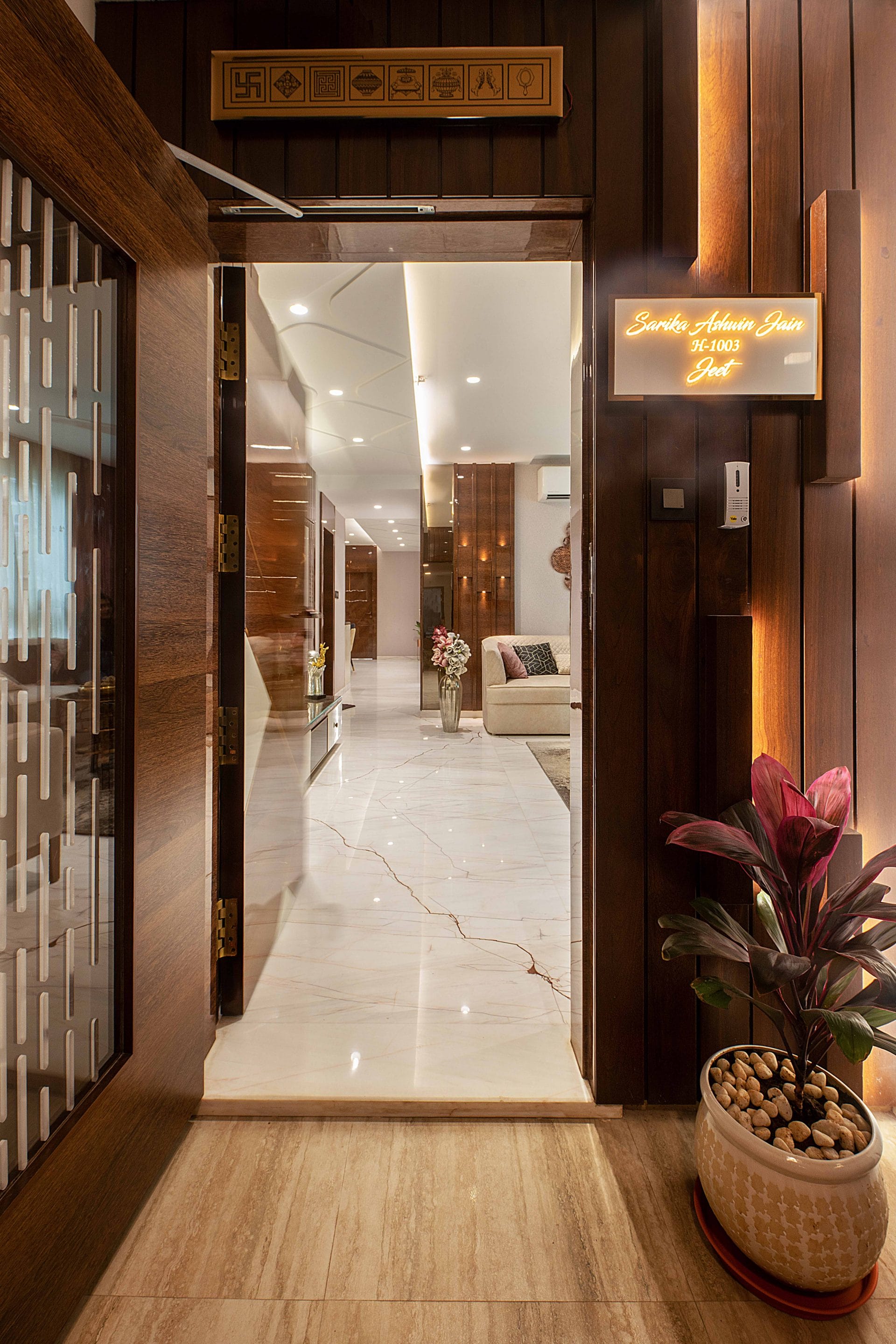 The living room has been beautifully designed. It has a beige-colored sofa, which blends well with the overall setting. The light-tinted rose dawn curtains mellow the inner environment well while the natural light reaches the interior spaces from the full-height windows, providing daylight in the room. The elegant corner with the Chandelier adds a cosmic vibrance to space. The lightings in brass finish, subtle TV unit with the spider Onyx Marble cladding steal the show. The scattered peach and burnt henna tones cushions add a little personality and pop.
The bronze-tinted mirrors are used to fashion the entire home, which visually expands the space and integrates the room with an abundance of glamour. The dining table with its bright colors has a luxury onyx marble top that makes it a central attraction of the room.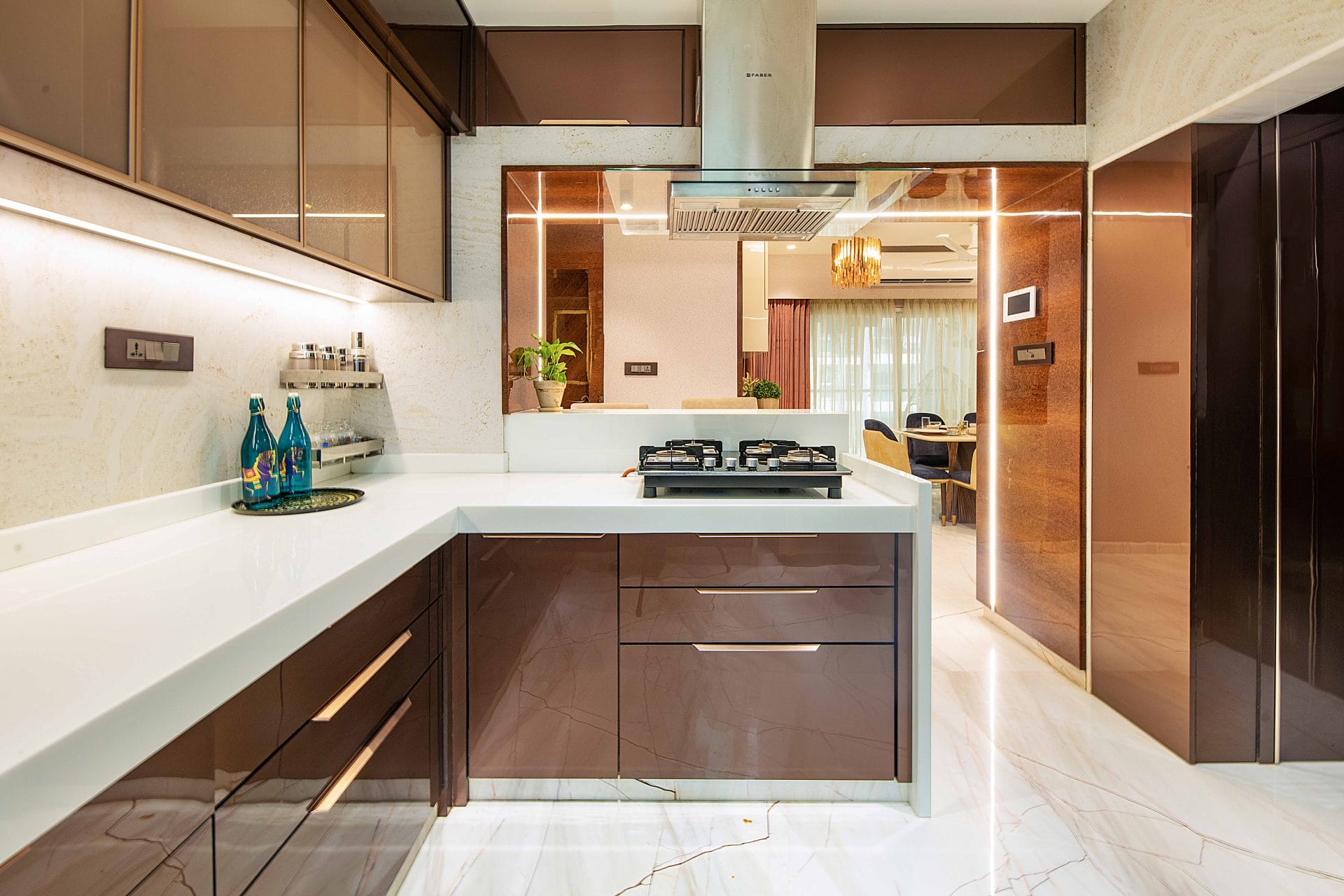 The multifunctional and maintenance-free kitchen with ultra-modern storage systems was the key aspect of kitchen design, which makes it a perfect combination of a modern and minimalistic kitchen with ample utility space. The mandir is designed keeping both sentiments and décor in mind, which made it look classy.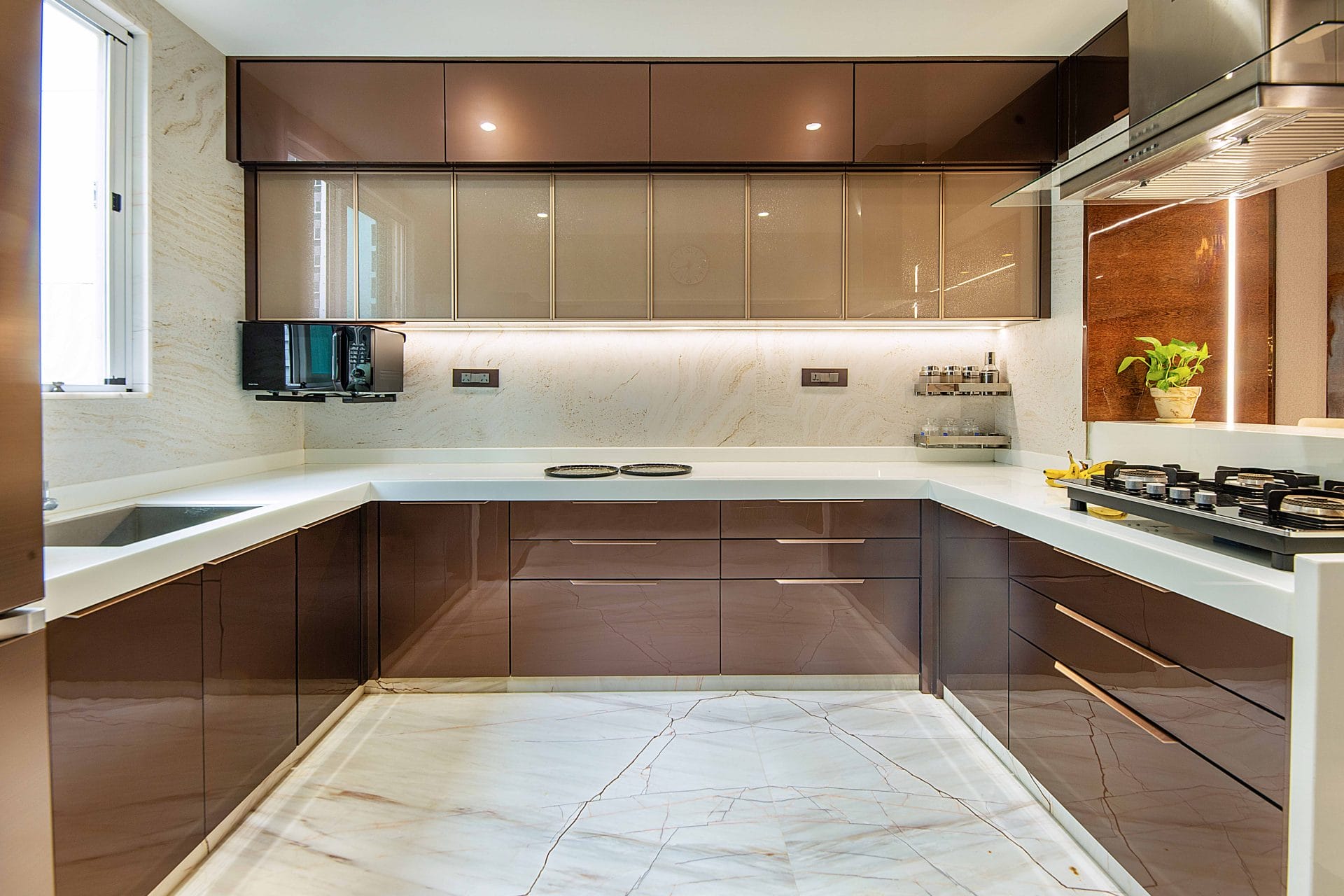 The master bedroom has an informal sitting with upholstered seating and matching throw cushions. The fabric for the drapes is in hues of browns to blend with the dark purple interior finishes. The son's bedroom has a different color pallet with hues of blue and off-white to maximize efficient positivity. The geometric patterns on wardrobes devise the balance between the other linear patterns used for the bedding covers and hand board. The room brings an emotion of transition that is an eclectic mixture between the classical and contemporary style of home decor.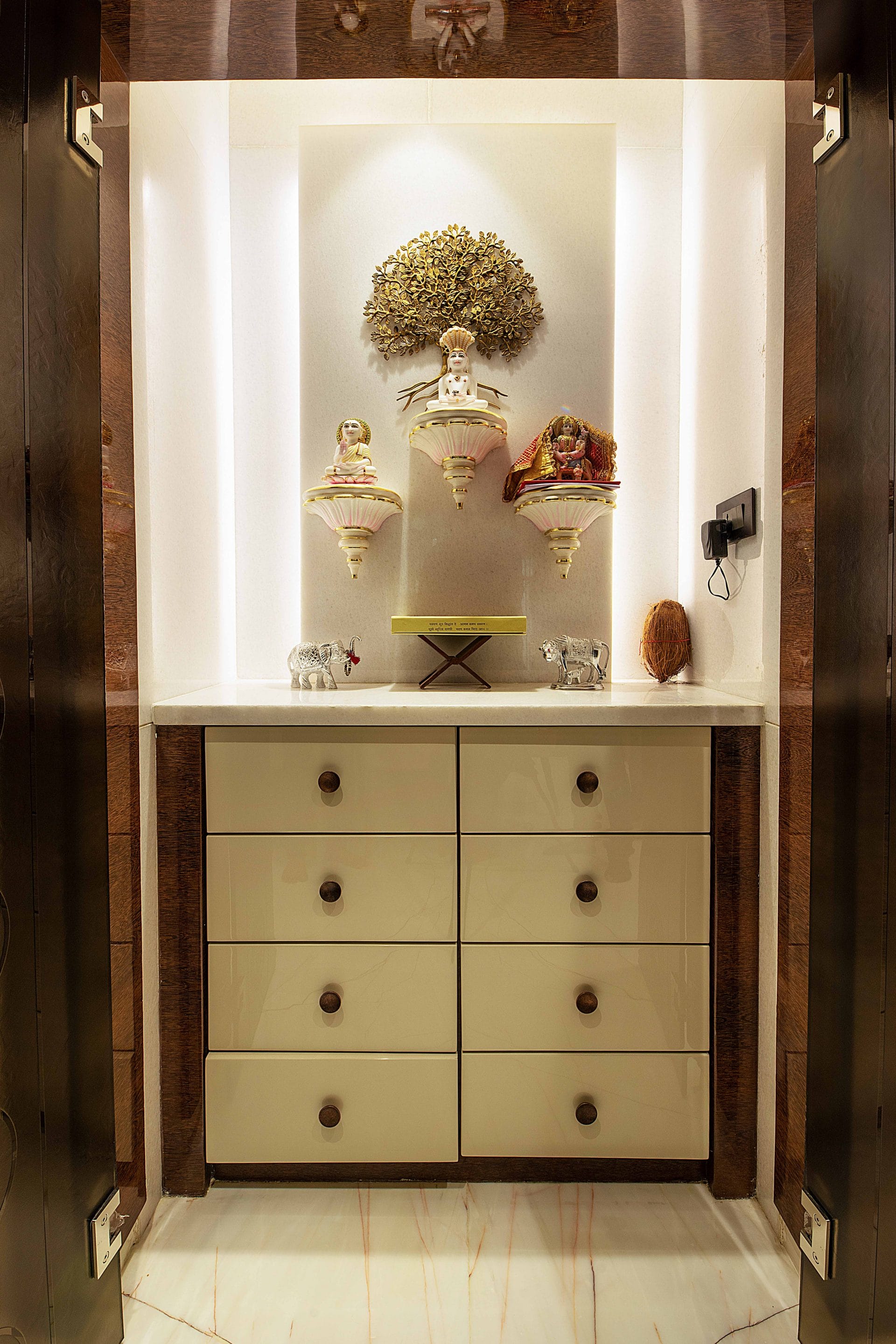 The peach color is used in the daughter's room. The linear lines upholsteries headboard excites and brings life to the units designed in the room. A foldable study table makes the room look and feels spacious. Seating by the window has been designed that allows viewing the beautiful outside world.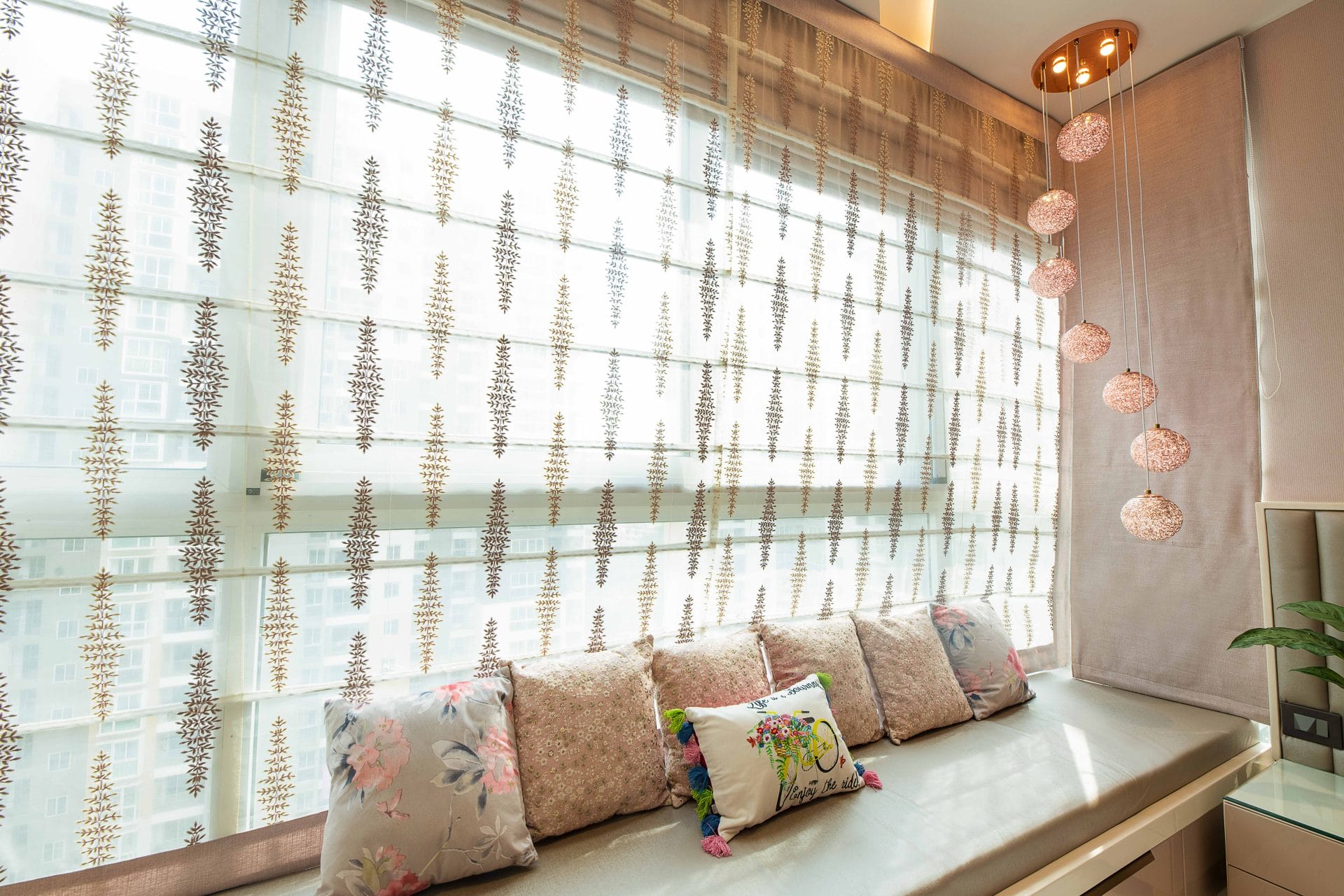 Textures, colors, objects, plants, together magnify the space and please the eyes and the soul.
Fact File:
Designed by: Midas Luxury Interiors
Principal Designer– Rachana Goyam
Location: Chennai, Tamil Nadu, India
Size: 1650 sq.ft
Photograph courtesy: Ganesh Vertivel