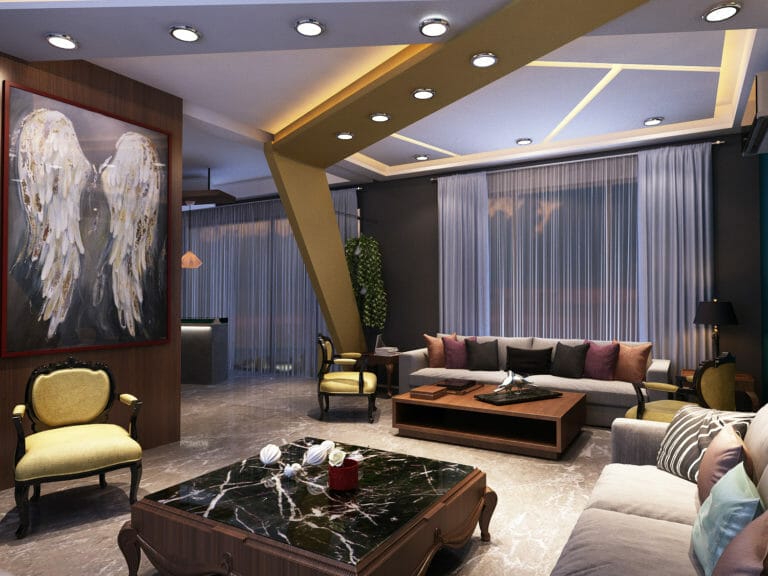 The conceptualization of the project Angel's by Sustainable Space Designs started with the thought of creating a Bohemian space that might not be structured but still looks formal. Designed for Ms Shivani Arora the project covers an area of 600 sq ft in Kavi Nagar, Ghaziabad. The project is designed with spaces for socializing and organizing upscale parties that are fun yet relaxing.
Angel's Project drives towards creativity to create a space for fleeting happiness and enjoyment. It is a lounge and bar space with multiple glass wall entries with very less wall space. The project saw minimal civil changes and the design methodology was to raise the bar and create a functional space. The total area is divided into two physical areas – a rectangle and a square. The accessibility to both the areas were provided from inside and outside lawns. One access from the lawn side and one from the interior is retained to develop a bar space.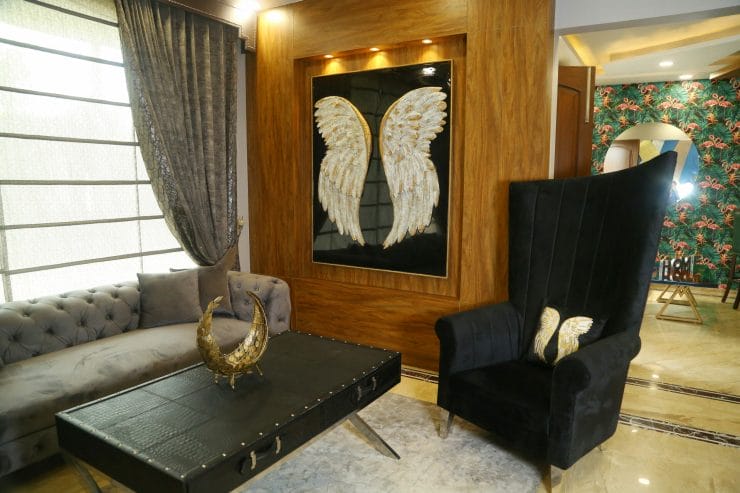 The bar has a ceiling height cabinet covering one-half of the wall and the other-half finished with a flamingo wallpaper. The lounge area is a sitting space planned consciously with two different furniture settings using distinct furniture styles. A conscious effort is made to select furniture and lighting for every space to create an impressive ambiance. Customized lighting and suitable furniture pieces are sourced from different places across the city.
The chandelier in the corner has multiple layers of colorful glasses customized to gel with the color of the wall. The high winged chair is made with printed fabric which is a custom-made print specially created for the Angel's project. The vintage look of the bar area is complemented with the leather finish high bar stools and patina green bar countertop.
Angel's wings are an element that resonated with the client and are incorporated in the interiors using fiber art by designer Bharti. They are symbolic of how being in good company can be uplifting and heavenly. A concept of mask is also seen in the decor which portrays the multiple personalities every individual has, it reflects the space as a safety spot for every person where they can take off their masks and be their actual self.
The highlighting element of the living area is the wall paneling made with traversing panels at different levels. The wall panel is made in the deconstructive style finished in metallic finish to create dichotomous drama. The panels are symbolic of the three spheres of life – the past, the present, and the future. The copper panel represents the past and covers the wall and the roof, the future is represented by the silver panel which is only used on the wall and the golden panel represents the present on the wall, roof and on the other side. This juxtaposition of panels creates a focal point of the space. The false ceiling is also made using a deconstructive pattern complementing the panel concept.
Fact Sheet
Project Name: Angel's
Location: Kavi Nagar, Ghaziabad
Total Area: 600 sq ft
Firm Name: Sustainable Space Designs
Contractors: Paras Heritage Constructions
Image Credits: Aryaman Jain