Rapidly changing norms and concepts of work has necessitated the evolution of the workspace design. Modern corporate offices are not only striving to create a regional identity for their workspaces, but are also defining new cultures where incorporating concepts of walk-to-work and leisure spaces as an appendage to closed cubicles have become a compulsion. In capturing these ideas, the new-age offices are being designed to rate high on socio-economic and environmental parameters while adapting themselves to the context.
Following the suit, the proposed design for the Amtron BPO tower in the Tech city of Bongora in Assam sets an architectural precedent for how the office of the future should be designed. It carries the idea of walk-to-work forwards through its innovative walkable façade, which is a conscious outcome of a cleverly thought functional, structural, climatic and aesthetic logic aimed at creating a balance between work and leisure. Besides assuming the role of green breakout space, the stepped green terrace scheme also enables the user to walk straight to their work desk without using mechanical modes of transport and provides an opportunity to interact at various levels.
The pedestrian-friendly campus has been planned such that the drop-off and pick-up points placed at the opposite ends help resolve traffic congestion and create a landscaped plaza in the front for the pedestrians to walk.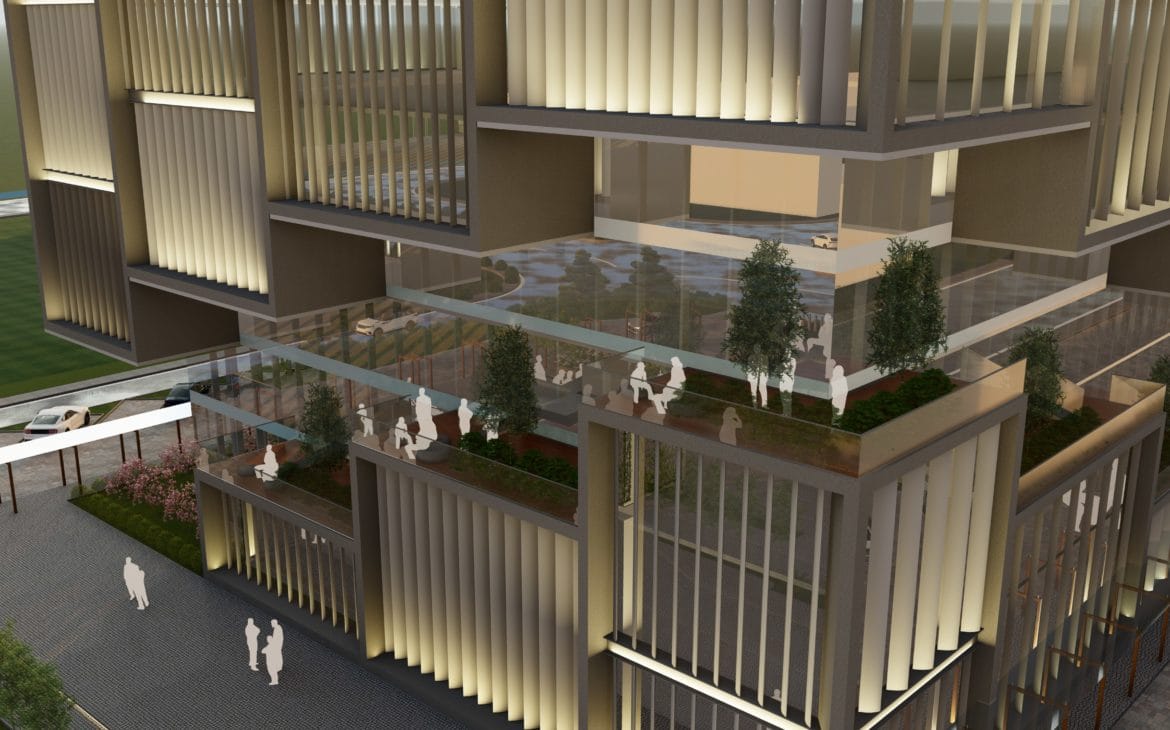 The eight-storey office building has been designed to offer a 360-degree peripheral view by delineating workspaces around a compact central core housing lifts, staircases, toilets and other ancillary spaces. Open floor plates and co-working spaces in addition to green terraces have been incorporated on upper floors to allow flexibility and efficiency in its use — considered after a careful study of prospective users and their work patterns. The flexibility provided by this layout enables 100% of the floor space to be leased out for different purposes.
The informal nature of co-working spaces, which requires maximum flexibility and easy access to open spaces, are placed on the ground floor alongside the cafeteria. They are designed to cater to groups of varying sizes, while maintaining privacy and ensuring a comfortable environment. Formal workspaces are stacked on upper floors and augmented by 4m wide green terraces that allow business owners the flexibility to expand and contract their functions according to their needs. Common functions such as yoga area, health club and cafeteria are also planned on the eighth floor, acting as an interactive community space.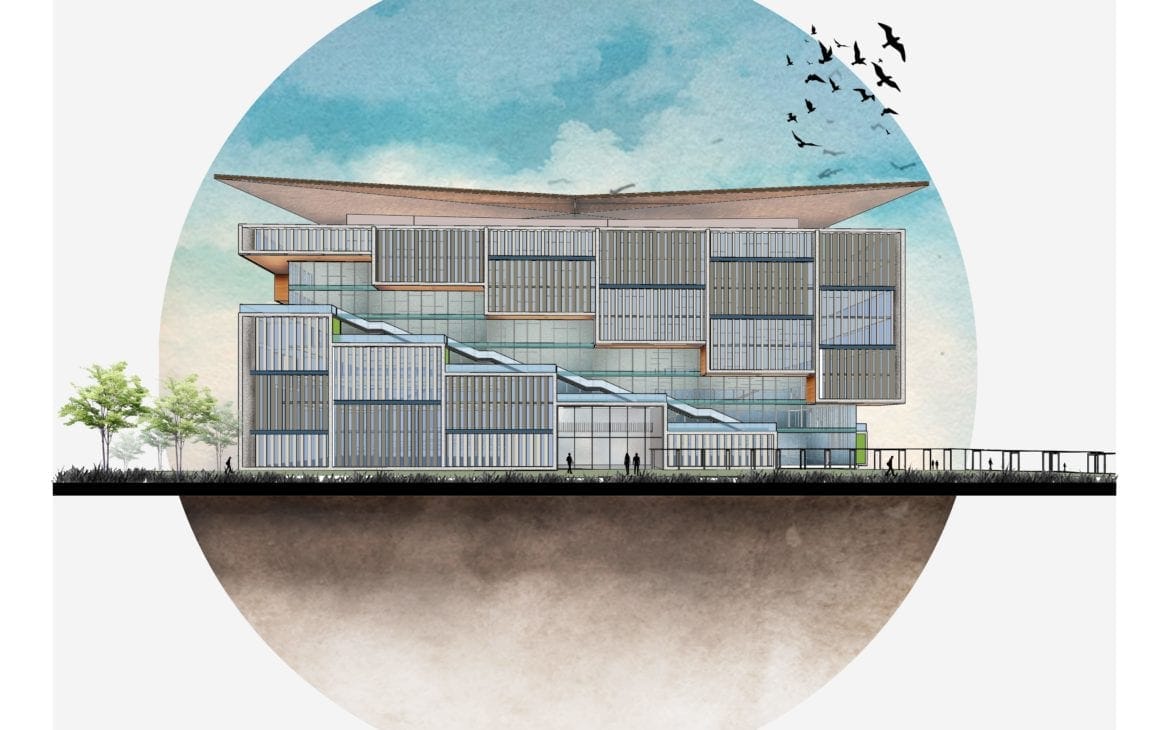 The eight-storey structure has been designed using a steel-concrete composite structural system, which ensures lightweight construction using thin structural members. The unique construction technology not only facilitates the creation of large column-free space, but also brings down the construction time by upto 30% as well as cuts the construction cost by using fewer materials.
The material palette and technology have been carefully adapted to capture Guwahati's serene setting amidst nature and the city's aspirations for the 21st century. RCC core and double glazing, while structurally necessary, are balanced by recycled wood panels for ceilings and roof to infuse regional identity. The use of zinc and aluminium as cladding materials ensure that the structure remains protected from weathering due to heavy rain. Another vital element of the facade is the sun-tracking aluminium louvres, which serves climatic and aesthetic purposes.
Today, when meeting sustainable standards have become pertinent, the design of the Amtron BPO tower aims to create a positive environmental impact by relying on passive and active, climate-responsive strategies. Mutual shading through stepped terrace profile minimises heat gain and eliminate the dependency on air-conditioning systems. Further, the louvres are placed to allow the desired degree of light and views in the interior spaces, thereby reducing the need for artificial lighting. The use of solar-reflective glazing further helps maintain the indoor temperature while allowing adequate lighting for the interior to function. Green terraces on the facade also combats the heat island effect that could otherwise arise due to glass structures.
The building also features a solar roof which facilitates energy generation for the office building. Water systems are designed to allow rainwater harvesting, and its judicious usage is ensured through a drip-irrigation system. Waster water recycling methods further enable the reuse of water for landscape purpose.
Today, when the designs need to be contextually, socially, economically and environmentally relevant, the proposed Amtron BPO tower suggests a way ahead for future workspaces. Designed in accordance with DFI's people-first ethos, the Amtron BPO Tower creates an experience that promotes meaningful interactions and pauses that awes, inspires and stays in the memory of its users.