Schmidt Hammer Lassen along with Skanska & Elite Hotels creates a modern spa and hotel that is deeply rooted in nature and also restores the beauty of it. The concept follows a holistic approach to experiencing spa and hotel facilities that explore the interaction between architecture and nature. Locally-sourced materials that play into local context and pay homage to its Nordic heritage.
The structure looks as though it grew out of the site from the Swedish mosh-covered soil amidst the pinewood forest. The warmth and glow of the lobby welcome guests into Älvdans and extend out into its various amenities like the spa, hotel, restaurant, and conference space.
An exposed timber structure which is an ode to Swedish vernacular barns covers the lobby area and forms a sloping roof. A skylight punctured through the centre reveals an open sky and like a solar watch light shifts in the room throughout the day. A bar, lounge, sunken seating space and an open hearth create a relaxing ambience for rest after a long journey, hike or swim. Scandinavian design furniture from locally sourced materials and textiles and artwork adorn the space.
The facade is made of transparent glass set in timber treated with linseed oil to provide an alternating view of the inside and outside. The wood of the hotel will also age gracefully alongside the forest. All facades are insulated to ensure optimal indoor climate during summer and winter.
A series of elevated timber pathways that gently touch the forest floor are laid throughout the property. The monastery-inspired corridors wind their way around different amenities. The hotel's inner courtyards are an oasis of calm and tranquillity, social interaction and a space for yoga and meditation during the summer months. Depending on the weather conditions the facades facing the courtyard can be opened or closed.
The timber-clad rooms have elevated beds raised to the height of the windows for a view of the outdoors. To maximise the light and air all rooms have double exposure.
Along with a world-class destination the Älvdans offers saunas, warm baths, massages, a swimming pool and a wide range of therapeutic opportunities. The varying weather conditions throughout the year attract international, local and regional guests.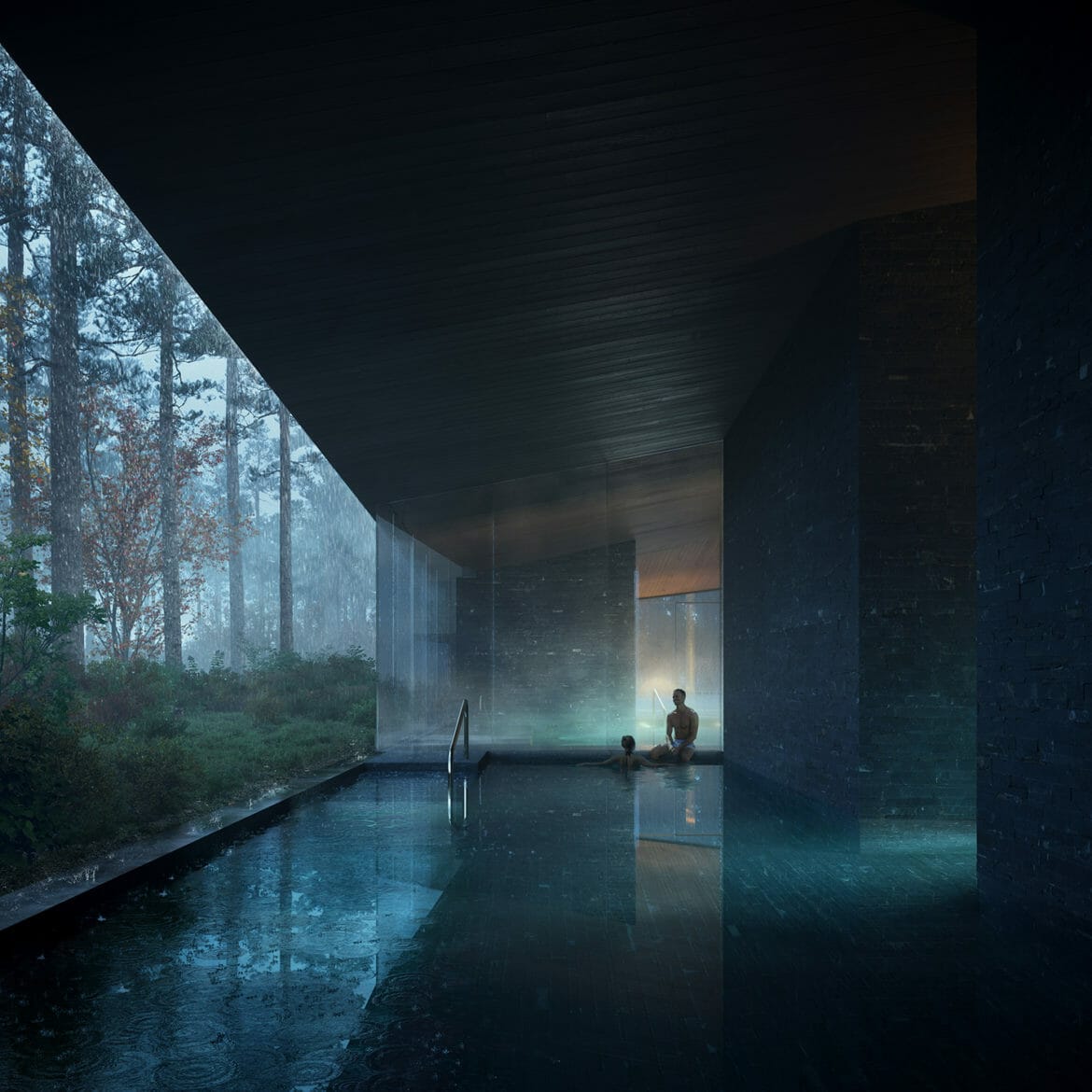 Recycled locally sourced materials like waste slate veneer – a material that offers great aesthetic value and is highly sustainable and resistant to changing weather conditions and general abrasion is used for wall cladding. Slate floor tiles and reclaimed wooden beam ceilings ground the design in nature. Slate roofing and solar panels are integrated into the building to minimise energy usage.
The lobby, hotel, and conference rooms are connected to the Green House which is a Pavillion for gathering and local community space. Fully equipped with an open kitchen and bar for visitors the Pavillion has a wooden floor, reclaimed wooden beams Scandinavian furniture and a campfire site to host Christmas markets, food markets and the Midsummer festival.
Fact File:
Project Name: Älvdans
Location: Sweden
Client: Skanska & Elite Hotels
Area: 11,000 sq.m
Firm Name: Schmidt Hammer Lassen
Image Credits: Aesthetica, Schmidt Hammer Lassen