Ar. Dhruva Kalra recently designed Almond House, a thematic fine food experience, which reflects the brand's quirky personality of experimentation and innovation that suits the modern palette without compromising on a rich heritage. The objective was to keep traditions alive, presenting the age-old Indian desserts on a global platter. Contemporizing the past with an artistic nostalgia, space celebrates the roots to the authenticity of taste, with the introduction of the Indian dining experience with an overdose of colors and textures underlined by a strong nostalgia of classical elements.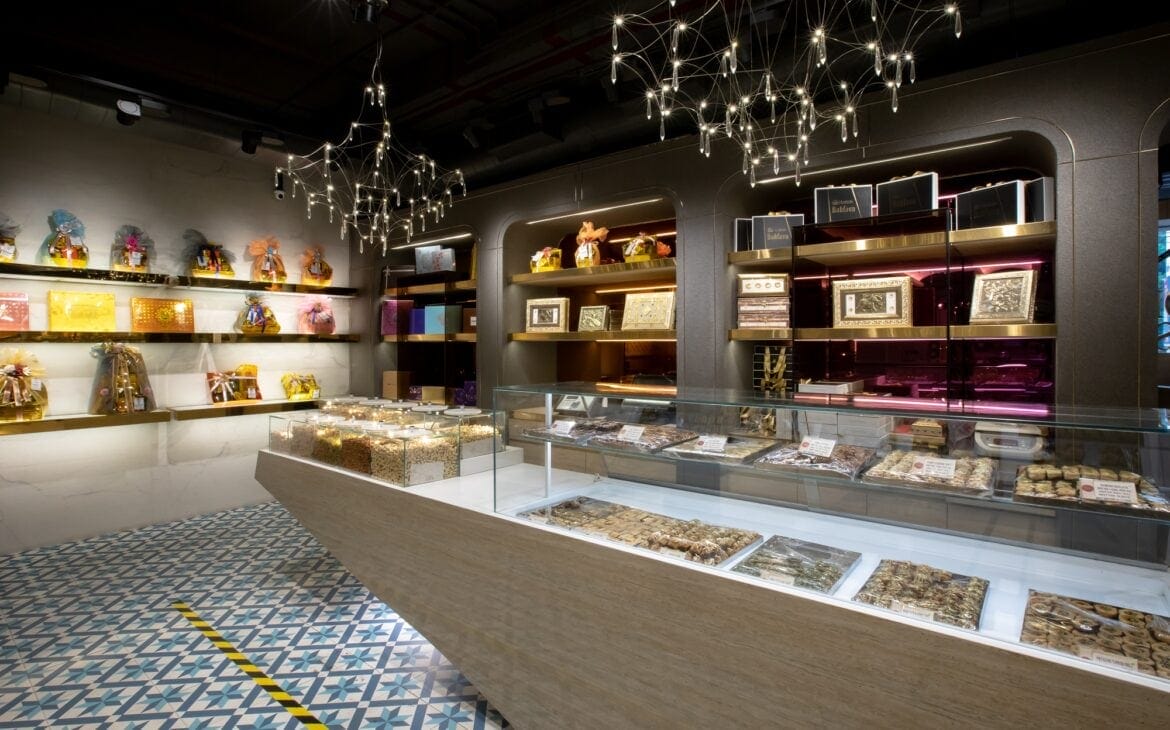 The ambiance elicits the feeling of subtleness and charm from its first impression. The interior has a neutral, dramatic side, shimmering with the luxe of metallic luster flaunted by the surface finishings that garnish every view of this foodie's paradise.
Space has a balance of flavors in the material and color palettes. Edgy, contemporary color scheme of grey, white and black tones gives a luxuriant pop with the champagne gold detail. The neutral color play has further experimented with wood panels that give subtle color to space.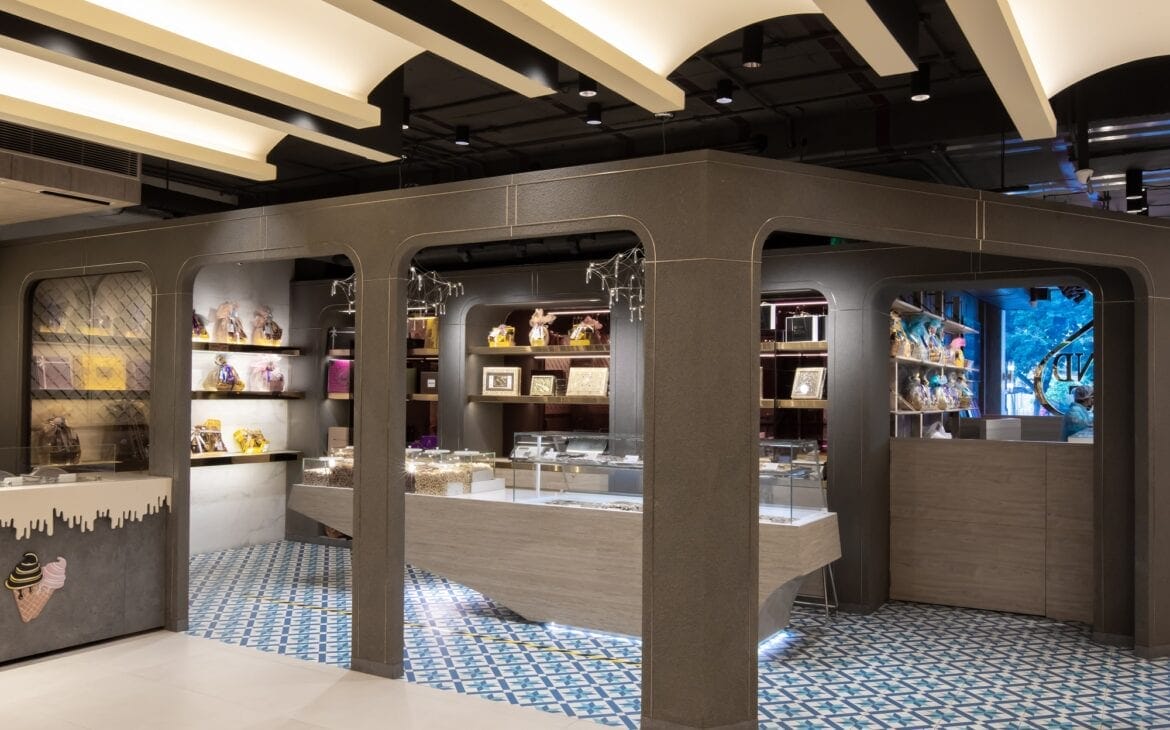 The space has playful counter and patterns from the grand entrance to the fine dining space. It blends with the rustic terrazzo walls that show harmonious shelving, marble-clad displays, lightwood outlines, and a carpet of a minimal floor in pristine white. The play of textures like terrazzo, patterned tiles team up with the quirk of the asymmetric metal stripes runs across the walls and counters to rejuvenate the senses of the onlooker. Framing the space with a nostalgic touch, the arches underline the visual identity of the space and bring an old-world charm without giving up on modernity.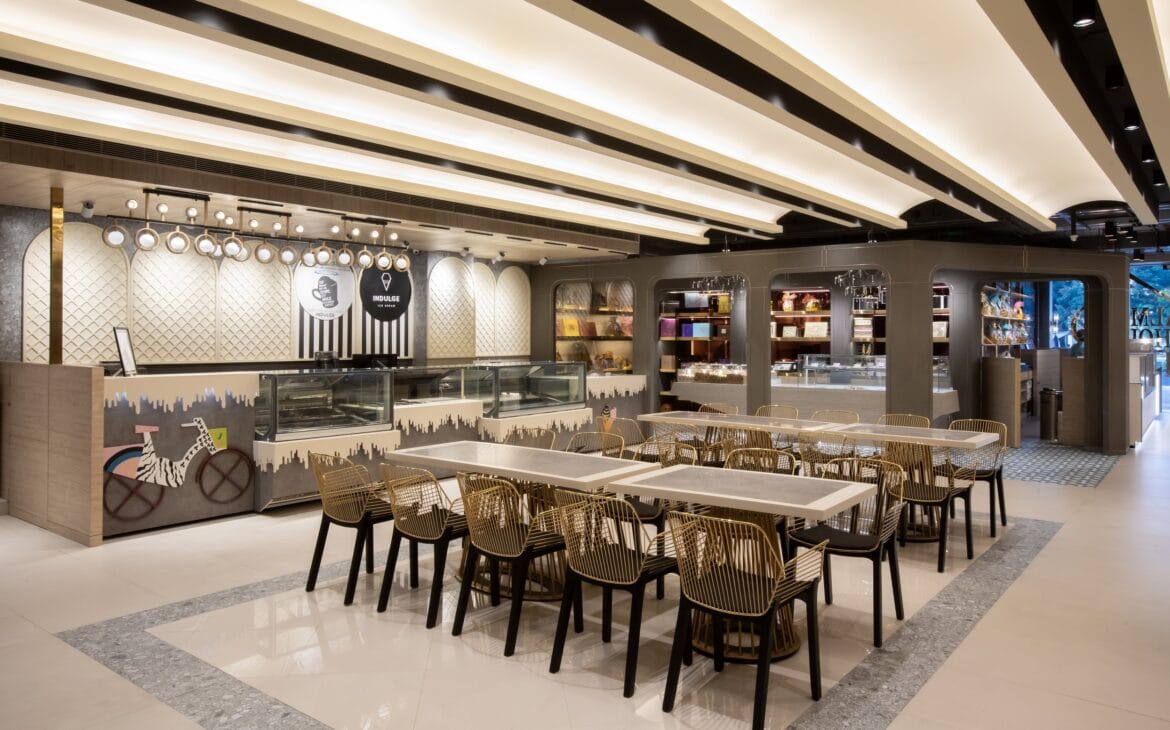 The central dining area has the golden discs hanging from atop reflecting the aesthetic scene where the flattering black-gold seaters outshine the bright floors. The scenic stretch leaves the imagination ajar, with a dash of newness and surprise recreated across every angle. It beautifully re-mixed the interior palette to bring in a visual language that is synonymous with luscious and grandiose.
Fact Sheet:
Project Name: Almond House
Location: Begumpet, Hyderabad, India
Area: 4000 sq. ft.
Principal Architect: Dhruva Kalra
Team: Faisal Yaseen & Preeti Negi