A warm and contemporary take on Scandinavian style, this 1170sqft home is proof that compact doesn't mean claustrophobic. The U and I Designs meticulously worked around the layout and furniture designs to accommodate the storage needs like any other Indian home, while ensuring that all spaces were kept as open and airy as possible.
The moment you step into the foyer, you are greeted by a sleek shoe cabinet designed with a height-adjustable pull down surface and drawers. This creates an entryway that is both compact and convenient, while still being light and free.
Walking straight into the living space, you will notice how neatly everything has been laid out. Spare elegance is maintained in this room by keeping the color palette completely neutral.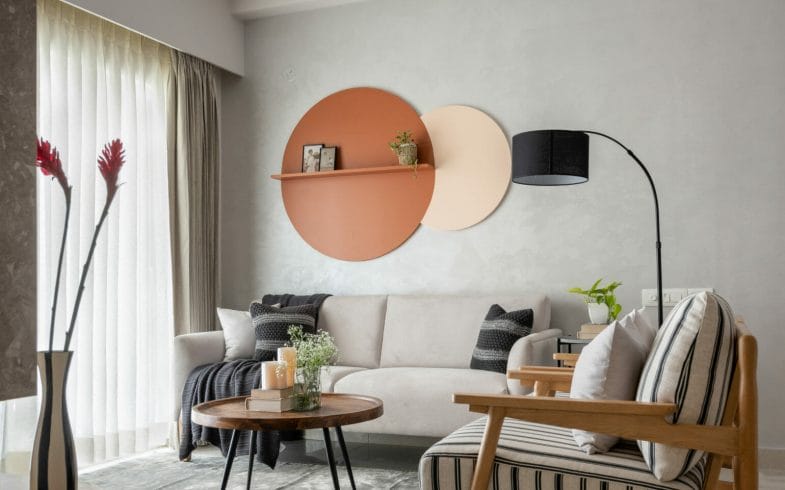 In a luxurious textured space, wrapped a custom sofa in a greige tone fabric. To keep the soft tones intact, we custom designed the armchairs in American ash wood to accentuate the wood's natural beauty. To upholster these armchairs, we once again customized even the splendid striped fabric. We subtly added patterns to break away from the monotony. A simple wall installation added the right pop of colors to bring in a gracefulness to the space.
A corner of the dining room is designated for small, intimate meals with a floating back cushion suspended on a customized metal rail. This has allowed for a space-saving yet appealing design.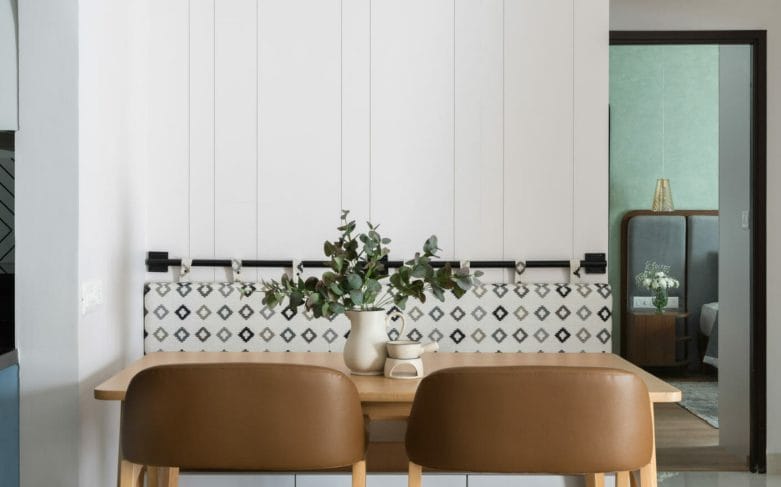 The two-toned beauty of the kitchen is highlighted by a curved archway with soft, curved molding. The archway creates an elegant entryway, which is visible from the living room. The cabinets are painted a power blue, which also adds to the color scheme of the space.
The master bedroom is a place of refuge and renewal. The design is relaxing and restful, as it is dressed in neutrals, highlighted the headboard wall in the most tender green texture, and framed a simple dresser with a black frame.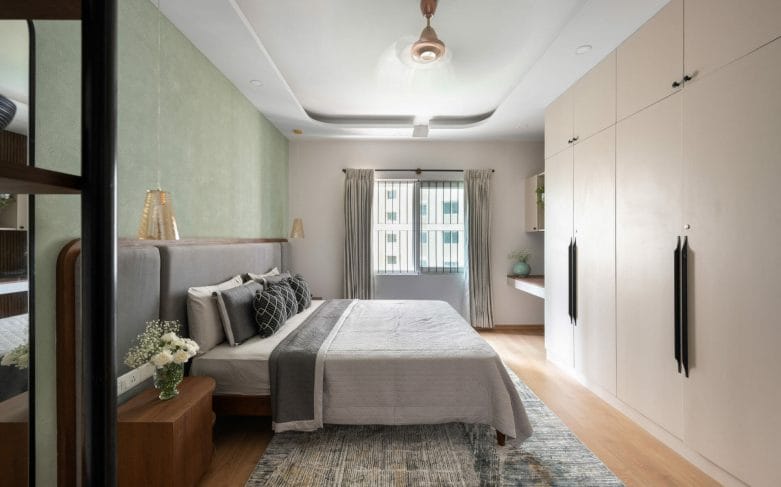 The second room is a cozy retreat. It will serve as a study as well as a guest bedroom. It has a sofa that becomes a bed and storage space. It is made light on the eye, with warm wood and neutral tones.
Fact file:
Design Firm: U and I Designs
Principal Designers: Aniketh Bafna and Sonal Mutha
Project Location: Brigade Buena Vista
Project Area: 1170 sqft
Photography: Parth Swaminath from PHX India