Ar. Arquitecto João Cassiano Santos intended to create a new project to replace eight basic educational classrooms at São Bernardo School in Aveiro, Portugal. For approximately a decade, the school was located in a prefabricated building, now being used as outdoor playground equipment. Located between the cafeteria and gymnasium, the area provided underused land stretching longitudinally east-west.
The design was a single-story/two-volume building, with an independent entrance and roof covering, as Aveiro is one of the highest rainfall districts in Portugal. In addition to the 8 classrooms, the program also included a teachers' lounge and a gym.
Juxtaposing "serviced spaces" with "servant spaces," the proposed conceptualization is to consecrate the North exposure to classrooms, and to distribute the "servant" spaces along the central corridor,large enough for student lockers. This horizontal circulation longitudinal space is reproduced both in ground and first floor, with connection through a wide staircase, beginning in the two-story high, entrance hall.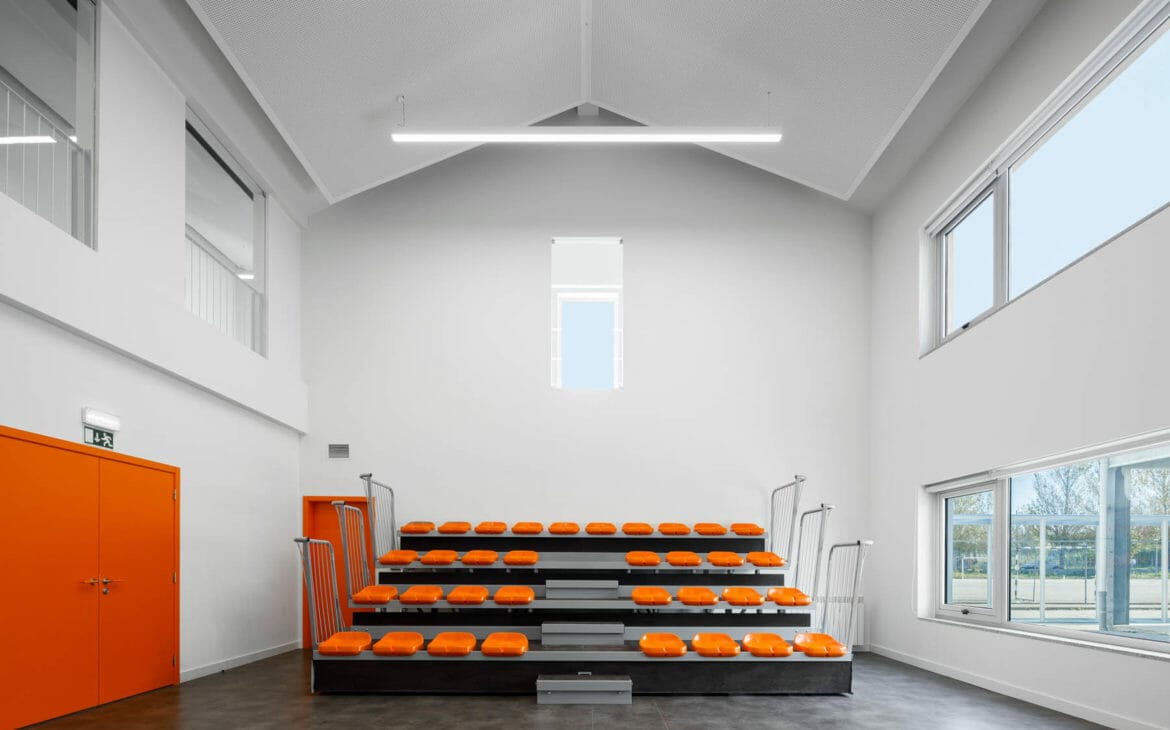 The school has a rectangular and centred layout. The classrooms have been left exposed with cutouts to the North for optimal light, without direct exposure to the sun. There is an exception: the walkway is aligned at 45 degrees to East and West so that children do not get too hot when walking between classes in summertime.
The design for this particular building sought to give it a unique and enjoyable character that could be emulated by other architecture firms. It was done in such a way that the roof shape is striking to say the least. The four slopes articulated roof creates a 'two volumes' silhouette by concealing in the middle "valley" between them HVAC equipment and solar panels. The white tile, white walls, and blue lights option unifies by color the two volumes, the porches (sky blue) adds to their transparency while framing it for all those below to admire!
Fact Sheet
Project name: São Bernardo Elementary School, Aveiro
Architect: Arquitecto João Cassiano Santos
Location: Aveiro
Total area: 4375 m2
Photo Credit: Ivo Tavares Studio