IMK , the architects for Auric Hall at the Aurangabad Industrial City, have designed the 16,660-square-meter District Administrative Building within the Central Business District of the industrial city. The structure houses administration and commercial functions.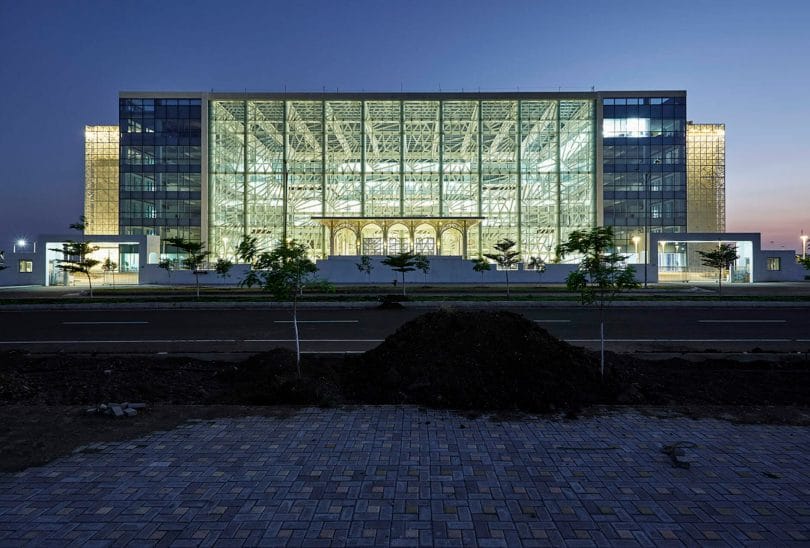 Auric Hall, a landmark for the city of Aurangabad, is designed as a transcendent and inspirational office building. It strives to achieve innovation and transcend expectations and has been conceptualized as a socially responsive building that enhances engagement with spaces where people thrive. Although the building is advanced in technology and function, it was important to plan the building with a character that was sensitive to Aurangabad's climate, context, and rich history.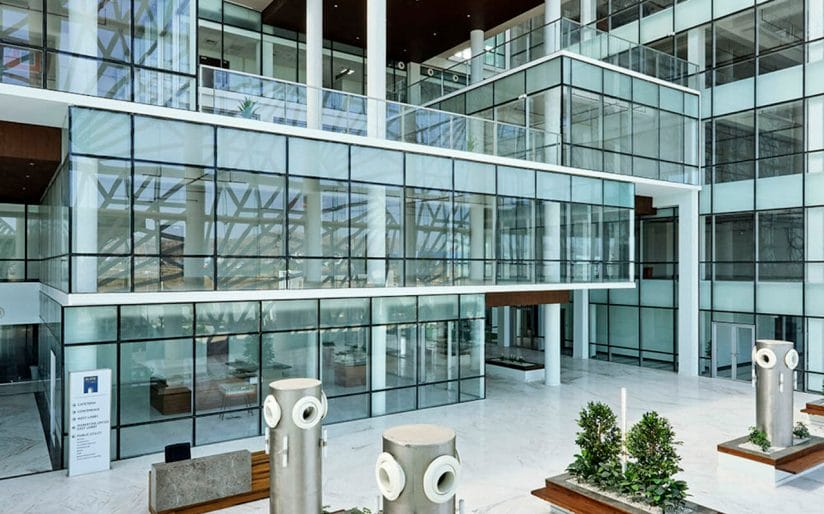 The design of this building honors the rich cultural history of Aurangabad while making a modern, timeless structure of sustainable and aesthetically pleasing architecture. The design, inspired by traditional Mughal architecture, creates a narrative of light and shadows. The use of an aluminum jaali screen minimizes solar heat gain in the building and controls airflow for optimal internal temperatures.
Aurangabad experiences a semiarid climate with extreme temperatures and intense solar radiation. Appropriate form and orientation of the building were considered in the design as well as shading methods adopted on the building façade.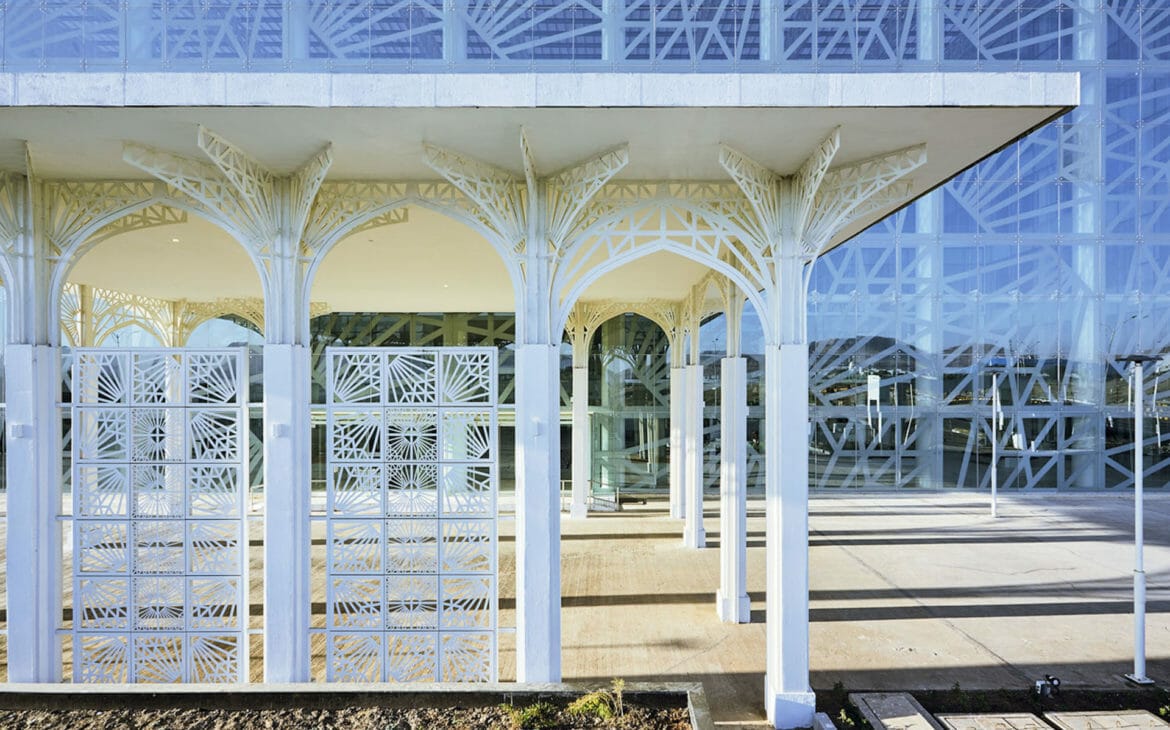 The building's external symmetry contrasts to the asymmetric surprises inside. The linear full-height atrium sits on a shaded north garden, which also connects other social spaces. Every alternate floor plans to avoid repetition and homogeneity. The building is a collage of office spaces and terraces at different levels. Interconnecting stairs, lifts, and corridors add vertical access.
The atrium of the Aurangabad Municipal Corporation Building serves as an exhibition space, which showcases Aurangabad's rich history. With staggered terraces and north light filtering through the glazed façade, it becomes a vibrant center of activity, pulsating with positive energy.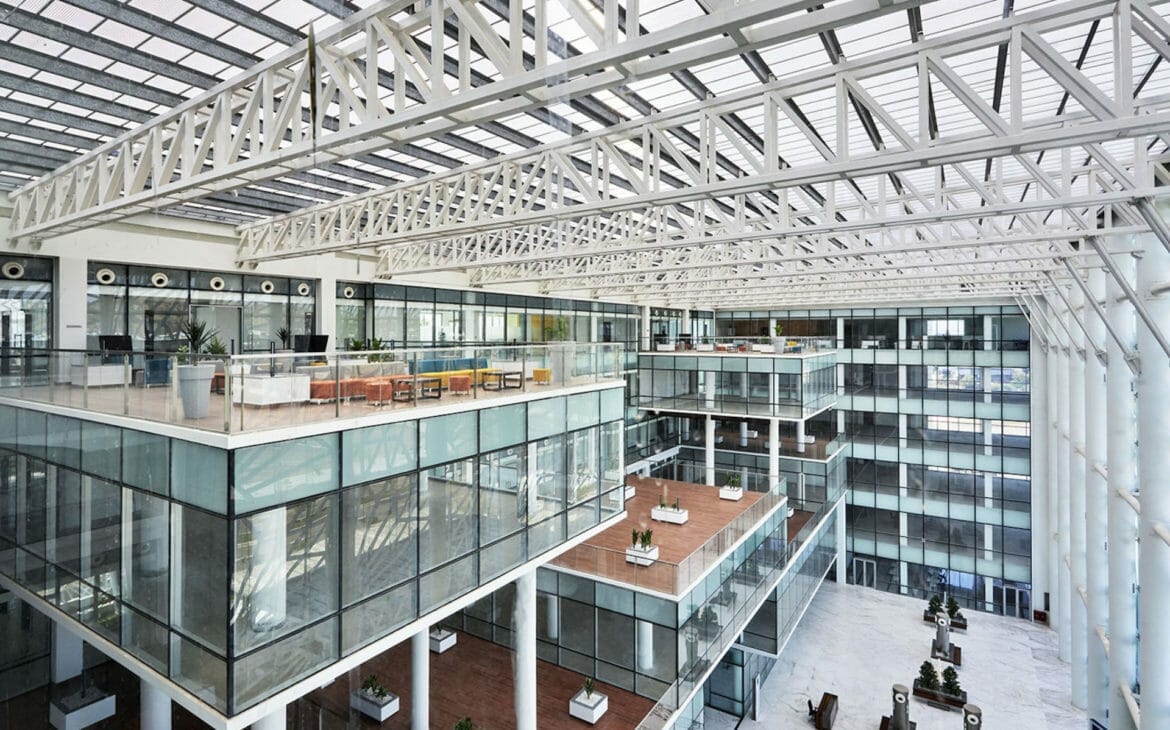 The large north-facing atrium façade includes large glazing with ceramic fritting. All the offices facing the atrium have glass walls which line up with the open office concept.
The building, oriented to allow maximum glare-free light into the office spaces, minimizes heat gain. Water conservation measures have been adopted by maximizing landscape plantation areas with controlled irrigation. Runoff from the paved surfaces and terraces are harvested for groundwater recharge.