Spread over 2500 square feet, this second story flat was designed by architect Keshav Ahuja featuring a drawing-dining space, a kitchen, two bedrooms with bathrooms attached and a guest room. The design team was tasked with creating a comfortable and elegant place for the client who sought an upper crust residence, and with that brief, we were able to meet those expectations.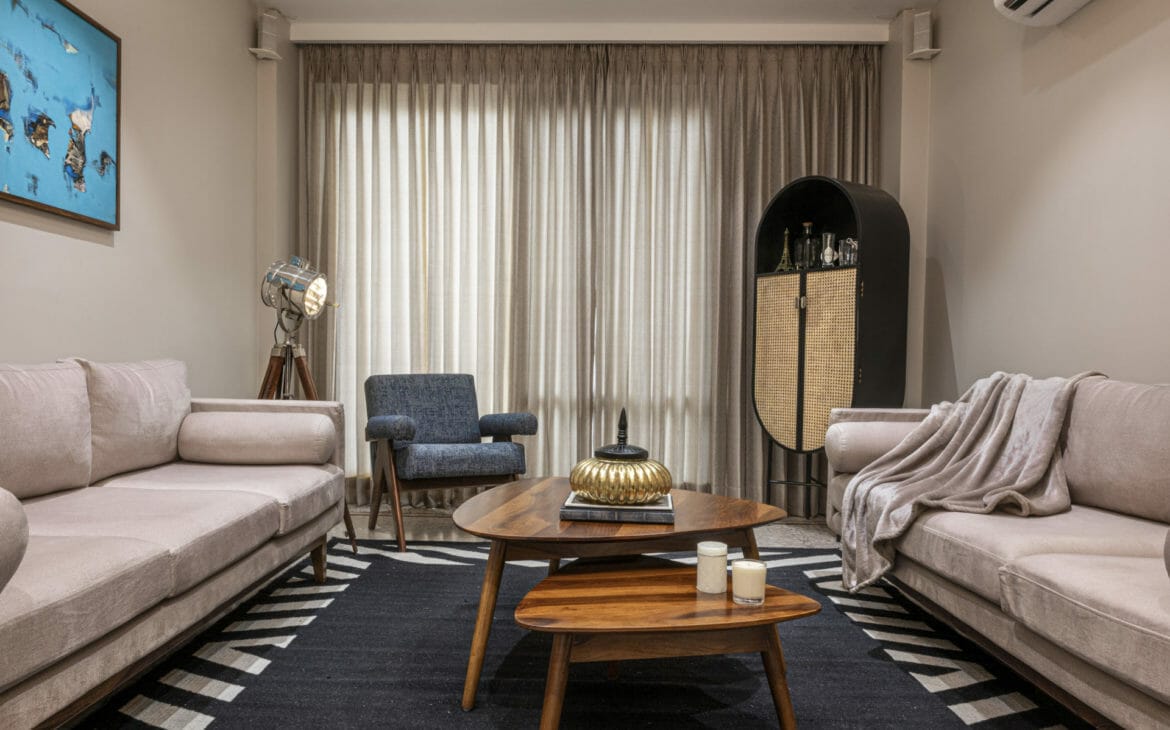 The living area is creating a buzz with the presence of these mid-century inspired furniture pieces. The "chandigarh" inspired dining chair by Pierre Jeanneret stands out among them all, adding a style quotient to the space. In the dining area, two artwork sit in the middle of the custom-made console adding a sense of continuity to its look and feel. On another side of the room, a wicker-metal bar unit stands tall next to the sofa set and further adds value towards creating balance among different aspects of this design piece.
The dado up the wall of our kitchen helps to break up the boring monochrome space, giving it a more spacious feel. The bold fluting panelling in the bedroom creates drama in this often under-used area! The large dressing mirror is semi-circular and complementing the grey bedside lamps, they all come together to enhance the feature wall in this creative design.
The semi-circular mirror dresser with the dresser unit adjacent to the wicker based tv unit adds a contemporary feel to this bedroom. The other bedroom with olive green and grey on the palette has a timeless vibe because of its beautiful colour scheme and use of simplistic furniture and amalgamation with the herringbone wooden patterned floor. The TV unit could be made more interesting by hiding away unnecessary things and making it into an integrated part of the room by blending into the color scheme seamlessly.
Fact Sheet:
Project name : One67 Residence
Principal Architect : Keshav Ahuja
Design Architect : Insha Soni
Location: New Delhi, India
Area : 2500 square ft.
Photo Credits: Anmol Wahi