Nestled in the bustling center of South Mumbai, Sombre Pearl is an opulent apartment spanning 2400 sq. ft., showcasing a profound integration of contemporary lifestyle. Guided by a comprehensive set of client preferences, the residence is meticulously designed to embody daring, passionate, and refined aesthetics. Embracing the concept of "a shell within a shell," the dwelling is enveloped in an intricate layer of striking forms and finishes, serving as the primary shell, which is then enhanced by tranquil terraces adjoined to all the significant rooms of the home. Crafted to accommodate a family of six, the underlying principle of the design is to infuse each occupant's living space with the perfect ambiance and tailored functionalities to suit their individual needs.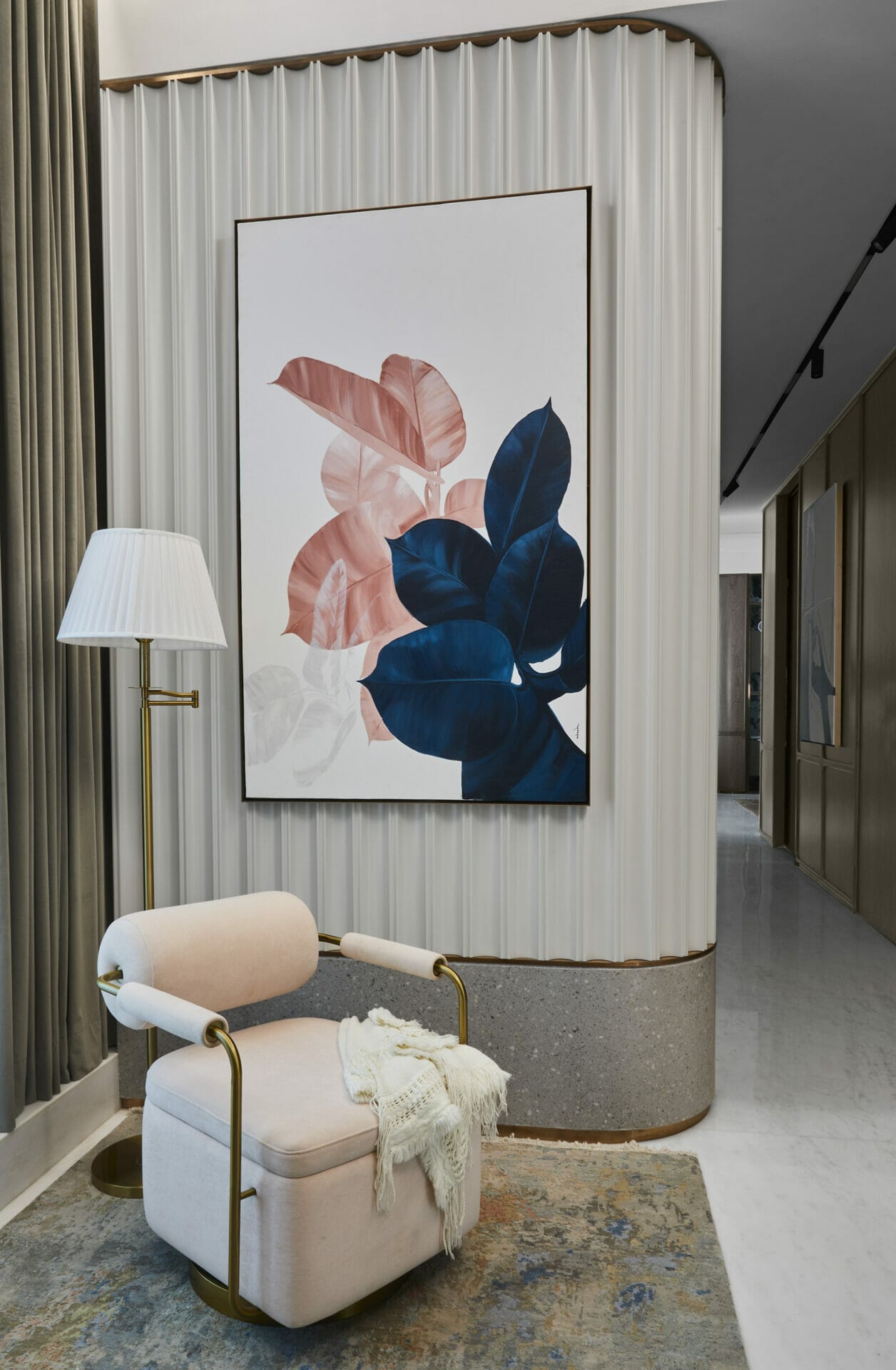 The journey through the residence begins at the entrance alcove, a serene spot for a morning retreat. A unique wall detail featuring terrazzo, rose gold, and ivory pearl creates an inviting atmosphere. Vastu principles are considered, and the home temple discreetly resides in the hallway behind pocket doors made of glass. Fluted panels on the facade connect spaces seamlessly, while imported brown veneer adds depth and dimension. Cleverly integrated grooves and curves within the veneer conceal storage cabinets, catering to the household's needs.
In the living room, the scooped wall detail continues as a consistent backdrop. A tan-colored leather sofa with luxurious furnishings invites family engagement, complemented by curvilinear lounge chairs, a center table, and carefully selected decor. A Persian blue rug adds regal elegance while harmonizing with the contemporary color palette. Abundant natural light and a Mumbai breeze flow in through the window, which leads to expansive terrace decks throughout the home.
Safety and adherence to fire regulations are prioritized, with sustainable wood species and materials used in curated mood boards for each space. Filtration and insulation processes are diligently carried out to prevent hazards, and energy-efficient air conditioning diffusers are employed. Fire-resistant coatings offer sustainable design and an added layer of protection.
At the heart of the residence is the opulent dining space adorned with meticulous details. Lasa White marble surrounds the dining area, accompanied by a hand-crafted crockery cabinet with wood and rose gold accents. Black, white, and grey touches harmonize with the marble, enhancing the beauty of the matte-finished dining table. A graceful Slamp chandelier resembling floating petals adds minimal yet indulgent elegance.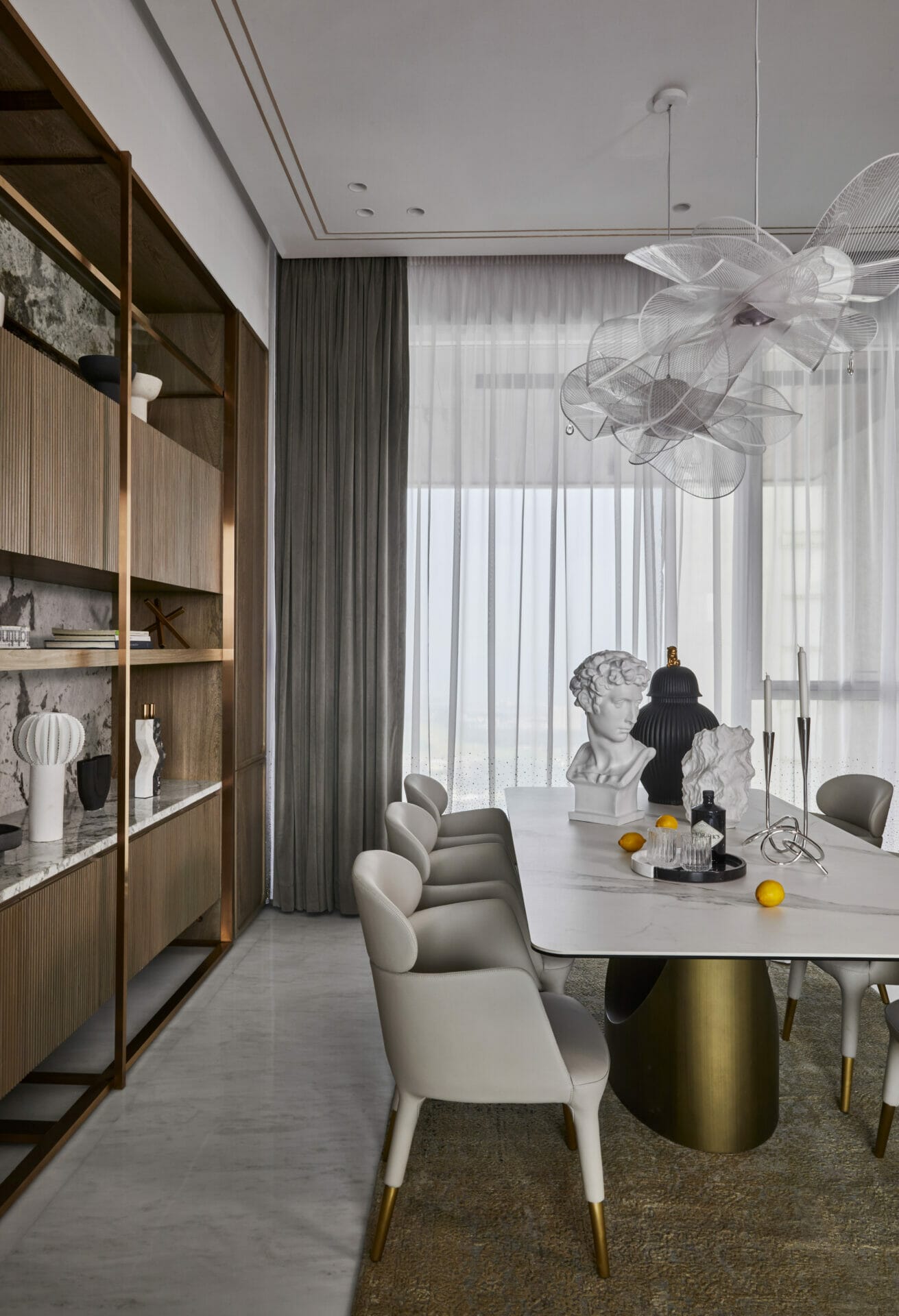 The adjacent lounge area embraces the home's whimsical side, encouraging relaxation and interaction. A brown veneer backdrop serves as a canvas for twelve vibrant handmade thread art frames, exclusively customized for the space. A ribbed bench in a lively mud brown hue, accompanied by fresh green accents, creates a picturesque corner that seamlessly complements the overall aesthetic.
The master bedroom is designed as a magnificent suite with contemporary finishes. Marble skirting, slate tiles, and wainscoting panels with U-shaped channels in matt black textures create a modern atmosphere. A king-sized bed and pendant lamp complement the materials beautifully. The TV wall leads to a recessed study filled with personal artifacts. A comfortable chair, veneer accents, and PVD trims create a perfect corner for relaxation. The bedroom also features a spacious master closet crafted in glass, providing ample storage. The sense of luxury extends to the master terrace balcony, equipped with outdoor-compliant furniture, cozy furnishings, and a cinematic outdoor television and sound system.
The private bedrooms for the daughter, son, and grandparents reflect their unique personalities. The daughter's bedroom features a chic design with a curvilinear white grid motif enveloping the bed space. An elegant hand-painted floral mural in blue-pink and gold shades complements a bronze mirror on the opposite wall. The room includes a study cum dressing unit, fluted glass closet shutters, direct access to the terrace decks, and sleek lighting details, adding to its glamorous appeal.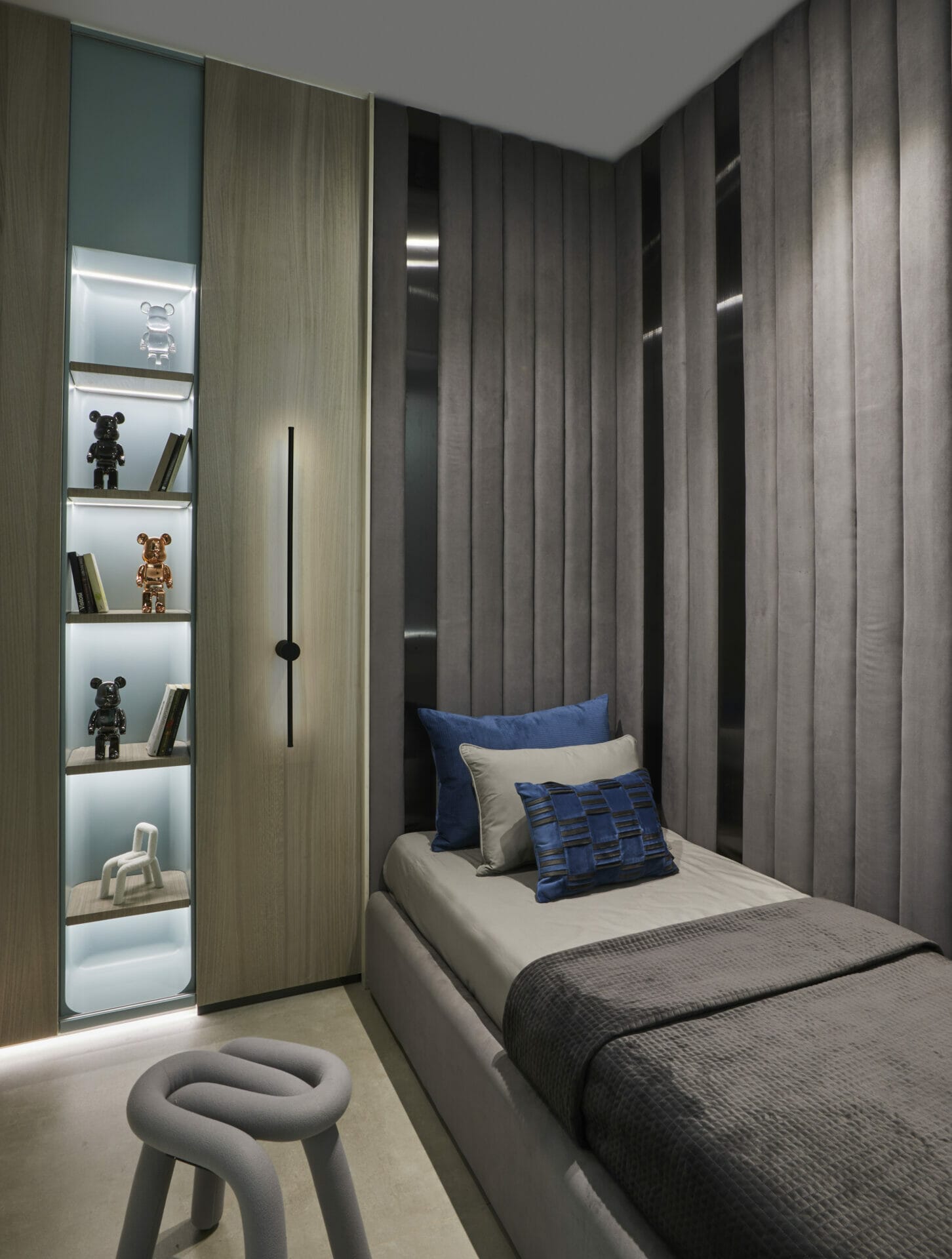 The son's bedroom demonstrates clever civil hacks and space optimization, offering a quirky yet simple palette of powder blue and grey. Every niche and corner are utilized efficiently, providing ample space for movement. The side table cum library cleverly conceals into the wall, maximizing the area. Vertical headboards, light veneer, and slate-like PVD finishes create an illusion of expansiveness in this otherwise compact bedroom.
The kitchen is a minimal, elegant, and efficient design suitable for Indian cooking standards. It features parallel cooking counters, ample storage cabinets, and utility areas. Imported kitchen appliances enhance the luxury of the space, including a chimney and microwave ove
The grandparents' bedroom is a soothing all-white space with an attached bathroom. Attractive wainscoting trims with slim marble-finish tiles and curated furniture create a relaxing and simple atmosphere. The bathroom and wardrobe doors, finished with wainscoting panels and hand-painted murals, seamlessly blend with the overall aesthetic of the room.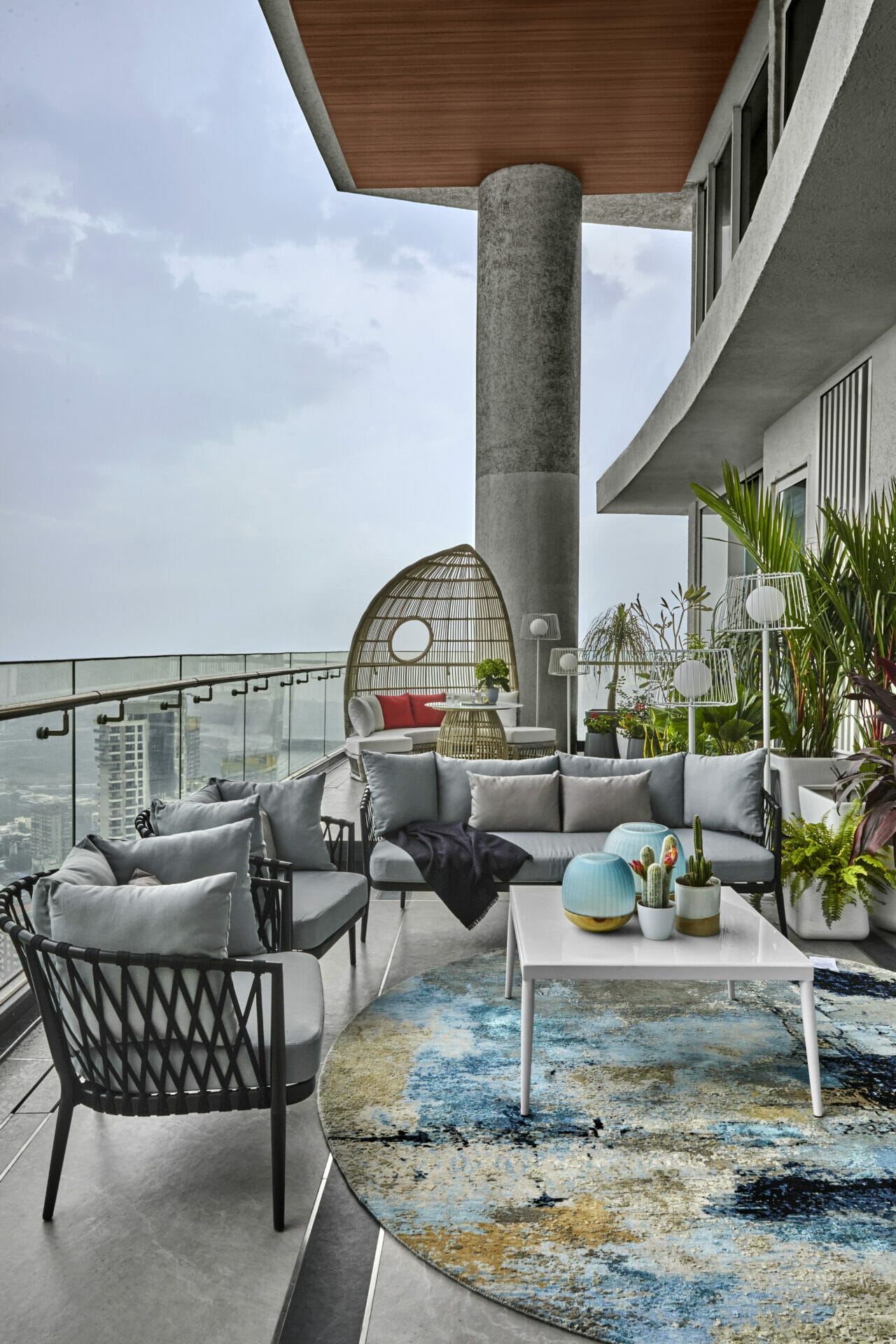 The terrace garden adjoining the significant rooms of the home offers a dreamy view of Mumbai city while providing an escape from its chaos. With over 20 species of plants from Bagwaan, climate-proof furniture, woven canopy seatings, and greenery, the garden celebrates biophilic design in a metropolitan setting. Balinese-style decor is achieved with linens, pastel shades, and basket-like lighting. The long run of the terrace garden is perfect for family gatherings and events, while a separate deck is dedicated to the adjacent bedrooms.
The grandparents' room opens to a green wall and an exercise area. The living room is divided into a spacious seating area with ample greenery for conversations and entertainment. The daughter's bedroom features a classy corner with an oversized canopy and aesthetic details. Carefully curated and crafted, this home combines contemporary aesthetics and global brands, seamlessly merging with the Mumbai skyline.
Factsheet:
Typology: Residence
Name of Project: Sombre Pearl
Location: One Avighna Park , South Mumbai,India
Principal Designer: Rahul Mistri
Site Area (sq ft & sq m): 2400
Photographer: Ashish Sahi
Interior Stylist: Sonali Thakur
Product Library:
Glass Partitions – Saint Gobain
Sanitary ware/Fittings – Gessi,
Aluminum Sections, Hardware and Sliding – Veneto
Flooring – Classic Marble Company
Furnishing – Design Temple
Furniture – Excella Experts (Consolidators)       
Air Conditioning – Daikin
Lighting: Light Shoppe, Lasvit, Slamp
Paint – ICA
Art – Rangari
Artefacts – Excella Experts, Defurn
Plantations – Baagwan
Rugs – Cocoon Rugs