In Switzerland's Winterthur the world's tallest load-bearing structure made of wood called the Rocket&Tigerli is a residential building that will rise above the hill-covered skyline close to Zurich. The 100m tall tower is designed for a neighbourhood that is rooted in the local historical context and one which offers high-quality housing that is modern with a daylight inflow.
The four buildings of Rocket&Tigerli include regular housing and student housing with amenities like retail spaces, hotel, restaurant, sky bar and spa to keep the neighbourhood active throughout the day. An open green plaza with bright passages and green spaces is formed by the four buildings and bustles with life. The four buildings have an individual identity even though they are a part of the same neighbourhood creating a sense of community.
The new construction system examined different architectural possibilities and construction through architectonic effects in which wooden beams are highlighted. A city formerly known for its machine industry and locomotive production, Winterthur, Northeast of Zürich, has features of 19th-century industrial architecture.
This winning project in an international competition promotes human interaction by creating indoor-outdoor spaces. The landscape was designed by landscape architecture studio Vogt complementing the original masterplan.
The residential units are oriented and designed in a way that ample daylight flows in and is made spacious with the integration of double height. The flexible plan allows for change and adapts according to foreseeable needs.
The style of the city will be reflected in the design with the use of dark red and yellow terracotta bricks with dusty green design details similar to the red roofs and yellow bricks of the historical buildings.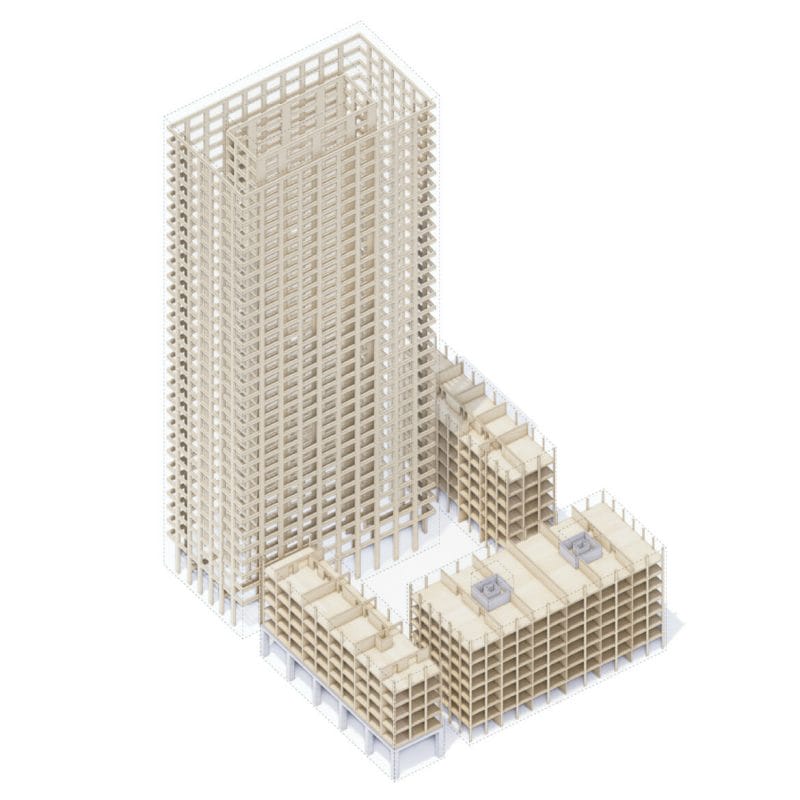 The design challenges verticality with the use of wood which marks a milestone in the construction of high-rise buildings. Load-bearing timber construction is an innovative solution for the use of wood in place of concrete. The system was developed by Swiss company Implenia in collaboration with the Swiss Federal Institute of Technology of Zürich, ETH for the construction of taller buildings.
Advantages of this being a reduced dead weight as compared to a concrete core and since wood is a natural material, a lower amount of embedded carbon emissions. The use of natural timber in mainstream construction in an urban landscape, as opposed to houses and cottages, encourages more projects of this type and a timber concrete hybrid while also reducing the total energy consumption of a building.
Fact File
Project Name: Rocket&Tigerli
Location: Winterthur/Switzerland
Client: Implenia/Ina Invest AG
Area: 34,500 sq.m
Year: Ongoing
Firm Name: Schmidt Hammer Lassen Architects
Image Credits: Schmidt Hammer Lassen Architects