Aamir and Hameeda
Aamir and Hameeda started their luxury interior design studio in  2000 and for over 19 years, this studio has helped revolutionise contemporary and avant-garde interior décor in India, with stunning projects across the country. Their quirky design full of colours yet the 21st Century contemporary minimal stands out in the crowd.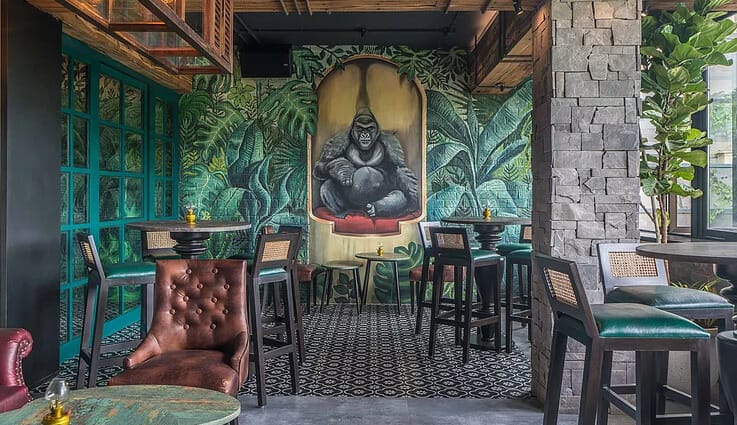 One Dot 6 by Aamir Hameeda Design Studio is an experience centre that has a variety of bespoke furniture and lighting. The brand derived its name from the golden ratio of 1.61, a direct reference to the Fibonacci sequence. It is much like the symmetry, proportion, and harmony that govern all creations and hence this space has been intricately crafted. The space has been re-imagined as a 3-BHK apartment layout with two lounges, three bedrooms, one study plus bar, a balcony, and two dining areas. The final approach is a distinct feature. "We wanted to give the clients a holistic experience with a vibrant and dramatic approach that has arches everywhere," said the designers. The synchronisation of colours and textures throughout the space have an offset of an industrial ceiling. Mosaic and terrazzo flooring brings the earthy aesthetics.
Shabnam Gupta
The brain behind some of the most prestigious projects which includes celebrities from various industries, Shabnam Gupta the founder Shabnam Guptam Interiors brings some offbeat interiors to India, She has created some stellar spaces that are described as iconic ones in the industry.
The abode is home to a family of four that includes a couple and their two sons. Their aim was to design a space that is a home that brings people in and keeps out the chaos of the world outside. The clients were inclined artistically and were ingenious in their perspectives regarding the various affairs of the world outside. Therefore, an opportunity was offered to explore our creative style and incorporate the elements that connect us to the roots of the firm.
Rajiv Saini
Life has its own way of surprising us! A computer science graduate meets a noted designer, with a filled heart for design and releases beautiful ideas. This is the story of Rajiv Saini which later in 1995 was channelised as Rajiv Saini + Associates (RS+A). Talking about his design secrets to previously completed residential projects he adds "It's a private residence that dovetails carefully curated vintage elements with absolutely cutting-edge ones – to create an eclectic, characterful effect."
This home by architect Rajiv Saini is a blend of sophistication and quirkness around. With a pop of shade in each corner, the space looks like a thriving energy all at once. The mural on the column with a pastel backdrop is eye catchy detail that makes the design stand out. The curvy furniture acts like the icing on the desert that makes it look attractive and stylish.
Karan Desai
Karan Desai is the passionate founder of KARAN DESAI | Architecture + Design, that focuses on furniture and interior design. Being inspired by contemporary aesthetics and clean lines the projects by the studio have a splendid portfolio of both residential and commercial on varying scales. From ideating rooms to offices, homes to private getaways, the team designs projects and products that fulfil the persona of clients reflecting their personal taste beholding the vision of the firm.
RAY-ZEE- The living room is a part of the open kitchen and opens up into the den which is nothing more than a splash of pop colours. The glass framed wooden sliding shutters screen the two spaces when required. With Simple elements designer Karan has managed to add that quirk right from the midst of the textures of fabric.
Huzefa Rangwala and Jasem Pirani
MuseLAB is an end-to-end design studio that offers a bespoke and leading-edge approach to design and has a focus on a unique environment with bespoke interiors and furniture. In 2012 partners Huzefa Rangwala and Jasem Pirani founded the studio built upon their shared passion for design. With each space and or product, it is believed that it embodies integrity and thus it is created with the same concern, skill and detail.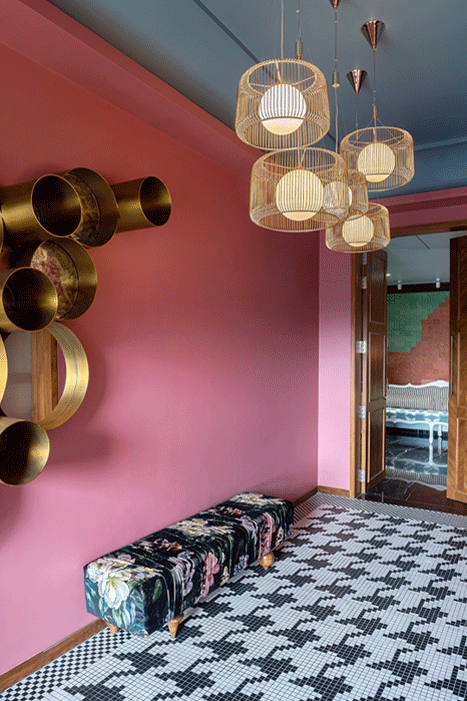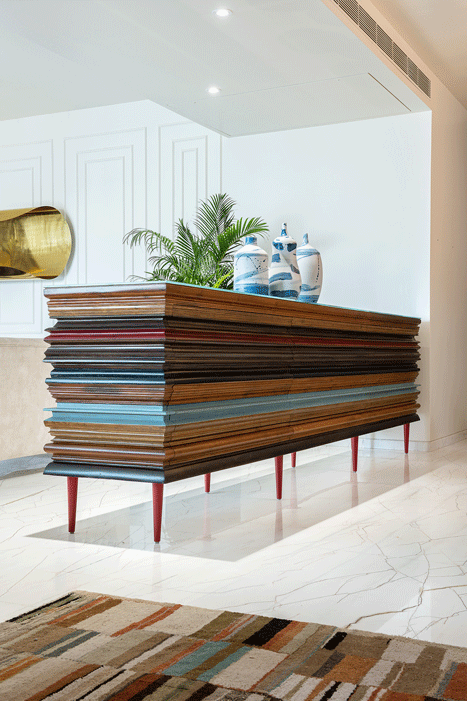 The 7000 sq.ft Pune home in a luxurious high-rise has large five-bedroom with a 1200 sq.ft living-dining room, an outdoor double-height terrace with a pool connected to the sauna and shower area, a large 800 sq.ft den, a home office, a pantry, dry kitchen and wet kitchen and a separate staff quarters and service area. The Confederate Rose (Hibiscus mutabilis) is famous for its dramatic colour changes, with flowers that can go from white to pink to deep red within one day was the concept behind this eclectic design. The abode changes our definition and limitation of quirkiness with some estranged patterns and colours throughout the spaces.
Ali Baldiwala
Consider designing to be an enlightening journey from concept to reality. Baldiwala Associates has to its credit pleasing interiors with functional awareness – Baldiwalas are meticulously involved to achieve innovative solutions responsive to clients requirements of design, budget and aesthetics.
Eclectic Tribe, a mixture of different vibes with each room of this house swearings to boast of unique design tale, each of the space is driven by a language of its own. The formal living room hosts Cuban inspired armchairs and plush with straight-lined furniture that invariably lends a touch of warmth to the house. The space is further accentuated with tribal printed cushions and a varied collection of art that breathes colour.
Pooja Shah and Neil Parekh
A love for architecture and similar design philosophies were the bonds that made Pooja Shah and Niel Parekh run a professional practice, when they set up Co.De (The Company of Design) in 2015. Co.de was established with the idea that their principles wouldn't limit themselves to a single discipline and that they would create a work environment where people of distinct fields could gather to experiment, innovate and create some exhilarating spaces. While Mr Parekh emphasises their inclusion of the vernacular that includes phrases like Warli art and jalis or whatever is contextually relevant, Ms Shah highlights their wabi-sabi centred around the space, because as it keeps an open door to timeless design.
Ekta Khanna Design Studio
Deeply inspired by the style of clean lines, monochromatic, modern style of architecture, Ekta Khanna Design studio was formed to reflect her love for Interior and architecture. With her designs, Ekta aims to create legendary crafted and elegant interior details, each with a solid character unique to a client. Her design philosophy features a refined use of sophisticated colours and blended textures with classic forms and harmonious materials. The eye for colour and proportions, she specialises in curating distinctive spaces and combining the old with the new, in a way that's at once contemporary and timeless.
Sophistication blended with contemporary quirk and materials, This home by Ekta Khanna Design Studio has patterns and details thriving the design with its splendid textures. Moreover, the patterns in the flooring blend into the table design. Fabricated with love, the floral pattern at the back of the chairs breaks the monotonous voids.
Shantanu Garg
Jaipur home by Shantanu Garg has a multitude of ideas that challenges the ethical notion of Indianness. With the idea of India Modern, this abode spanning around 25,000 sq ft and 10 bedrooms has a massive voluminous space that has contemporary scenes around. The designer states, "I've tried to create a modern interpretation of Indian architecture by presenting the country in a contemporary avatar. This home is not ethnic,in fact, I want to project our culture beyond ethnicity by redefining and raising the bar of all things Indian."
Hardik Shah
Old was always gold for Hardik Shah, whether it was buildings or things. It was this fascination for objects inclined him towards architecture as the career. "I chose the latter, and Studio Lagom came into being in 2010," says 31-year-old Shah, whose inspirations include Singapore's Bedmar & Shi, C Anjalendran and Geoffrey Bawa from Sri Lanka, Japan's Tadao Ando. Lagom, the Swedish word that can't be interpreted exactly – but loosely means 'just enough', is a telling clue to Shah's design philosophy, which is not quite minimalistic nor over-indulgent.
The design process of this cafe in Surat had thoughts that immediately veered to creating something that the city had lacked since ages. A well-designed garden restaurant came into the mind to create a space that has natural serenity. The creative brick red adds quirk to the overall built form. Further the green spreaded in the space with the warmth of lights is all. The overall curves break the monotonous pattern of the built form.